13 Texts To Send A Friend When You Want Space
In the nicest way possible.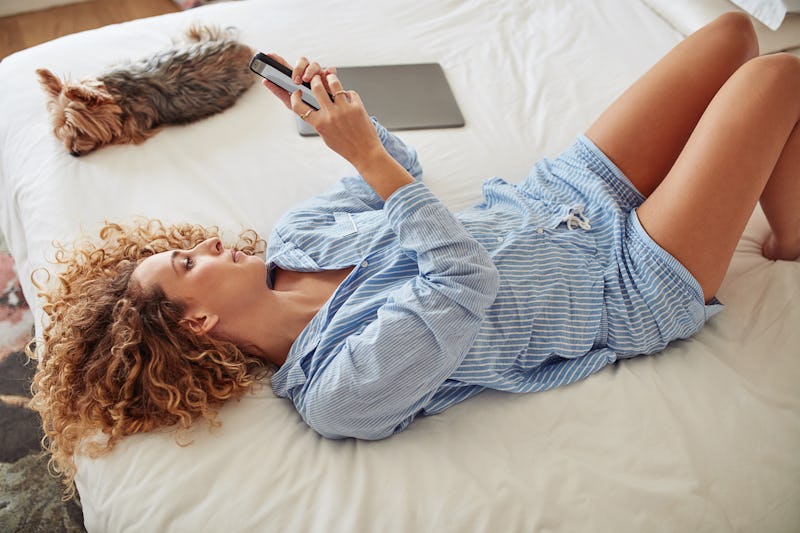 LumiNola/E+/Getty Images
Sometimes you're in the mood to text, hang out, and spend countless hours with your BFFs. And sometimes you're just not. You might be tired, overwhelmed, or down in the dumps. You might be 100% fine but in desperate need of an evening alone with nothing more than your dog and a good show on Netflix. Whatever the case may be, it's always OK to text a friend and ask for space.
Not only that, but doing so is often "critical for healthy relationships," says Billy Roberts, LISW-S, a licensed therapist. "There is never any point to over-extending yourself but quietly feeling frustrated that you need alone time, self-care, or time apart from your friend. Good boundaries make good relationships."
This is never more true than after a tough moment in a friendship. If you have an argument or misunderstanding, it might feel right to take a breather. By sending a quick text you can do just that without giving off bad vibes and "causing your friend anxiety," Jessica January Behr, PsyD, a licensed psychologist, tells Bustle. The key is to send a quick message and let them know that you'll reach out soon.
While there are many reasons why it might feel weird to ask a friend for space, don't let your fears hold you back from getting what you need. If you need time to yourself, here are 13 texts that'll help you ask for it in the nicest way possible.
Experts:
Billy Roberts, LISW-S, licensed therapist
Jessica January Behr, PsyD, licensed psychologist
Jhanelle Peters, M.A., B.Sc., psychotherapist
Dana Basu, PsyD, licensed clinical psychologist
Leah Rockwell, LPC, LCPC, licensed professional counselor
Sara Sharnoff Tick, MS, LMFT, licensed marriage and family therapist
Liz Hughes, M.Ed, LPC, RYT 200, therapist
Kimberly Perlin, MSW, LCSW-C, licensed clinical social worker