11 Ovulation Symptoms That Are NBD
From spotting to bloating.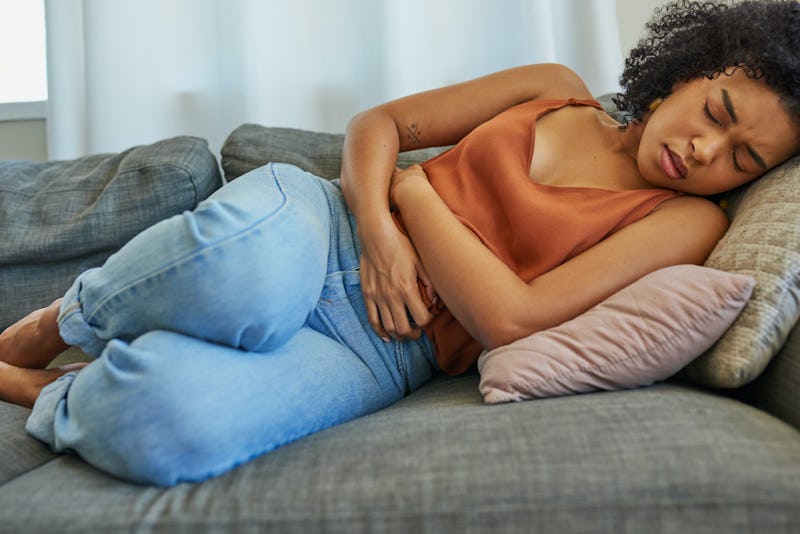 LaylaBird/E+/Getty Images
If you're not someone who carefully tracks your period, spotting, getting pelvic pains, and feeling super moody weeks before you get your period can seem pretty alarming. But according to experts, that's all part of that "other time of the month" called ovulation.
"Ovulation impacts every woman's body differently, and not all women experience the same symptoms," Dr. Peter Rizk, women's health expert for Fairhaven Health tells Bustle. This means symptoms can vary in intensity and/or duration. Although he says it's difficult to "universalize" it, educating yourself about what can happen to your body during ovulation can help to ease your mind or alert you to the things you may need to discuss with your doctor.
The good news is, the symptoms that you can experience during ovulation shouldn't be that bad, at least not as bad as the average symptoms woman experiences during PMS. As OB/GYN Dr. Kim Langdon tells Bustle, "This the time when the estrogen level is highest in the cycle, and that can cause nausea, bloat, and possibly breast tenderness." Fatigue during ovulation, moodiness, and an increased libido are also common. But symptoms such as persistent pain, heavy bleeding, vomiting, and fevers, should be brought up to your doctor.
With that said, here are some ovulation symptoms that OB/GYNs say are nothing to worry about.
What You Can Do To Lessen The Symptoms Of Ovulation
There are several things you can do to alleviate some of the most common symptoms of ovulation. For instance, Dr. Sanaz Ghazal, MD, OB/GYN, co-founder and medical director of RISE Fertility, tells Bustle to resist the urge to consume unhealthy, processed, or sugary foods. Instead, focus on eating clean, organic whole foods. Staying hydrated and eating three to four hours can help to balance hormones that may affect your mood. For abdominal discomfort or headaches, that can be managed with medications.
Everyone experiences their menstrual cycle differently. Keeping track of your cycle in a journal or an app, can help you figure out what's common for you. If you do have any concerns, big or small, don't be afraid to talk to your doctor. They can ease your mind or find ways to help treat any symptoms you may be experiencing.
Experts
Dr. Peter Rizk, OB/GYN and women's health expert for Fairhaven Health
Dr. Kim Langdon, OB/GYN with Medzino
Dr. Amy Roskin, MD, OB/GYN and medical director of The Pill Club
Dr. Jodie Horton, MD, OB/GYN and chief wellness advisor for Love Wellness
Dr. Juan Alvarez, an OB/GYN and board-certified reproductive endocrinologist with Fertility Centers of Illinois
Dr. Sanaz Ghazal, MD, OB/GYN, co-founder and medical director of RISE Fertility
Dr. Alyssa Dweck MD, OB/GYN and podcast host of Business of the V