What Happens When You Break Up With The Love Of Your Life?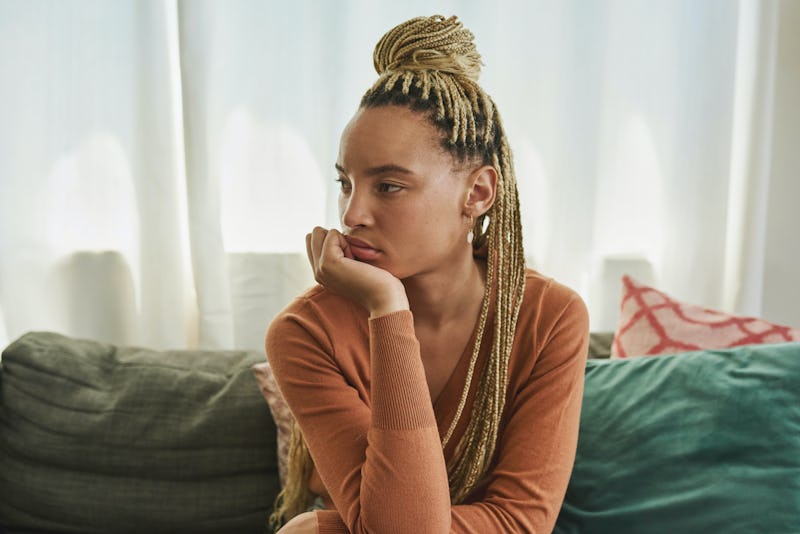 LaylaBird/E+/Getty Images
Finding a deeply intense connection with someone isn't easy. So when you feel like you've found the love of your life, it's hard to let them go. That's why breaking up with a soulmate can sometimes feel like the end of the world. But according to experts, letting go may be just the thing you need to do.
"The rumor is that everyone has just one soulmate," relationship expert and spiritual counselor, Davida Rappaport, tells Bustle. "But we don't have just one soulmate. We have many soulmates."
According to her, every single partner you have a special bond with has a purpose in our lives. In some way, they're meant to help us to grow as individuals on a mental, physical, emotional and soul level. Although you may feel a special connection to someone that's unexplainable, you do have the choice to be a part of each other's lives.
But finding your soulmate isn't a guarantee that you're going to be together forever. But that doesn't mean your love life is doomed if things don't work out. In fact, Dr. Carla Marie Manly, clinical psychologist and author of the book Date Smart, tells Bustle that losing a soulmate can also lead to incredible self-growth for both people.
"There are occasions when the psyche says, 'There's more awaiting you; it's time to move on,'" Manly says. "So, if you break up with your soulmate for the right reasons (e.g., the need to expand and develop yourself), trust that you're being guided to evolve."
Here are some unexpected things that can when you and your soulmate can't be together and break up, according to experts.
Experts & sources
Davida Rappaport, relationship expert and spiritual counselor
Connie Omari, LPC, author and counselor
Tammy Shaklee, matchmaker
Jade Bianca, dating coach and matchmaker at Dating After Divorce
Dr. Carla Marie Manly, clinical psychologist and author of Date Smart
Olivia James, therapist
Dr. Tara Suwinyattichaiporn, relationship expert and professor at California State University Fullerton
Tarryn Dier, an expert in sex-positive and alternative relationship dynamics
This article was originally published on