5 Vertical Leg Crunch Variations For Stronger Abs
It's time to change it up.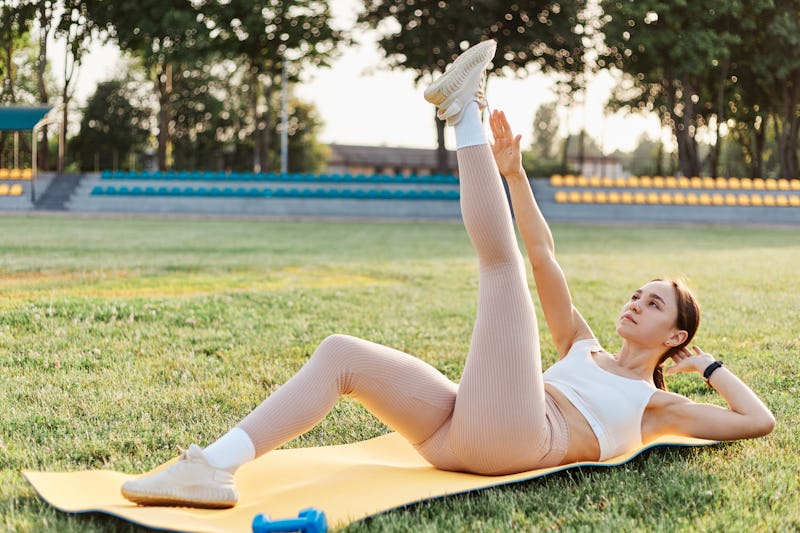 Shutterstock
You can always turn to classic crunches and sit-ups to strengthen your core. And yet, if you want to reach new muscle groups — or simply can't imagine doing another same-y crunch — then a few sets of vertical leg crunches might feel right.
Vertical crunches are just what they sound like: Crunches that you perform with your legs held up vertically so that they're perpendicular to the floor, says Dr. Helen Goldstein, a doctor of physical therapy with FlexIt Fitness. And there are all sorts of benefits to be gained by crunching this way. A legs-up position helps target your rectus abdominis muscles or abs, Goldstein tells Bustle, and it also calls on the obliques in a pretty unique way.
"Although we typically think of oblique strengthening exercises occurring during side bending or rotation type exercises, the obliques also assist in flexion of the trunk," Goldstein says. As soon as you lift your legs up, you'll notice that the muscles on the sides of your core really do light up to help keep you steady.
Another perk? "Vertical crunches also work the back extensor muscles, hip flexors, and even provide a little stimulus for the glutes and hamstrings, as they're used to keep your legs in the air," Matt Scarfo, a NASM-certified personal trainer, tells Bustle. Improved strength and core stability can result in better posture, too! Here are a few vertical leg crunch variations to try.
Studies referenced:
Hsu, SL. 2018. Effects of core strength training on core stability. J Phys Ther Sci. doi: 10.1589/jpts.30.1014.
Sources:
Dr. Helen Goldstein, doctor of physical therapy with FlexIt Fitness
Matt Scarfo, NASM-certified personal trainer
Kris Ceniza, trainer and physiotherapist