A Beginner's Guide To Shibari Rope Bondage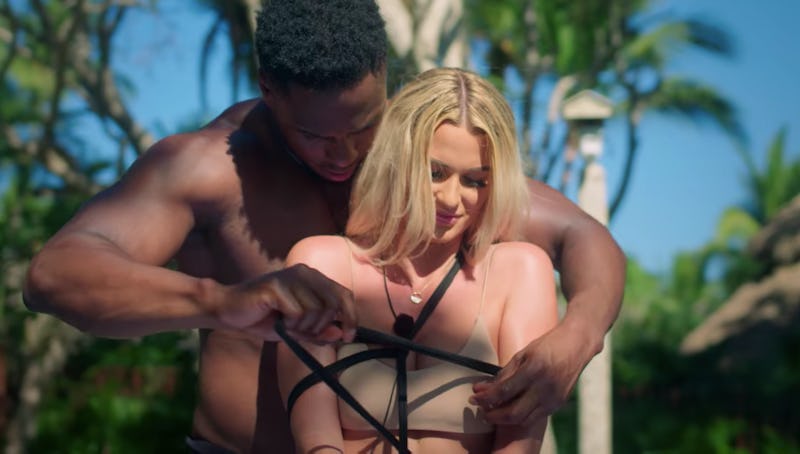 Netflix
You may be using your time in self-isolation to learn a new hobby, like making bread, puzzling, or (consensually) tying your partner up with intricate Japanese bondage. Whether you've always been into playing with restraints or you're just starting to learn the ropes, learning how to practice Shibari can tie up all your lusty loose ends.
Netflix's latest reality drama, Too Hot to Handle, even featured Shibari, "a technique used to improve intimacy and trust in relationships." While the contestants are shown with fancy bondage materials and get to work with a professional Shibari instructor, experts say it's totally possible to explore Shibari without breaking the bank or even leaving your house.
In an effort to spill the tethered tea, I spoke with Shibari artist Kitty Killin, Lazarus Redmayne of TheDuchy, and Rev. Rucifer, founder of Reiki Bondage, about Shibari, bondage, and getting a little knotty while social distancing.
What is Shibari?
According to Killin, Shibari, also known as Kinbaku, is a form of Japanese artistic rope bondage. "The word translates to 'to tie' or 'to bind' and refers to intricate and beautiful knots and patterns used to restrain and give sensation to the body," Killin says.
Redmayne adds that in modern usage, the term "Shibari" has become interchangeable with general "rope bondage," though they are not actually synonymous. "To practitioners, Shibari is just one of several styles and types [of rope bondage]," Redmayne says.
Why practice Shibari?
If you've ever played with handcuffs or love to get pinned down, you may already know that you like to play with restraints or power dynamics. As Rucifer says, Shibari can offer a sense of relinquishing and building trust with a partner in an intimate and artistic way.
"Some enjoy the art and beauty of the rope and its placement on the body; others enjoy the intimate connection between partners," Rucifer says. "And some are more into sadistic/masochistic elements and use it as an outlet to give or receive pain as part of a BDSM practice."
Killin adds that rope can be used to restrain yourself or a partner, create sensations, and explore new sex positions.
However, it's important to note that Shibari isn't strictly sexual. Tying someone up (or getting tied up), Killin says, can build an intimate connection between partners.
"Shibari is a tool to learn about your partner's body, to build trust between you and your partner, and to discover new and exciting intimacy," Killin says. "You'll learn what feels good and what doesn't."
What are Shibari's biggest misconceptions?
There is no "type" of person that practices rope bondage. "The images of scary dungeons and nasty people that you sometimes see in movies really don't play out," Redmayne says. "Most people in it are just regular people like you and me, that happen to have an esoteric interest."
Additionally, Redmayne notes that people generally overestimate the difficulty or time needed to start getting into Shibari. "There are simple things that you can learn in an afternoon that look absolutely gorgeous," Redmayne "The 'Hishi Karada ('Rope Dress')' and the 'Star (Pentagram) Harness' are both good examples."
For Killin, the biggest misconception about Shibari is that it's all sexy all the time. "Rope can be used to spice things up in the bedroom, but it's not only that, "When I self-tie, my rope is a means for meditation; when I build installations, rope is my medium; when I perform, rope is my apparatus."
Killin also shares that while Shibari may look intimidating, it's actually a fairly accessible practice. "Anyone can do it," Killin says. "Shibari is customizable — any tie can be crafted to fit the needs of any body type, any range of mobility, or any specific requirements."
What are some basic Shibari terms?
The "Rigger" or "Rope Top" is the person doing the tying where the "Bunny" or "Rope Bottom" is the person being tied up. In traditional Shibari, Killin attests that a rope is folded in half at the middle creating a loop or "bight" at one end and the "tail" or "working end" at the other. A "self-tie" is when someone ties themselves up, and a "floor tie" is ropework done exclusively on the floor.
Rucifer adds that "tension" is what creates tautness in the rope to give a sensation of bondage and restraint, and "reverse tension" comes from changing the direction of the rope while still restricting someone.
According to Redmayne, "Single column tie" refers to doing a decorative knot on one body part, (wrist, ankle, leg, waist, etc.) whereas "Double column" refers to tying two things together — wrists to wrist, ankle to ankle, ankle to thigh, ankle to wrist, etc."
What should one consider before starting?
Because practicing Shibari can put you at risk for bodily harm and nerve damage, Redmayne suggests taking an intro to rope bondage course (Rope 101). You can also courses at rope conventions, or find local classes or meetups on FetLife. TheDuchy or Shibari Study can be a great way to learn as well.
Additionally, it's crucial to get in tune with your limits before getting started. "Beginners should have an understanding of the risks associated with the practice and how to prevent harm with yourself or partner," Rucifer says.
From establishing the length of time that you want to be tied up to listing the positions you're not OK with, to forming a safe word, setting up some pre-Shibari structure can help you stay secure in your practice.
What do I need to practice Shibari at home?
Before getting into Shibari, it's imperative to check in with yourself and your partners about comfort levels and consent. Redmayne says practicing Shibari is all about consent, responsibility, and risk-aware consensual kink or "R.A.C.K."
"Open communication about people's desires, limits, safety, and emotional health is an expected and routine part of conversations in the kink world," Redmayne says.
You'll want strong rope with very little stretch to it, but you can get started with ropes from your local hardware store, a nice 1/4' (6mm) cotton solid braid sash cord. In addition to having a good rope, the experts share the importance of having a safe cutting tool. Redmayne and Killin suggest getting a set of real EMT shears (not just bondage or fabric scissors), that can cut through rope instantly if someone is hurt or just wants to stop a scene without being untied.
If you're feeling nervous or sheepish about your partner watching you fumble with your knots, giving the person you're tying a blindfold may help you both get in the moment.
I got my rope and shears, now what?
No matter your skill level, all the experts suggest looking at online Shibari tutorials and connecting with other rope enthusiasts to get inspiration and learn more about the practice. Rucifer shares that beginners often start by practicing with single ties (like the Somerville Bowline) and then learn additional knots, like the half-hitch, full-hitch, or crossing hitch, as well as futumomo, an upper thigh to calf tie.
Although you may be excited to do some multi-player knot tying, start practicing with solo-tying. "As you practice on yourself, you'll feel more comfortable as you start exploring with a partner and will be able to better communicate and navigate the experience," Rucifer says.
Whether you take a ropes course or try to follow along with a video, learning Shibari just takes practice and patience. As long as you're doing what feels right for you and your partner(s), Shibari is all about getting creative and finding the knots that work for you.
Sources:
Kitty Killin, Shibari artist
Lazarus Redmayne, founder of TheDuchy
Rev. Rucifer, founder of Reiki Bondage
This article was originally published on