The Surprising Origins Of The Term "Blow Job"
And why it's called that when there's no blowing involved whatsoever.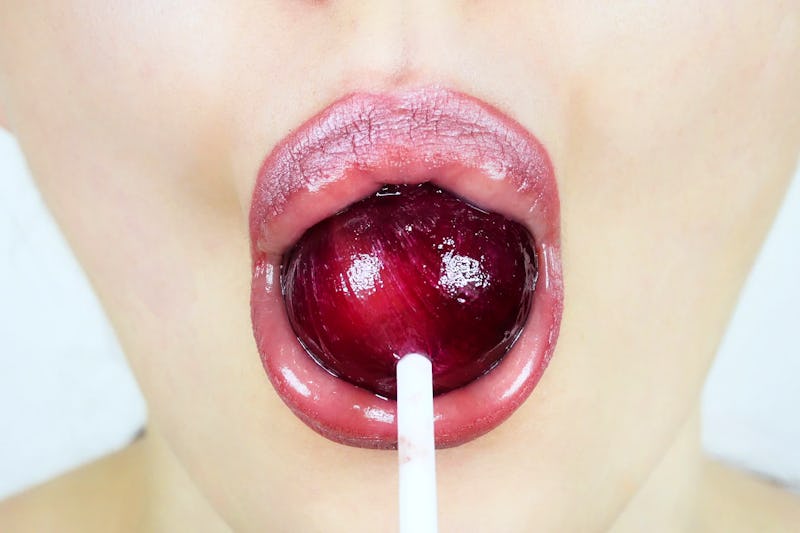 Shutterstock
Human beings have probably been performing oral sex on each other for as long as we've had genitals and mouths, but somehow, we've never quite come to a consensus on what exactly we want to call it — and our many terms for it reveal more than our urge as human beings to give nicknames to everything that we love: They also reveal our confused cultural attitudes toward the sex act itself. Is it funny or serious? Frivolous or important? And, as every confused middle schooler has probably wondered, why is it called a blow job when there's no blowing involved?
Here, the stories behind the five oral sex terms below show just how many factors influence the way we describe the act.
1. Blow Job
The most common and commonly understood oral sex term in the world didn't even come into use until some time after the first World War. In fact, even though "fellatio" is a Latin-derived term — taken from "fellatus," which means "to suck" — it didn't come into popular use until 1894, when sexual researcher Havelock Ellis used it in one his clinical works on sexuality. The roots of the term "blow job" began a bit earlier than this, however — in the 17th century, to be exact, when to "blow" meant to bring someone to orgasm. In the same time period, a "blowsy" meant an unkempt woman (fans of history and/or Les Miserables may recall the work options that were available to such women during this time and draw their own conclusions).
The term "blow" wasn't applied specifically to fellatio, however, until 1930, when we saw the first recorded use of it in a pulp novel called Nell Kimball: Her Life as an American Madam. It was also featured in a popular underground poem that circulated in 1948, "The Platonic Blow," and is about exactly what it sounds like. But while some claim that the term is derived from Victorian prostitute slang referring to performing oral sex as giving a "below-job," the first recorded usage of "blow job" was in a Tijuana Bible — a type of comic book that depicted popular cultural figures engaged in explicit sexual acts — printed in 1948, which featured one McCarthy-era male politician telling another, "You give such good blow jobs." And with that, we never looked back, America.
... Except, obviously, to debate whether "blow job" one or two words: The American Heritage Dictionary of the English Language says it's one, while Merriam-Webster's Collegiate Dictionary and Oxford English Dictionary say it's two, so feel free to style it however you want.
2. Giving Head
This term for performing oral sex was dubbed in the 1950s, possibly as part of the era's boom in sexuality. This would probably explain why the only place you've encountered this terminology is in the work of people who were actually young in the '50s, like these songs by Leonard Cohen (recorded in 1974) and Lou Reed (1972). (Though Prince, that rapscallion, was still using the term in 1980, in the song "Head.")
The phrase has, however, marched on in a new form: the slang "giving brain," which you may remember as that lyric that grossed you out while you were innocently trying to sing along to T.I.'s "Whatever You Like" in 2008.
3. Eating Someone Out
Much like its fellow Latin-derived sex term, "fellatio," "cunnilingus" itself didn't come into popular use until 1887 (and it has nothing to do with the idea of "cunning" — it literally translates to "lick vulva"). Specific terms for performing oral sex on women didn't really take off until the early 20th century, and suddenly, we were working with dozens of euphemisms, from "pearl diving" to "sneezing in her satchel." The most enduring of the era's terms for cunnilingus, however, became "eating out."
4. Muff Diving
Though "muff" has been a slang term for vulvas since at least the 1690s, the term "muff diver" didn't turn up until 1935, the end of the First Golden Age of Cunnilingus Nicknames.
5. Going Down
The etymology on this term is sketchy — many people first heard this phrase in Alanis Morrissette's 1995 "You Oughta Know," though obviously the former Angst Mistress General did not invent the term. No one seems to quite agree about when it came into popular usage, but it's undeniable that it has become the oral sex term of choice over the past decade or so — the term "go down on" brings up 30,400,000 Google search results. Although it's not universally appealing, it's the closest we've come to an all-purpose, non-gross, not humiliating oral sex term, which could account for its growing popularity.