10 Ways To Make Your Next Oral Sex Experience Even More Amazing
Including a hack for avoiding teeth.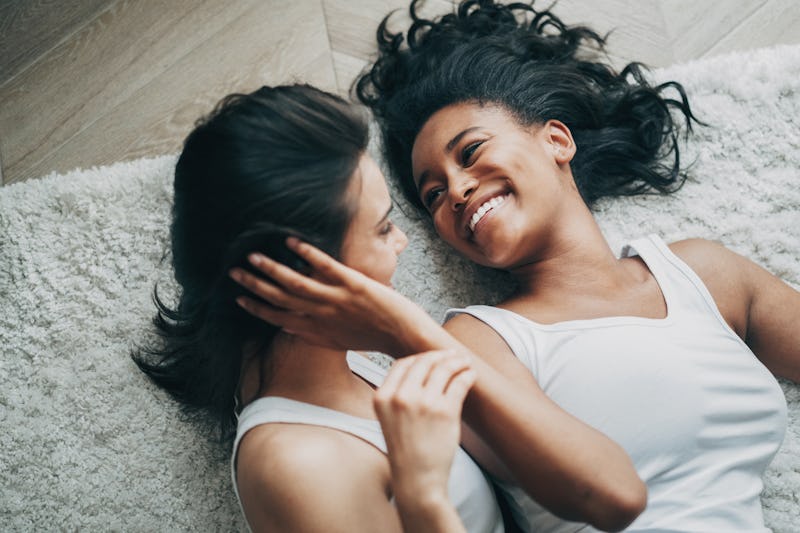 filadendron/E+/Getty Images
First, let's get one thing clear: If you're enjoying oral sex, and if your partner's enjoying it, you don't need any manual or rule book to tell you how to get off or how to avoid things like teeth while giving head. Oral sex can be immensely satisfying: Some studies link it as on par, or exceeding, pleasure from intercourse.
But oral sex also can have a learning curve. And that learning curve is dependent on your partner, you, both of your moods, and what else is on the sexual table for the evening. And although oral sex may be framed as something you "give" to someone, in reality, it's a subtle dance of connection, in which both of you are reacting to moves, cues, and sounds.
It can also be a learning curve to receive oral sex. But of course, the best way to learn is practice. Keeping these strategies, like how to give head without teeth, in mind can shake things up and help make oral more enjoyable for everyone (and all body parts) involved.
1. How To Avoid Using Too Much Teeth
Regardless of who may be receiving oral sex, teeth + sensitive skin is never a good combination. Just ask Google: How to avoid teeth during head is one of the most searched terms when it comes to oral.
But here's the thing: Your teeth are in your mouth, and your mouth is on your partner's privates — so yes, there may be some contact, and that's okay. In fact, a little playful and very light graze of the teeth can be tantalizing for some, but you want to make sure you know that that's what your partner wants before you do it. To avoid using your teeth during a blow job, try pulling your lips over your teeth and pretend like you're sucking on a popsicle.
2. Make Eye Contact
Yes, you're busy. But take some time to look up. Making eye contact during sex is a great way to create intimacy. "Looking someone in the eye and having them return your gaze can be a deeply vulnerable and connecting experience," says Vanessa Marin, a licensed psychotherapist specializing in sex therapy.
You don't necessarily need a deep, soulful stare, and you don't need to have a staring contest, but regularly looking up and engaging in eye contact can make it feel like a mutual experience. It can also help you both assess how you're both feeling and can help you easily transition into another act.
3. Vary Your Oral Technique
Just as it is with intercourse, you need to mix things up. Try different techniques, either with your mouth, hands, or both. If you've discussed it with your partner and they've consented, consider working some anal play or toys into your usual oral repertoire, too.
"Use your tongue to cover your lower teeth, and move it from side to side. Varying the stimulation will make it easier on you and will create new sensations," suggests Mark Michaels, a sex educator and co-author of Partners in Passion, A Guide to Great Sex, Emotional Intimacy and Long Term Love.
"Making humming sounds replicates the experience of using a vibrator. You can also try placing a vibrator on your cheek as you go down," adds Michaels. "Making authentic erotic sounds is not only a turn-on — it can help create an association with being turned on in your own mind."
You can also play around with just how many sensations your tongue can produce on different body parts. Experiment with different tongue positions, including the pointy tip, the flat surface, and the sides and the back, too. Your lips can also give different sensations. In short: Your tongue is a gymnast, and their body is your playground.
4. Let Go Of Your Fear Of Receiving Oral
Receiving oral can be terrifying. You're vulnerable, it's intimate, and you may wonder how everything looks, smells, and tastes down there. It's normal to feel nervous, but it's also OK to express your fear — and do it anyway, if oral is something you want to do. It's also OK to let go, feel vulnerable, have your partner take their time, and let yourself experience any weird noises that may come up. In short, oral is not just about amazing sensations below the belt, but creating trust, vulnerability, and intimacy with your partner — and allowing yourself to have fun and let go a little bit.
The same goes for giving: "People sometimes think of giving oral sex as somehow degrading, but actually it is a great way to honor your partner and convey your love," says Michaels. "We sometimes say that it's worshipping at the altar of your beloved. You don't have to think of it in such exalted terms, but it's great to bring a little of that sensibility to it."
And oral may be the gift that keeps on giving. A 2019 study of older adults found that those who regularly incorporated it into their relationship had more active sexual relationships and a higher quality of life than those who didn't. In other words, oral is a lifelong habit that's worth picking up.
5. Discover What Makes Giving Oral A Turn-On For You, Too
Yes, it's called a blow job, but no one wants to feel you're clocking in to spend time with their nether regions. If your partner enjoys oral sex, it can be helpful to find out what makes it a turn on for you, too. This could be seeing just how much your partner enjoys it, the vulnerability that comes with receiving oral sex, or the thrill that comes with experimenting with new techniques. Either way, giving and receiving oral can be something both of you can enjoy, for different reasons.
"Blow job is a misnomer, and a very unfortunate one," says Michaels. "Don't think of it as work — think of it as playful, fun, and erotic. Imagine that you are getting something from giving head, whether you define it as energy, power, satisfaction, or drawing something essential from your partner."
6. Use Your Hands
While your mouth is very talented in its own way, it doesn't need to do all the work. If you're giving a blow job, you can use your hands to stroke the shaft or play with their balls. If you're giving cunnilingus, you can use your hands to massage the vulva or stimulate the G-spot from the inside.
You may also use your hands to enhance the main effect. Using your hands on thighs, chest, or abdomen can all be incredibly hot. Instead of zeroing in on privates during oral sex, think of how to enhance the main event by creating sensations all over. Using fingernails, making light, fluttery touches, or grabbing the butt or back can all be incredibly hot.
7. Focus On The Entire Area
If you're giving oral to someone with a vulva, you don't need to focus entirely on the clitoris. Yes, the clit is chockfull of some 8,000 nerve endings, but that doesn't mean it should be the only place you focus on. Some people enjoy having other parts of their vagina stimulated by the tongue, so give that a try.
The same goes when giving head. You might think that licking and sucking just the tip of the penis is going to have them writhing in ecstasy, but there's more to the penis than just that area. Explore the underside, lick along the edges, and explore different depths.
8. Don't Try Too Hard
While the whole deep throat thing may look hot in porn, in reality, unless you have a gag reflex of steel, it's not that fun for everyone. Also, contrary to what porn shows us, not all people want to hear you choking on their penis. So don't feel like you need to go there if you're giving a BJ — unless you want to, of course. Part of the joy of oral sex is stepping outside your comfort zone and committing to being vulnerable with your partner. Oral can be messy, loud, and sometimes weird. If you're curious about deep throating, and your partner's on the same page, go slow, be ready to stop, and have a towel ready in case you trigger a gag reflex. Some people love deep throating, other people don't. You do you!
9. Read Your Partner's Cues
Listening to your partner — yes, moans count — is key when it comes to knowing what to "do" during oral sex. Oral sex is different each time — not just with different partners, but sometimes with the same partner depending on the day, their mood, and how turned on they are. Communication has the power to pivot any sex act from meh to amazing. "Putting it all on your partner to magically decipher the exact way to stimulate you creates a lot of pressure and oftentimes doesn't work out in your favor," says Marin.
Whether they use their words or their moaning, it's your job to stay aware of their breathing and responses so you can make adjustments. If your partner is breathing heavily and telling you not to stop doing something you're doing, but you decide to switch gears anyway, then your partner may get frustrated. Listen and follow directions.
10. Enjoy It!
If you don't enjoy giving oral, then don't do it. Where you can go wrong with giving oral is by forcing yourself to do something you don't want to do, which leads to making disgusted faces the entire time, or acting bored or annoyed. As much as many people find getting oral to be really enjoyable, what immediately sucks the enjoyment out of it is knowing that their partner is having a miserable time.
Remember: You're under no obligation to give oral sex — and if you do do it, do it because you want to, not because you feel you have to.
This article was originally published on