Get Fairytale Inkspo With 7 Cute Disney Tattoos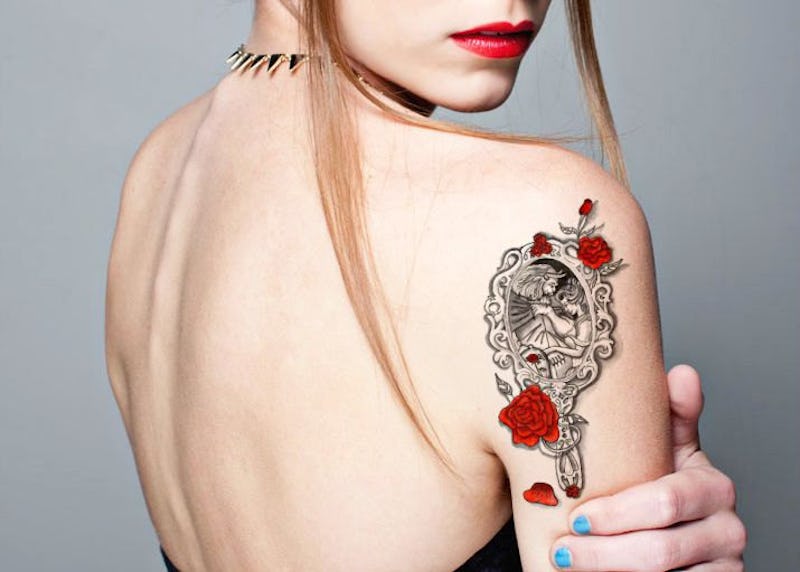 I can't stop looking at Disney inspired tattoos. There is just something so magical and nostalgic about them. Compared to other ink, Disney designs look, to me, like they would be painless. They're often brightly colored and just so beautiful that I can't help but wonder if they would even hurt. Perhaps you'd just be so in awe of the gorgeous masterpiece unfolding in front of your eyes that you'd be hypnotized by the needlework and be put into a trance á la Kaa from The Jungle Book . Now that would be a dream come true.
These days, it sometimes seems like everyone has a tattoo regardless of their gender, age, or occupation. Even Disney princesses have been reimagined by artists as alternative girls covered in cool tatts, flaunting heavy eye makeup, and wearing their favorite band T-shirts. Lucky for princess aficionados like myself, though, the ink isn't just being reimagined. It's being intricately designed and placed onto the bods of fellow Disney loyalists.
So for everyone out there who loves Disney and/or is looking for some awesome inspiration for their next tattoo, here are seven epic Disney inspired tattoos from Instagram to get your creative juices flowing. My, what a wonderful world we live in.
1. The Frozen Heart
Fans of Frozen are going to go absolutely crazy for this Frozen inspired tattoo. Featuring a design comprised of an anatomical heart made of ice with the quotes, "Only an act of true love can thaw a frozen heart," and, "Sisters forever," this will definitely melt the hearts of Disney fangirls, especially ones who have a sister. Plus, this tattoo is totally feminist and celebrates all kinds of love, not just the heterosexual kind.
2. The Disney Princess Design
Are you a gal whose favorite Disney movies are the old school ones featuring the Disney princesses? If so, this tattoo will be perfect for you. The design features some of the more traditional princesses from the older movies in a collage that takes the shape of a pink Mickey Mouse. My inner girly girl is squealing in delight and jumping up and down whilst clapping her hands together.
3. The Mickey Mouse Hat Tattoo
This tattoo is a very clever way of combining a portrait of your most beloved pet(s) with your love of Disney. If I had some pups, I'd have to actually get them these hats IRL as well.
4. The Cute Cat Tattoo
Do you love The Aristocats? Or maybe you're a fan of cute kittens? Either way, this simple yet beautiful tattoo of Marie is sure to have you looking like the cat's meow.
5. The Castle Of Your Dreams
Wouldn't it be absolutely wonderful if someone told you that a Disney castle was your new home and you could move in ASAP? That would be my ultimate fairytale ending. IMO, this pink, purple, and yellow version is even better than the original. I don't think there could be anything better unless you were also crowned a Disney princess. A girl can dream!
6. The Fashion Victim Villainess
If you're a lady whose mutual passions are fashion and Disney, then this ink is for you. Featuring a witchy Cruella de Vil looking smug in her appalling furs with her cigarette in its long holder, it's enough to make you turn against the fur industry.
7. The Pretty Poodle Tattoo
Does anyone else remember the '80s cartoon classic Oliver & Company, which was an animated take on Oliver Twist? My favorite character had to be the pampered poodle Georgette. I just loved her song "Perfect Isn't Easy," which showed her getting ready on a morning to face the world.
Watching this part of the film as an adult is really odd because it shows the pressures that women have to go through to achieve "perfection." This song could have affected a whole generation of girls like myself who felt like huge importance was being placed on what they looked like rather than their skills or talents. Aside from that, Georgette was a super cute poodle who brought a ton of sass and wit to the table and this tattoo is a great way to honor her.
So sprinkle some magic into your life and never grow up whilst sporting a Disney inspired tattoo of your own.
Images: Siideways/Etsy; Giphy