9 Recent Novels You Absolutely Can't Miss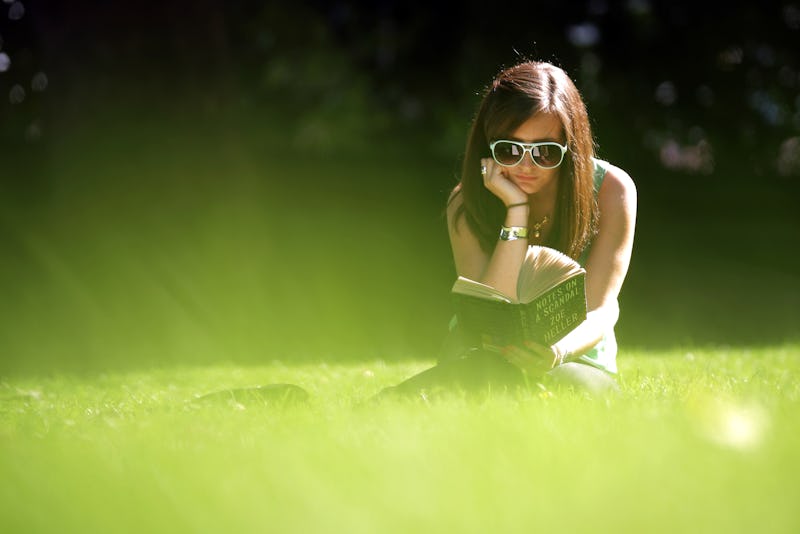 It happens to the best of us: You get busy with work or school or life, and realize you haven't been reading that much — or at all. Even worse, all the upcoming releases you were so excited about have come and gone without your chance to discuss them with everyone else. The literary world has moved on.
It doesn't take long before it feels impossible to catch up. In some cases, you're probably better off. The inexplicably beloved Gone Girl ate up an unfortunate amount of my life without even offering a compelling mystery. (Just read the "cool girl" speech and you're pretty much set.) There are other books that you should make the effort for, however — whether they have an important place in the cultural conversation, are destined to be remembered as genuine classics, or are just that fun to read.
These nine works of fiction reflect the massive changes to our cultural and political landscape that have occurred in the past five years. They run the gamut from a quasi-utopian cyberpunk post-apocalyptic YA novel to the final collection from a master of the short story to a disturbingly accurate dissection of modern romance. But no matter how each is classified, they all fall under one big umbrella: Every single one is a great read.
Americanah By Chimamanda Ngozi Adichie
Immediately after finishing this book I gave it away — not because I disliked it, but because I loved it so much that I needed everyone else to read it. ("Everyone" started with my mom — who, in turn, convinced her book club to read it.) Adichie's remarkable novel tells the story of young Nigerians Ifemelu and Obinze, who fall in love as teenagers, only to be separated by circumstance and stubbornness. Their romance forms the heart of a brilliant, funny take on what it means to have a happy life.
Why you need to read it: Americanah is the kind of book that the phrase "sharply observed" was invented for. It is so smart about so many things: race, class, media in the Internet age, and the unique experience of being an immigrant in America.
How Should A Person Be? By Sheila Heti
This sort-of novel caused a stir when it was published. Some people loved it, but others really did not — and the division fell largely along gender lines. The story is a meandering, loosely autobiographical take on the adventures of Heti and her friends. Critics blasted the book for its formlessness, its boring middle bits, and mostly its narcissism. And yet, all of those things are sort of the point. Life is mostly made up of selfish people and boring middle bits arranged in no particular order.
Why you need to read it: How Should a Person Be? is more of a manifesto than a novel, and Heti's attempts to answer the titular question shed a surprising amount of light on what it means to be a woman, an artist, and, yes, a person.
The Love Affairs of Nathaniel P. By Adelle Waldman
You know when you read a book and think, "Oh god. This is my life"? The Love Affairs of Nathaniel P. was that book for me. As the title suggests, Waldman's novel details the love life of one Nate Piven, a newly-successful writer living in Brooklyn (as they do). Nate is a painfully well-drawn portrait of the type of very intelligent, well-educated, deeply insecure guy who invests so deeply in his own image as smart, successful, generally decent human that he will tear down anyone who threatens that perception, even if it's just by being a woman who could potentially prove his equal.
Why you need to read it: Because you've probably dated a Nate and need to know how to avoid them in the future. Or maybe you just need a reminder of why not to move Brooklyn.
The Lake By Banana Yoshimoto
When it comes to Japanese literature, way too many of us are content to stock up on Haruki Murakami novels and call it a day. Start addressing that oversight with Yoshimoto's gorgeous, haunting novel, which recounts the burgeoning relationship between a woman grieving the death of her mother and a man haunted by a mysterious past that may have involved a dangerous cult.
Why you need to read it: It's easy to forget how many fascinating novels are written all over the world and are simply never translated into English. The Lake will remind you of all the great books are out there if you're willing to dig a little deeper.
Dear Life By Alice Munro
Happily, it seems that everyone has finally accepted Alice Munro as one of our greatest living authors. (Winning the Nobel Prize will do that.) Dear Life is reportedly the 84-year-old author's last book, and her only openly autobiographical one. These stories are some of Munro's best, and include tales of thwarted love, lost old women, and unfortunate decisions.
Why you need to read it: Sometimes we all need a reminder of how weird life can be, even in its most ordinary-seeming moments.
Saga By Brian K. Vaughn, Art By Fiona Staples
If you follow comics at all, you've probably heard of Saga, the epic tale of two lovers from warring planets trying to carve out a life for their family. But even if you never read comics, you should try this one. The story is sweeping and intimate by turns, the art conjures an entire universe, and the characters are some of the most fully realized around, regardless of medium.
Why you need to read it: Saga embodies the best of what comics can be. It has a story so strange and beautiful and downright huge that it really could only be told in this format. Vaughn and Staples manage to inject an almost unbelievable amount of emotion into each page. They will break your heart in the best way possible.
This Is How You Lose Her By Junot Díaz
Although not quite on the level of his masterpiece The Brief Wondrous Life of Oscar Wao, Junot Díaz's newest story collection is still a fascinating meditation on race and masculinity in America. Returning once again to narrator Yunior, Díaz explores the many ways the tough young Dominican has hurt those he loves, and been hurt by them in turn.
Why you need to read it: For the beauty of Díaz's prose, and the profound portrait he creates of a man striving — and mostly failing — to do better.
The Woman Upstairs By Claire Messud
Pro tip: Don't ask a serious writer if her main character is likable. When an interviewer asked Messud if she would want to be friends with Nora, the narrator of The Woman Upstairs, the novelist shot back with, "For heaven's sake, what kind of question is that? Would you want to be friends with Humbert Humbert?" and then proceeded to list off an impressive number of unlikeable protagonists from the past 500 years of fiction. So no, Nora may not be likable, but she is interesting. She's an artistically and romantically thwarted woman trying to find her way back to something like joy.
Why you need to read it: Because we need more angry, lonely, unlikeable women on our bookshelves.
Dare Me By Megan Abbott
I sat down to start reading this cheerleader neo-noir and didn't get up again until I'd finished the entire thing. It's just that good. The story of two teenage cheerleaders and their magnetic young coach, Dare Me has infinitely more insight into the female capacity for violence than Gone Girl — and characters whom you might actually care about.
Why you should read it: If its page-turner bonafides aren't enough, consider it an important reminder that teenage girls are both smarter than you remember them being and often kind of evil.