Are Kaitlyn Bristowe & Nick Viall Friends?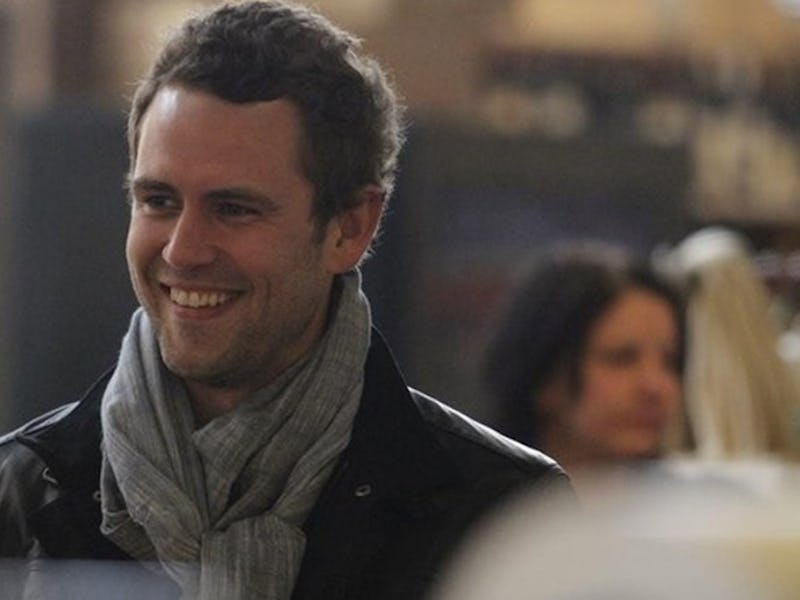 If you're like me, the season finale of Kaitlyn Bristowe's The Bachelorette still has you reeling. Although I staunchly support Kaitlyn's decision to bestow now-fiancée, Shawn Booth, with her final rose, her rejection of contender, Nick Viall, was downright brutal. I'm still experiencing sad second-hand feels at the memory of Nick's despondence when Kaitlyn cut him off mid-proposal to reveal, "My heart is with someone else." Oomph. Anyone who has suffered the pain of unrequited love could empathize with the anguish written all over Nick's face, and — I'll admit it — I almost started weeping into my freshly minted glass of Sauvignon Blanc while watching the scene. As Selena Gomez would say, however, "The Heart Wants What It Wants," and Kaitlyn made the right choice by choosing the man she felt most connected to.
During ABC's After The Final Rose special, Nick's hurt seemed somewhat diminished. Although his interaction with Kaitlyn wasn't one of hugs and friendship bracelets, the two were civil and seemed to gain some closure. Even Nick's time with former nemesis, Shawn, wasn't the most awkward we could have expected. I mean, yes, it was awkward (i.e., the "nice beard" comment was pretty cringe-worthy), but it could have been a lot worse.
Now that the dust has settled, one question remains: Are Kaitlyn and Nick friends? Is that even a possibility? If Andi Dorfman has proven anything, it's that friendship — or at least civility — can come from unlikely circumstances. According to a Monday, August 7, report from Us Weekly, the former Bachelorette was quick to come to Nick's defense in regard to his intentions on the addictive reality hit. "I had my ups and downs with Nick, but the thing I will say about him is I know that he is genuine in what he wants and that is love," she stated. "Whether or not he goes about it the way that everybody else would." Preach!
As for Kaitlyn, ABC's most recent Bachelorette has remained relatively mum on the subject of Nick. The jilted Bachelorette frontrunner has been a little more vocal about the outcome, and sadly, it appears that he has no intentions of forging a friendship with his ex. Let's take a look at some of the most recent evidence.
1. Nick Reportedly Opened Up About The Split
Reportedly, Nick gave an exclusive to Life & Style, telling the magazine, "I think it showed a lack of sincerity on her part," in reference to his After The Final Rose interaction with Kaitlyn. "I don't anticipate us being in each other's lives." It appears Nick may also still have some animosity toward Shawn, as he reportedly went on to say, "You would hope that Kaitlyn would rub off on Shawn more than Shawn would rub off on Kaitlyn...But it seems like it might be more the latter."
To be fair, the split is still relatively new, and heartbreak doesn't heal overnight. As romantic reality competitions go, it's pretty much inevitable that someone is going to leave feeling slighted.
2. Nick Wanted To Have A "Walk Off" With Shawn
This actually showcases Nick being a good sport, IMHO. And, yes, seeing Nick and Shawn channel Zoolander would have been everything ever. Shawn remained mum on social media about the tweet.
3. Kaitlyn & Shawn's Lack Of Interaction With Nick
Instagram, Snapchat, Twitter — Kaitlyn and Shawn are certified pros at social media shares. The two consistently update their respective accounts, most recent posts involving the two of them being too adorable for words. From an outside perspective, it doesn't appear that either has any intention of speaking on Nick, or forging a friendship — which may be for the best.
Seriously, guys, it isn't easy to be friends with an ex under any circumstances. I can't blame Nick for still feeling hurt; conversely, I also can't blame Kaitlyn and Shawn for their public celebrations as a newly engaged couple. As time truly does heal, we wish the best for all parties involved. Whether or not Nick gives reality romance another go, I have no doubt he'll find the happiness he deserves.
Images: ABC; Giphy