Is More 'Z For Zachariah' On The Way?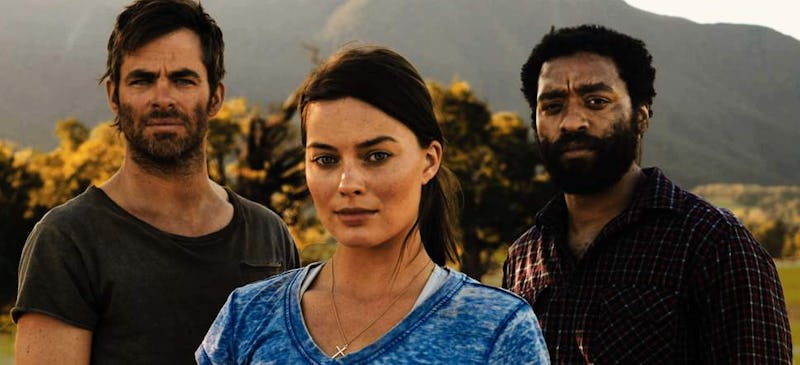 Z for Zachariah might be based on a young adult novel about an apocalyptic future, but that doesn't mean it will follow in the footsteps of The Hunger Games and Divergent in becoming a franchise. The movie stars Margot Robbie, Chris Pine and Chiwetel Ejiofor as the last three people on Earth, but as for whether Z for Zachariah will have a sequel, the answer is unclear. It's safe to say, though, that it's pretty unlikely, because Z for Zachariah was adapted from a book by the same name from young adult author Robert C. O'Brien. Published in 1974, the novel was released posthumously, meaning that O'Brien never had the chance to write a sequel, so it's doubtful the filmmakers would decide to do one.
The movie, directed by Craig Zobel, takes many liberties regarding the text from which the film was born. For example, Robbie's main character, Ann, was aged a few years, from 16 to about 18, and the character of Caleb (Pine) was added in to create a twisted love triangle, and Loomis (Ejiofor) was changed from a white man to a black man. The film did, however, keep the theme of faith found in the book, as both Caleb and Ann are religious, but Loomis is not.
Given the liberties taken in the adaptation, it's possible screenwriter Nissar Modi could simply come up with a sequel on his own — though it's unlikely, especially given the busy schedules of the three actors involved. All three of the Z for Zachariah cast members have huge franchises in the works. Ejiofor is reportedly prepping to play Baron Mordo in Marvel's upcoming Doctor Strange film, currently in pre-production. Little is known of Ejiofor's role in the film, but in the comics, Mordo is a villain that betrays Doctor Strange (Benedict Cumberbatch). Regardless of his character's allegiance, the role will likely keep Ejiofor busy for quite some time, as actors who sign on for a Marvel film generally don't sign a contract for just one movie. Before Doctor Strange, you can catch Ejiofor in The Martian , coming out Oct. 2, and Secret in Their Eyes, hitting theaters Nov. 20.
Ejiofor isn't the only one joining the superhero world in the near future. In the DC Universe, Robbie just finished filming Suicide Squad alongside Will Smith and Jared Leto. The movie is just one of the many films DC Entertainment has lined up in the hopes of creating a cinematic universe similar to the one established by Marvel Entertainment, so there's no doubt that the studio hopes to have Robbie reprise her role as Harley Quinn after Suicide Squad opens next August. Robbie also has a few other projects in the works, including wartime drama Fun House, and the Tarzan reboot starring Alexander Skarsgard.
Meanwhile, Pine is still signed on for two more Star Trek films as Captain Kirk, and is already doing press to promote his Disney drama, The Finest Hours. Not one to be left out of the superhero fray, Pine is also set to join the DC Universe as Wonder Woman's love interest, Steve Trevor, in the upcoming Wonder Woman film, scheduled for release in 2017. If all goes well, it's also likely that Pine will reprise the role in following DC Universe films.
Z for Zachariah hits theaters Friday, Aug. 28. Be sure to catch all three stars in the film and all their exciting upcoming roles.
Images: Roadside Attractions; Giphy (3)