Will Nick Move In With Samantha After 'BiP'?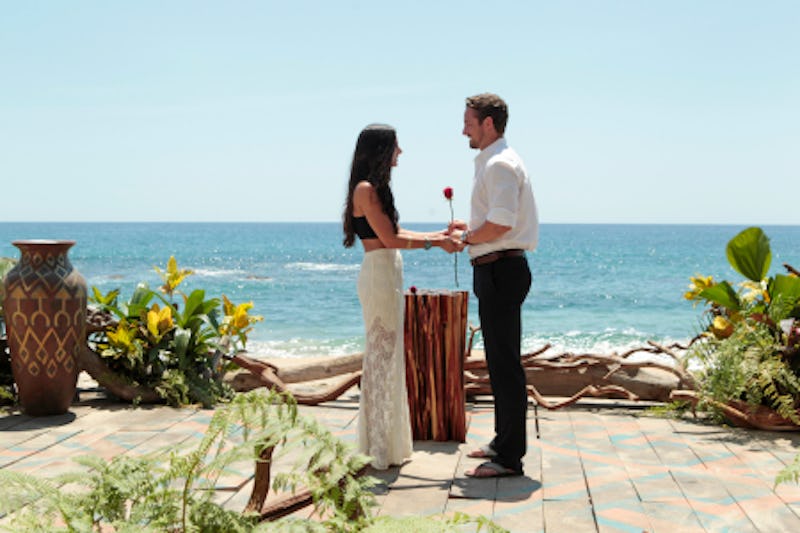 This season of Bachelor In Paradise has been really successful at bringing some unfamiliar Bachelor/Bachelorette contestants out of their shells and into the spotlight. Two such contestants are Samantha Steffen and Nick Peterson, who have struck up a romance now that Joe has left Paradise. Their recent date left them sitting pretty, and I wouldn't be surprised if they decided to keep dating after the show. But a long distance romance is always tough, so will Samantha or Nick move to be together after Bachelor in Paradise?
These two had a rough start when Nick arrived on the island. Nick let it be known that the two had a pretty serious amount of communication before the show, and he had planned on coming on for her. Sound like anyone else's story? *Cough Joe cough* Unfortunately, it seemed like things weren't going to work out for Nick the way they went for Joe. Nick asked her on a date and she awkwardly refused, making us all cringe and want to be swallowed up by the earth for him. Eek. But, they ended up making amends and are looking better then ever.
As a Bachelor veteran, Nick has come away from his reality adventures with some impressive cash prizes. He happens to be known for being the guy who didn't share his winnings on Bachelor Pad. Recently, during a Periscope broadcast for fans, Nick let everyone know exactly what he planned to do with all of that money. Being a personal trainer, he is leveraging his winnings into an investment for a fitness facility. Seems perfectly normal, right?
Well, the real brow quirking news came out when he mentioned the location of his fitness facility. Nick currently resides in Tampa, Florida, but he has plans to open the franchise in Sausalito, California. Who else lives in California? None other than the apple of his eye, Samantha Steffen. The evidence hasn't piled too high yet, but it sounds to me like there could be a motive behind his location switch, aka he and Sam might be moving in together.
It's definitely hard to make a Bachelor romance last, but if Nick is planning to move, his odds of working out with Samantha greatly improve. Looks like he's giving them their best chance possible, so good luck to the two of them!
Images: Rick Rowell/ABC (2)