'New Girl' Season 5 Spoilers From Winston Himself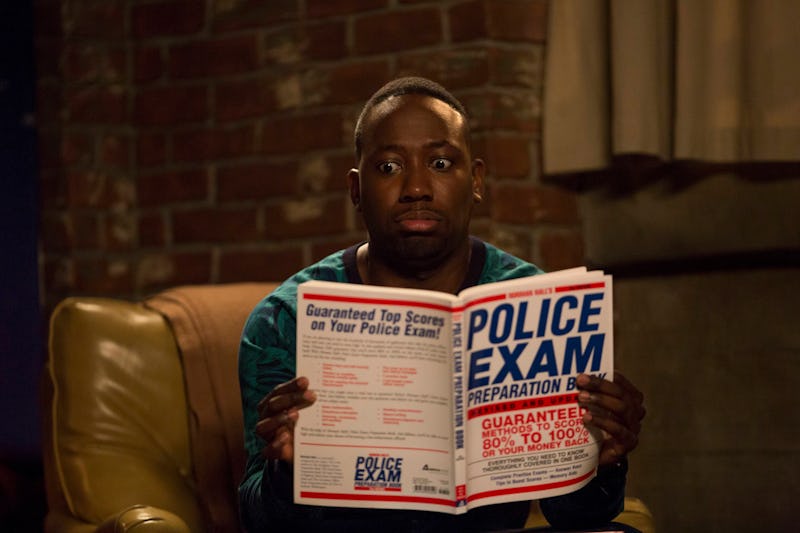 Unlike all of its past seasons, which debuted in the fall, New Girl Season 5 won't premiere until January 2016, meaning we still have months of waiting ahead of us before reuniting with our favorite loftmates. And, given the jaw-dropping cliffhanger the series delivered — with Schmidt proposing to Cece — this extra long hiatus is going to feel like absolute torture. Luckily, there are a few things that can be done in order to quench our thirst of the FOX sitcom, one of which includes learning as much as we can about the upcoming season. Lamorne Morris, who plays Winston Bishop, was kind enough reveal to Bustle a few New Girl Season 5 spoilers regarding what antics these beloved characters will be up to when the new season rolls around.
And (perhaps unfortunately for them), one of those antics includes everyone's not-so-favorite pastime. "I'm just going to say jury duty," Morris hints. "There's a jury duty episode, which causes a bit of a shake in the loft. And the loft will look like something you've never seen before." Just leave it to these guys to make even the idea of jury duty sound intriguing. But, Morris' teasers didn't stop there. The actor also described a few New Girl clues using only emojis, leaving it up to us to interpret all that's to come, not just for his character, but for the entire show.
Now, obviously, these images could read in a variety of different ways, but after channeling my inner-Winston cop skills, I've tried to decode these emoji teasers as best I can. And, from what I've detected, it's going to be yet another wild and crazy season, full of equal amounts of celebration and sadness. What makes me say that? Check out Morris' emoji spoilers below and what I think it could mean for this lovable gang moving forward.
Cheers, Cheers!
Obviously, there's bound to be quite a bit of celebrating in store now that Schmidt and Cece are gearing up to tie the knot. Perhaps this is to represent their upcoming engagement party, which I'm sure will go off without a hitch. (*insert sarcasm here*)
Sob, Sob, Poop
At the same time, there's also going to be some tear-jerking moments in the near future, though this could be tears of joy from seeing the happy couple together. Or maybe it's some residual sadness from Coach no longer being around. If you combine the sad faces with the poop emoji, it could be Morris' way of saying that there's some sad sh*t in store for these characters. Either way, I work make sure you're fully stocked in the tissue department before Season 5 kicks off.
Girl, Girl, Lightning
The writers have said for quite some time that they are looking to give Winston a love interest. Could this girl-lightning combo signify that sparks are going to fly for someone very soon? Maybe Winston will find himself in a love triangle of sorts, where two women are vying for his affection. Then again, this could represent friction going on between Jess and Cece. There could be a rough road ahead for this friendship.
Tongue, Praying
OK, I'll admit I'm at a complete loss with this one. I'm not even sure if these two emojis necessarily even go together, but honestly, they make just about as much sense together as they do apart. Saying that Winston finds religion seems a little too spot-on in this case. I think this more likely indicates something not quite so literal. Maybe a wish of Winston's is about to come true that will bring out his playful nature. Right now, this one is pretty much anyone's guess. But, at least it gives us plenty to think about as we impatiently wait for New Girl's return. (Is it January yet?)
Reporting by Emma Lord.
Images: Jennifer Clasen/FOX; Bustle; Giphy (3); novemberdelane/Tumblr