Win Your Office Emmy Pool With These Predictions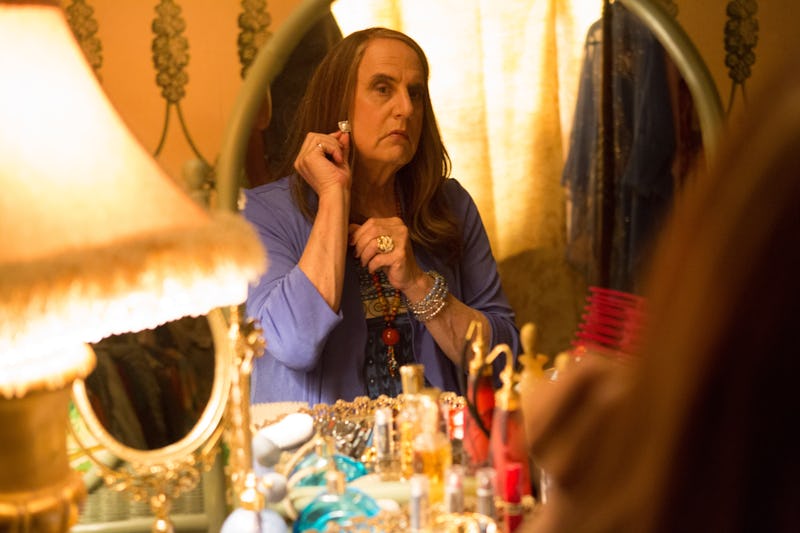 Ah, the Emmys. It's that time of the year again, when TV fans around the country gather to watch the ridiculous but somehow still enjoyable practice of giving objective awards to a subjective art form. It's the Superbowl of the small screen, the Olympics of the boob tube. And each and every one of us has players we're rooting for. Naturally, not all of them will emerge victorious this Sunday night — it's impossible to tell who will win Emmy Awards this year. But, with a little help, you might. Here's a handy dandy cheat sheet 100 percent guaranteed* to help you win your office Emmy Awards pool or your viewing party ballot challenge.
(*Not really. I claim no responsibility for the actual outcomes of the 2015 Primetime Emmy Awards.)
The folks over at GoldDerby.com have assembled a panel of experts to guide us through the fraught prediction process. Their 18-person team includes writers from Variety, Deadline, Vanity Fair, Huffington Post, and more. Each expert makes their prediction in each category, and then all of those predictions are collated into mathematical odds. While certainly not foolproof, it's bound to get you closer to victory than closing your eyes and randomly stabbing your ballot with a pencil.
Check out the likely results of the biggest categories right here, and then head over to GoldDerby.com to browse through the rest of their predictions.
Outstanding Comedy Series
Will Likely Win: Veep
Could Win: Transparent
Julia Louis-Dreyfus, the star of HBO's caustic political comedy, has won the trophy for Outstanding Actress in a Comedy three years in a row now, so the Emmy voters are clearly watching and loving the show. And while the laws of inertia would argue that ABC's Modern Family is bound for its sixth consecutive win, the idea of it surpassing Frasier as the most-awarded comedy of all time just seems ludicrous. In fact, only two out of 18 experts predict a Modern Family win, while nine of them are confident in Veep. Amazon's Transparent is fairly close behind with six experts in its corner, making this the closest race of all the major categories. NBC's Parks And Recreation is the only other nominee given consideration, with one expert predicting a win for its final season.
Outstanding Lead Actor In A Comedy Series
Will Likely Win: Jeffrey Tambor, Transparent
Could Win: William H. Macy, Shameless
This is one of two practically foregone conclusions in this year's Emmy race: Jeffrey Tambor's role as transgender woman Maura Pfefferman was one of the best of the year, and he definitely delivered the most "outstanding" performance in the category. Seventeen out of 18 experts predict a Tambor triumph, with one lone wolf pulling for Shameless's William H. Macy. It's true that the Television Academy finally seems to be taking notice of that Showtime comedy, having just awarded Outstanding Guest Actress to Joan Cusack after four fruitless nominations in a row — but this one is Tambor's, hands down.
Outstanding Lead Actress In A Comedy Series
Will Likely Win: Julia Louis-Dreyfus, Veep
Could Win: Amy Schumer, Inside Amy Schumer
With three notches in her belt for her performance as hapless Selina Meyer, the Veep star already has the most consecutive wins for the same role in this category ever. If she wins again, she'll be tied for the most wins in this category, period, alongside legends Candice Bergen and Mary Tyler Moore. And since Season 4 was the best season of Veep yet, it seems foolish to bet against her... and yet a few experts have. While Louis-Dreyfus dominates with 13 votes, two experts are jonesing for an Amy Schumer upset. This category has the most widespread love of the year, with three other contenders (The Comeback's Lisa Kudrow, Grace & Frankie's Lily Tomlin, and Parks & Rec's Amy Poehler) accruing one vote each. Nurse Jackie's Edie Falco is the only one coming up empty — although she previously won for the role in 2010, so don't feel too bad for her.
Outstanding Drama Series
Will Likely Win: Mad Men
Could Win: Game Of Thrones
The Comedy Series category is the tightest race of the night, and the Drama Series category is the second tightest. Mad Men won this award the first four years it was on the air, before being unseated by Showtime's Homeland and then the final two seasons of Breaking Bad. A comeback win for its well-received farewell tour seems a likely outcome; or at least 11 experts think so. (A fifth victory in the category would make it the most-awarded Drama of all time, surpassing its current four-win brethren Hill Street Blues, L.A. Law, and The West Wing.) But don't count out HBO's epic fantasy series, Game Of Thrones : It's coming hot off its talked-about season to date among viewers, and it is still hugely respected within the television industry for its sheer ambition, scope, and technical achievement — as evidenced by its 24 nominations (the most of any show this year) and its staggering eight wins at the Creative Arts Emmys last weekend. Seven experts see a Westerosi win in the flames. In this clash of two titans, there simply isn't room for anyone else.
Outstanding Lead Actor In A Drama Series
Will Likely Win: Jon Hamm, Mad Men
Could Win: Bob Odenkirk, Better Call Saul
Ironically, while the two Series categories are the closest races of the night, the two Lead Actor categories are the two biggest locks. Like Tambor, one actor has 17 out of 18 votes in this category: Jon Hamm, who finally looks to end his epic losing streak this year, thanks to the terrific final season of AMC's Mad Men. Hamm has been nominated for 16 Emmys — eight for Lead Actor for his performance as Don Draper, four for Guest Actor for his roles on 30 Rock and Unbreakable Kimmy Schmidt, and four for Drama Series as a producer for Mad Men — but he has thus far won zero. (He only became a producer on Mad Men in its fifth season, the year it broke its winning streak.) One hold out is counting on a win for Bob Odenkirk for the Breaking Bad spinoff Better Call Saul, but don't be fooled; this is Hamm's night.
Outstanding Lead Actress In A Drama Series
Will Likely Win: Viola Davis, How To Get Away With Murder
Could Win: Elisabeth Moss, Mad Men , OR Tatiana Maslany, Orphan Black
At first glance, I would have said this category had no clear front-runner. But that's why we leave this stuff up to the experts, right? A surprising 13 out of 18 are predicting that Viola Davis will walk away with the trophy for her fearless performance as Annalise Keating on the ABC crime soap. (No, not that trophy.) Case closed? Not quite: There are at least two possible dark horses in this race: Orphan Black's Tatiana Maslany and Mad Men's Elisabeth Moss, with two votes each. The tie-breaker goes to Moss for her association with the likely Drama Series winner; after being snubbed for two years, Maslany's nomination will have to be her victory. One rogue expert is predicting a win for Empire's Taraji P. Henson, perhaps because he's scared of getting on Cookie Lyon's bad side. But this weekend, Viola Davis will probably show us all how to get away with stealing an Emmy right out of Cookie's claws.
Who will win and who will lose? Fill out your office pool ballot now and take home all the glory this Sunday night, when the 67th Annual Primetime Emmy Awards are hosted by Brooklyn Nine-Nine star Andy Samberg.
Images: Patrick Harbron/HBO (2); Amazon Studios; AMC, Justina Mintz/AMC; Mitchell Haaseth/ABC