'Parks & Rec' Feels Like It Ended Forever Ago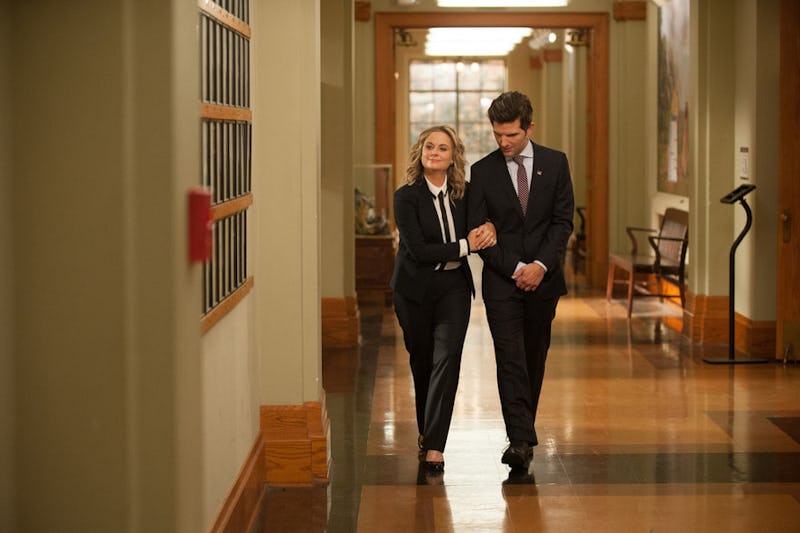 Over the course of its seven seasons, NBC's Parks and Recreation became one of the most critically-acclaimed comedies on television — although you'd never know it by looking at its history with the Primetime Emmy Awards. Amy Poehler has been nominated for an Emmy for her performance as the indefatigable Leslie Knope every year since the show's second season, but she has never won, losing to Veep's Julia Louis-Dreyfus the past three years and Mike & Molly's Melissa McCarthy and Nurse Jackie's Edie Falco before that. The show itself hasn't won any awards, either, and has only been nominated for the top prize twice in its seven-year existence, first in 2011 for Season 3 (losing to Modern Family), and now this year for its bittersweet swan song. Speaking of, when exactly did Parks and Recreation end?
It's admittedly sort of surprising to see the beloved sitcom in Emmy contention this year at all, since it feels like it aired its series finale ages ago. Also because you probably blocked out the entire experience since it was so traumatic and tear-filled. Either that or you haven't even watched the finale yet, hoping that by sheer force of will you can make it so that the hilarious show never ended at all. But, end it did, way back on Feb. 24 of this year. (By comparison, Game Of Thrones is competing for a season that ended only three months ago.)
Most shows on broadcast networks end with the school year in May or June, so why did Parks & Rec end at such a weird time? Because, despite the show's critical acclaim, NBC apparently couldn't wait to be done with it fast enough. Thanks to declining ratings, the network only renewed Parks & Rec for a brief 13-episode final season... and then proceeded to burn through it as quickly as possible, airing two episodes consecutively each Thursday, meaning the show's final season was over in a blink-and-you'll-miss-it seven weeks.
But Parks and Rec isn't the only show competing at this year's Emmys for a season that aired a ridiculously long time ago. The Emmy eligibility period ends in May of every year, which means that even though Orange Is The New Black aired its third season this June, it's actually currently competing for its second season, which debuted on Netflix way back in June of 2014. That's right, a whole new season of the show has come and gone since the one that's being considered for awards this year.
Hopefully the Emmy voters have a long memory, because Parks and Recreation NEEDS some well-deserved recognition before it waltzes off into the annals of television history. Although it would be in good company of terrific shows that somehow never won an Emmy (like The Wire), it would still be great to see the show —and its star — take home at least one trophy. And if not, well... at least we'll always have our memories.
Images: Colleen Hayes/NBC; Giphy.com; leslie-wyatt/tumblr