The 'SNL' Cast Member To Take On Trump Will Be...
As if you needed one more reason to look forward to the Season 41 premiere of Saturday Night Live, the late-night sketch comedy show has officially decided on a cast member to portray controversial Republican presidential candidate, Donald Trump. According to a Sept. 20 report from The Hollywood Reporter, popular cast member, Taran Killam, has been confirmed as the lucky comedian who will take on the role of Trump. The entrepreneur-turned-politician was previously portrayed on SNL by memorable alum, Darrell Hammond, who was also known for his ongoing impersonations of Bill Clinton and Sean Connery. Hammond's spot-on portrayal has set the bar pretty high for Killam, but — as an avid fan of SNL and every instance that Killam graces my TV screen — I think the comedian is more than able to take on the task.
Since first entering the SNL fold in 2010, Killam has stood out as one of the most hilarious cast members the franchise has ever seen, IMHO. Along with his guffaw-inducing moments in the digital shorts (hi, "Boy Dance Party" and "Beygency"), Killam's celebrity impressions are as hysterical as they are accurate. Seriously, guys, don't take a drink of anything during his parodies. I may have incurred an experience where ginger ale literally sprayed out of my nose following his Matthew McConaughey impression (it was embarrassing).
In case you need further proof that Killam is poised to slay his role as Trump, I have compiled a list of the comedian's best SNL impressions. Enjoy!
1. Matthew McConaughey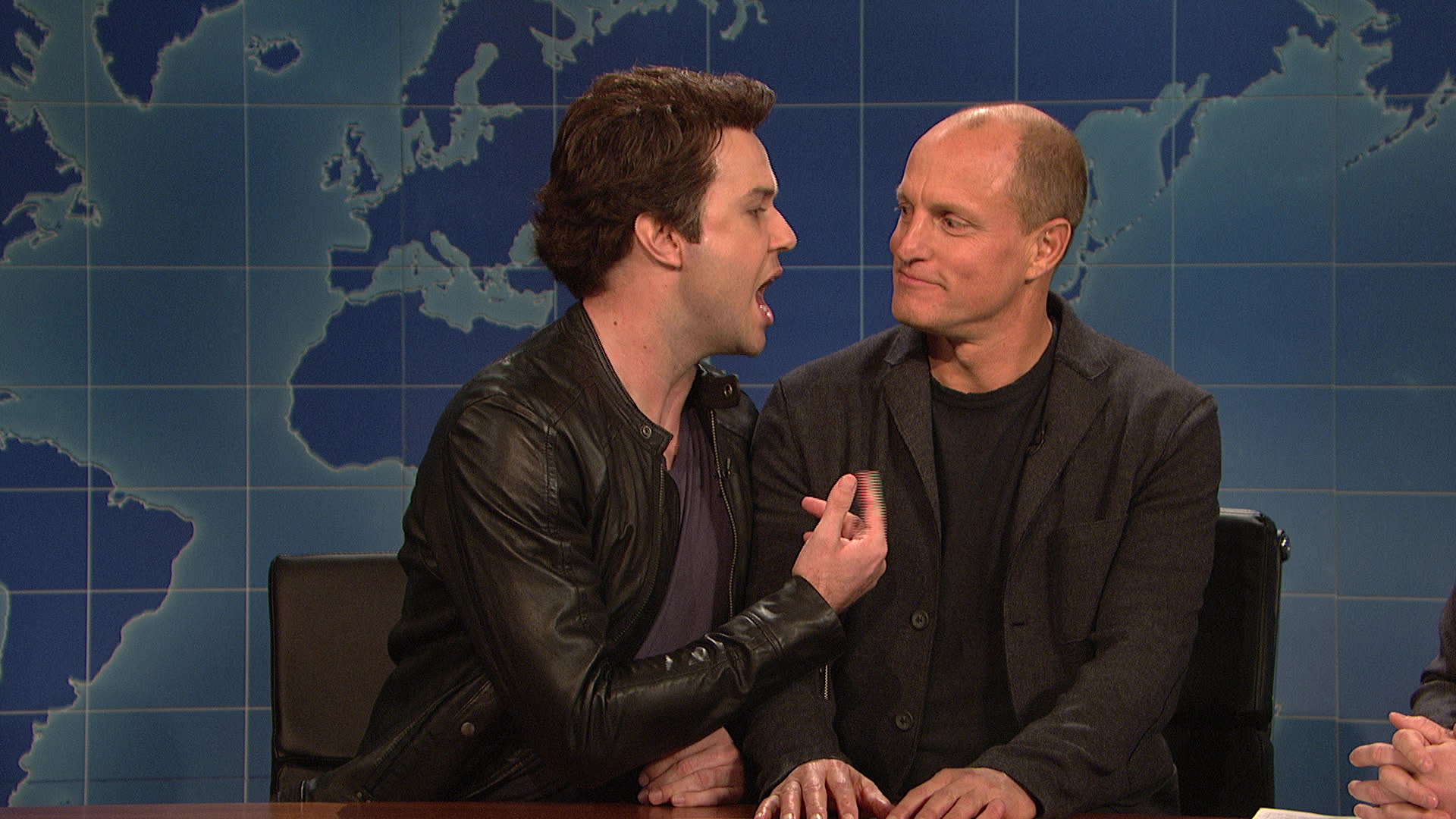 Killam nailed McConaughey's laid back swagger during this uproarious appearance on Weekend Update, alongside True Detective veteran, Woody Harrelson.
2. Brad Pitt
"Bah!" Meteorology has never been so hilarious.
3. Christoph Waltz
"Thank you for indulging in my sexual perversions," Killam states during his turn as Waltz in a way that hilariously toggles between creep-tastic and courteous. Also, I officially want to see a Fifty Shades of Grey reboot that stars Killam and Miley Cyrus.
4. Eminem
You can skip 46 seconds into this video to see Killam's on fleek impression — but I recommend watching this gem of a sketch all the way through. Killam slays as Eminem during a guest stint on the former teen drama, Felicity, and successfully made me realize that the only thing the series was lacking was Eminem thunderously advising Felicity to, "CHOOSE YOURSELF! YOUR INTERNSHIP'S IMPORTANT!"
5. Vin Diesel/Thumper
First and foremost, Killam is hysterical in this. Secondly, I firmly agree with Bustle's Allison Piwowarski that SNL's Bambi parody needs to actually come to fruition.
6. Sam Smith
Who knew Killam had some killer pipes to go with his comedy chops? Dayum, son! Although this impression gets cut off quickly by Dr. Evil, the brevity doesn't take away from Killam once again offering a spot-on celebrity impression.
7. Piers Morgan
Close your eyes and you'll believe it's the actual Piers Morgan talking in this sketch.
Bonus: Robyn
You know someone is committed to their craft when they dish out one of the best impressions imaginable behind the scenes. I've always been staunch in my belief that the best cure for writer's block is dancing your heart out to pop music, and apparently Killam shares my stance. Killam and other SNL cast members decided to forego the writing process in order to recreate all the epic undulations, smoldering stares, and writhing in Robyn's "Call Your Girlfriend" music video. The impression is everything ever, and in case you need clarification, one savvy YouTube user posted a side-by-side comparison:
There you have it. Is it terrible for me to want Trump to remain a contender in the presidential race exclusively for the SNL sketches to come? Then again, I don't feel like Killam would be limited on material, regardless — #sorrynotsorry.