'GOT' Season 6 Has A Lot Of New Faces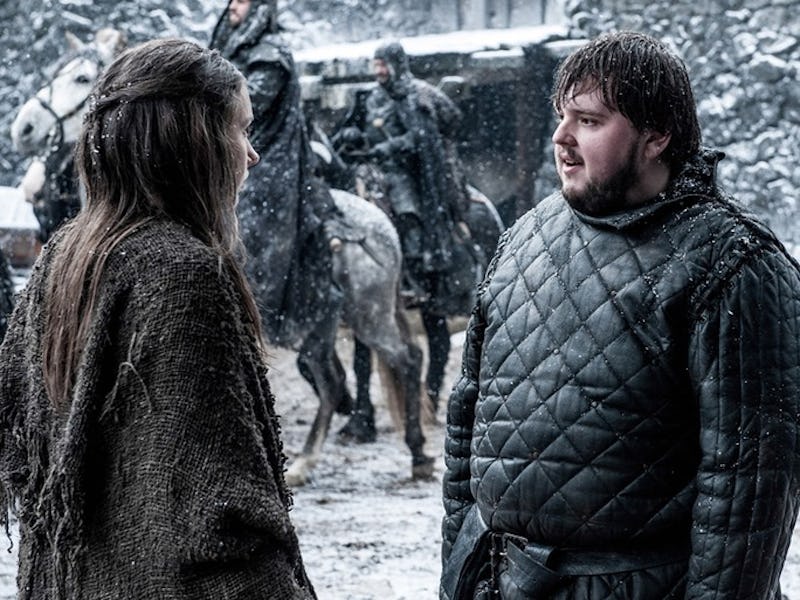 There's still a very long wait until the premiere of Game Of Thrones Season 6, but don't fret: there's plenty to do in the meantime. Besides re-watching all the seasons and going deep into Reddit threads exploring Jon Snow theories, you can also bone up on some new faces that are coming to Westeros in Season 6. And it's for the best, since last season was such a bloodbath. Luckily, there are tons of new characters joining Game Of Thrones Season 6 that should get you even more jazzed when the HBO series, which cleaned up at the 2015 Emmys, returns next April.
As Cersei Lannister said early on, when you play the game of thrones, you win or die, and a lot of players met their ends last season: Stannis Baratheon, Shireen, Mance Rayder, Ser Barristen Selmy, Maester Aemon Targaryen... the list goes on and on. And then there is, of course, our friend Jon Snow: dead or alive? Probably alive, as Kit Harington might have accidentally admitted, but his "death" was still one of the most heartbreaking moments of the season, and what a tease of a cliffhanger to end on. If you were planning to pour a flagon out for your fallen GOT homies, you might want to pour out two flagons.
So focus instead on the bevy of new players to get to know and love so you can be adequately wrecked when they inevitably die a gruesome death on-screen! Watchers On The Wall and other fan sites have been diligent all summer in bringing casting news as soon as it breaks about the new faces on the show. This season might be the most revealing yet; the most recent casting breakdown shows that we will meet the whole Tarly clan. Here's your guide to the Westeros newcomers for Game Of Thrones Season 6:
Max Von Sydow As The Three-Eyed Raven
One of the earliest and most exciting casting announcements for Season 6 is Max Von Sydow as the Three-Eyed Raven, the half-man, half-tree that Bran Stark sought in Season 4. The raven has been with Bran since the very beginning in all his visions, and the young Stark finally found him with the help of Jojen and Meera when we last saw them in the Season 4 finale. Actor Struan Rodger played the mysterious Three-Eyed Raven in that episode, but Von Sydow is an amazing addition to the cast: he's been acting for almost seven decades, and has some very impressive resume credits, like his role as Father Merrin in The Exorcist. Perfect for the spooky role of the prophetic Raven.
Freddie Stroma As Dickon Tarly
We're going to get a lot more info about Samwell Tarly's life in season 6, and UnREAL star Freddie Stroma will be playing Sam's little bro. Their not-so-nice dad Lord Randyll Tarly chose Dickon to be the heir to House Tarly, even though Samwell is the oldest. Lord Randyll's ultimatum for Sam: he could either go North and take the Black, or he could "mysteriously" die in a hunting accident to make room for Dickon. Which is, of course, how Sam ended up on the Wall.
James Faulker, Samantha Spiro & Rebecca Benson As The Tarlys
The very angular James Faulkner, who once played a very different kind of Lord on Downton Abbey, has been confirmed as Samwell's father Randyll. He sure looks mean enough. Samantha Spiro will be joining the cast as Sam's mother and Scottish actress Rebecca Benson has been cast as his sister. Looks like the Tarly gang is all here.
Pilou Asbaek As Euron Greyjoy
Asbaek confirmed that he will be joining the show in the role of Euron Greyjoy, Theon's uncle, and revealed that GOT producers David Benioff and D.B. Weiss sought him because of his work on the Danish political drama Borgen. What will Euron's arrival mean for Theon/Reek? Likely, bad news. His uncle, the young brother of Lord Of The Iron Islands Balon Greyjoy, is a bad guy — no surprise, considering his family. He's a pirate, and the Captain of a ship called The Silence, named so, I'm assuming, because all of his sailors have their tongues cut out. That's one way to be a manager, I suppose. In the book, he's also described as having an eye patch, because he wouldn't be a pirate without one, not even in Westeros.
Richard E. Grant As Leading Actor
Though I wrongly predicted that the veteran British actor would play Samwell Tarly's father, Watchers On The Wall revealed with photos from filming in Girona, Spain, that Grant is appearing as an actor in a theatre troupe on the show. A play within a play! How Shakespearean.
The play within the show will be called "The Bloody Hand," and will be based on "a book plot described in a released chapter from the upcoming "A Song of Ice and Fire" novel, The Winds of Winter. The troupe will put on a show about the events that have happened at King's Landing over the past few seasons," according to Vanity Fair. Yep: even in Westeros, the drama of the Lannisters is the stuff of theatrical legend.
Essie Davis As Leading Actress
Every leading man needs a great leading woman, and Essie Davis, the Australian actress from The Babadook, will be playing the lead actress in the theatre troupe and assuming the role in the play within the play of Cersei Lannister. Here's a fan photo sneak peek:
Souad Faress As A High Priestess
Souad Faress, an accomplished Ghanaian actress, has been cast in the vague role of "High Priestess," according to Winter Is Coming. The fan site guesses that she could be playing either a Priestess of the Lord of Light, like the Red Priestess Melisandre, or a member of the Dosh Khaleen — a group of Dothraki soothsayers and fortune-tellers that were former Khaleesi that are not technically priestesses but are respected and revered. She will definitely have a spiritual, possibly magical role.
And Plenty Of Mystery Roles Too
Actor Ian McShane from Deadwood fame has been added to the cast, but his role is yet unknown, though Entertainment Weekly reports that
"he has a relatively small amount of screen-time during the season, yet his character is of key importance." Aeron Greyjoy, the Drowned Priest, has also been cast, but the actor who is playing him is still a secret.
And then there are the massive numbers of both smaller roles and extras: recently, the casting call was looking for Dothraki extras for scenes in Spain, though Watchers noted that it was unclear whether Emilia Clarke aka Daenerys would be joining them.
There are widows, children and warriors that have yet to be cast. In the months to come, as George R.R. Martin races to finish The Winds Of Winter as the HBO series takes its own creative route with the storyline, I'm sure we'll see even more fresh faces to get to know and love (you know, as I said, before their probably untimely death). We could even see Lady Stoneheart... who knows?
Images: HBO (2), PBS.