Lea Michele's 'Scream Queens' Neck Brace Returns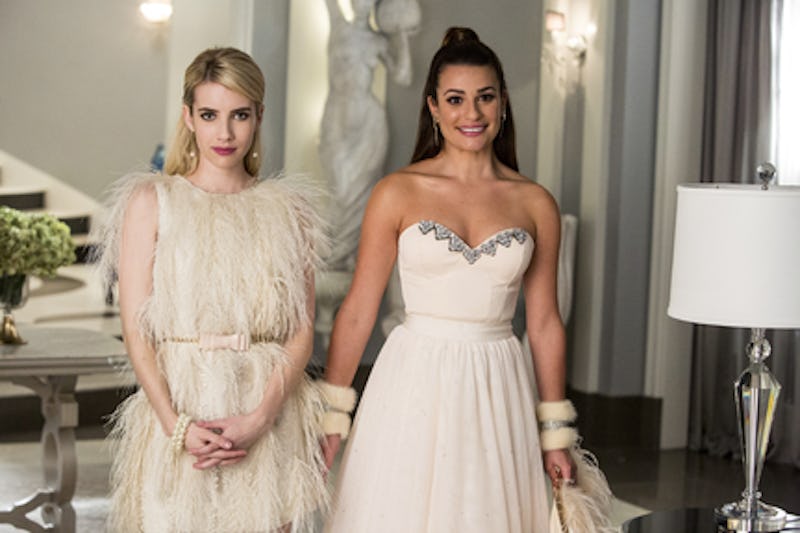 Just when it looked like Scream Queens ' Hester (or Chanel No. 6 as she has recently been dubbed) had been thoroughly She's All That-ed by Chanel, Hester's neck brace has returned — with an upgrade. Emma Roberts posted a photo of Chanel and Hester from a future episode on Instagram revealing Hester's neck brace will be bedazzled on Scream Queens sometime soon. This new information suggests Hester's place among the Chanels is permanent even with her brace, which can only mean that Chanel sees Hester as her one true ally. The doe-eyed Hester is not the groupie Chanel thinks she is, though. Hester is less sidekick and more Single White Female, and Chanel is playing right into the future Kappa Kappa Tau queen bee's hands.
If you think the death and Chanel-obsessed Hester is just misunderstood, then you are very wrong. Now that Hester has secured her spot as Chanel No. 6 — a coveted position that pledges are not supposed to hold — she has begun her ascension, and there is no telling where she will stop. If Chanel was not so focused on her depleting supply of minions and her desire to win back Chad, then she would notice Hester doesn't want to worship her "mom;" she wants to be her.
In the photo, Hester appears to still be Chanel's right hand sister, even with her not-so-cool neck brace. With Chanels No. 3 and 5 beginning to rebel against Chanel's regime, Hester is likely making herself indispensable to Chanel. The closer she becomes to Chanel, the more she can observe and learn. If Hester's ultimate goal is to take over Chanel's place in the house, then the best place she can possibly be is by Chanel's side at all times. She has to do more than learn Chanel's ways; Hester has to earn the respect of the rest of the house as well.
Hester wants everything Chanel has, and Chanel's greatest asset is that she's feared. This is also Chanel's greatest weakness though, because, deep down, she wants a friend she can count on/control. Hester is willing to be that friend because she is engaged in a serious case of Chanel envy, and Chanel is playing right into her hands. By indulging Hester's flattering hero worship with a makeover and a status upgrade, Chanel opened the door for Hester to become the next original flavor Chanel. And how delicious would the irony in that be?
The Red Devil mystery aside, Scream Queens is about the status-oriented sorority Kappa Kappa Tau, and under the leadership of Chanel, the house has become a murder trap. Enter Hester: she's knowledgeable about death, she did her homework on Chanel, she has rapidly moved up the pledge ladder to become a member of the most exclusive squad, and she did all of it despite her outward appearance (which in the disgusting world of Scream Queens is everything). Hester has skills, and it won't be long before the rest of the house takes notice
If Hester can talk her way into becoming Chanel No. 6 after just a couple of weeks of being in the house, then she poses an actual threat to the throne. With her bedazzled neck brace, Hester is still looking like a total boss, and, thanks to her loyalty, she is already closer to Chanel than anyone else. Since Hester's ultimate goal appears to be to surpass Chanel and to actually become her own "mom," then she is in the perfect position to do it.
Hester is the one to watch on Scream Queens. While everyone else is definitely a Red Devil suspect, it is beginning to look like Hester is secretly playing the game of sorority thrones, and, if she keeps going in the direction she has been heading in, then it won't be long before Kappa Kappa Tau is her kingdom. I wonder if everyone will be required to wear a bedazzled neck brace when Hester is in charge?
Images: Skip Bolen/FOX; Giphy (2)