12 Things Students Of The New School Understand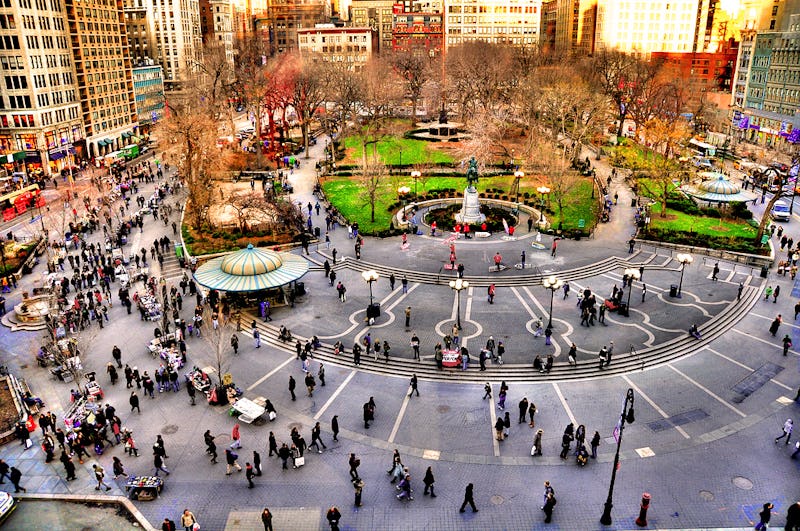 Growing up, I never really looked forward to college. Although I can see the appeal for some people, I didn't see myself pledging a sorority and living in a big pink house with my "sisters". I couldn't imagine myself at a sporting event, clad in face paint and a university jersey. The thought of shower shoes and that natural oak wood furniture on linoleum floors made me uneasy. I loved school, I enjoyed studying English, and while I wanted to continue my education, I just couldn't see it happening for me at a college.
And so I ran off to LA for five years. I dabbled with acting and screenwriting. I worked odd jobs and fancy Hollywood jobs and no jobs; living like a housewife without a husband or a house. I spent months convincing myself that a hike at Runyon Canyon and a lunch at ChinChin was a full and meaningful day. And then I woke up one morning and realized I was depriving myself by neglecting my education. My mind was anxious and nervous and thirsty for challenge and information. It was time to go to school.
Finding The New School was life-changing. It's the most non-college college there is. Forget the pressure to attend sporting events, the school doesn't have sports teams, let alone a gym. And sisters? The New School is Greek-free. No quad to duck from frisbees in, no cafeteria to look for seats in. And maybe most appealing, no dorms. I got to live in a oak wood and linolium-free apartment. I got to have an education while living a life that felt authentic. And most importantly, I got to have a life outside of my classes. The New School was made for New York. But if you went there, chances are you had to do a whole lot of explaining to non-New Schoolers. Here are 12 things you'll understand if you went to The New School:
Yes, it's a real school
How many times have you told someone that you attended The New School only to be asked, "But which new school?" No, that's the name of the college, The New School. It's not NYU and it's not all that new.
Did you have class with Tim Gunn?
No, I did not go to school at Project Runway. The show is taped at Parsons, which is a college within The New School University. There were not dress-makers in my writing program.
Zero friends?
It's true. With classes ranging from 8-16 students, and no obvious communal areas, it's hard to make friends. And since we don't have forced living situations, we live all over the place. I went to The New School for almost four years and can count my friends on one hand.
No, we have no idea where the library is
Apparently The New School has a small library, however, I've never seen it. NYU opened its library doors to New School students, so they mostly flock there.
Yes, we're all going to start lit mags
It's bound to happen at any writer-centric university. When you throw in New York as a back drop and mix in a bunch of Howl-lers, you're going to get a graduating class that births a few lit mags. But don't worry, they'll be good. The writing program at The New School is excellent.
The courtyard is where you go to get lung cancer
The courtyard is one of the only common areas on the non-campus. It sits partially covered between the two main buildings. In-between classes, it fills up with smokers. I spent my first semester choking down cigarettes in hopes of puffing my way to friendship. It didn't work, so I quit smoking.
The teachers are ballers
The liberal tone of the school mixed with its cultural prestige and location brings in some pretty great educators. Every single writing professor I had was the author of at least one great book, the recipient of one impressive award and above all, a non-traditional, mentor extraordinaire.
Wait, there's a cafeteria?
Over the course of their time at the school, students slowly learn about the campus. At first glance, the school is a collection of a few short and narrow buildings along sixth avenue. After a few semesters you notice things like hidden school cafe's and lounges. You won't use them, but you'll have an "oh!" moment. And then you'll go wait in line for a bagel at Murray's for 40 minutes.
The school store is Barnes & Noble
The New School does not have a school store with foam fingers and shot glasses with mascots and math textbooks. Barnes & Noble on 16th street, however, did once host a small corner with New School t-shirts and sweatpants that NO ONE ever purchased. They went out of business, though — no one missed it.
Welcome to the elevator sh*t show
The main school has three elevators total, and zero classes that take place on the first floor. That means that at the start of each class, the elevators are a hell hole. If you want to get in class in time you have to take the stairs.
Yeah, we're mostly from NY & LA
The New School sends most of their recruiters to suburban New York and Los Angeles high schools. Your class diversity will range from Beverly Hills to Queens with little in between.
Why isn't there a PhD program for creative writing?
No matter how a-typical your experience is at The New School, you're pretty devastated when you graduate. While your reading material might have been heavy, it was extremely enriching and you're lost without it. You miss your assignments and your banter with your teachers. You're pretty sad you can't stay there forever. But then you remember your student loans and you're like "k thx bai".
Images: oneworldgallery/Flickr; Giphy (12)