107 Photos Of Individuals Repping The Double Chin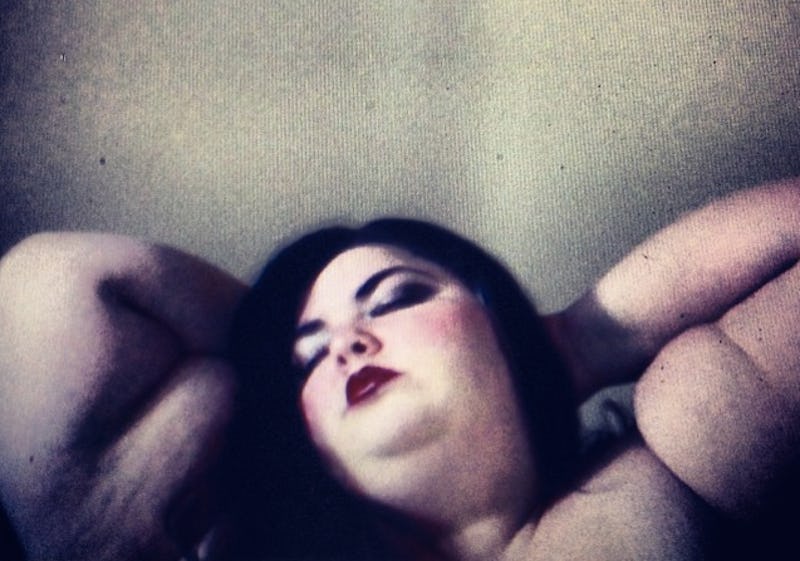 The world of body positivity is a funny thing. While it can be incredibly empowering and revolutionary, I can't help but feel that many of us are still trying to uphold conventional beauty standards outside of weight. It's why we turn our faces upwards for photos to avoid a double chin show, or why certain types of fat bodies end up getting more representation in the media than others. But that is not the body posi space I want. I want unapologetic visibility for those who need it most — not just those who fit a certain standard, are below a certain size, or have a specific skin color, religion, age, or gender.
When it comes to fat positivity and body positivity overall, I don't tend to see a lot of double chin love. It's kind of odd, considering it's something people of any size can have. So I wanted to celebrate chins of multiple varieties, because I feel that it's a body part that even the most self-loving of people struggle with. Admittedly, this has been a struggle for me as well. But as with most things, seeing something more regularly can help us to normalize it and feel more at peace with whatever we can't seem to love on our own.
So here are a ton of individuals in possession of several chins who prove that chiseled jawlines and sharp cheekbones are not the only forms of beauty. Who prove that people with chubby, round, double-chinned mugs are just as worthy as anyone else.
1. Noella, Chauncey, April, Autumn
Ready To Stare offers fashionable plus size clothing and body chains, and it also happens to be the line that these models are wearing. I love that they showcase a spectrum of different body types and chins. All of them are fierce, visible, and fabulous.
2. Keena
Talk about a power shot. Her unapologetic post amps this photo up to world-record levels of wonderful. This is a show that I would want to see over and over again.
3. Bex
She's kicking back at the beach, soaking up some rays, and looking damn pretty while doing it.
4. Ingrid
Magazine-worthy? I think so. Everything about this photo is absolutely stunning; the centerpiece being the most lovely of all. From radiance to poise to a most lovely chubby chin, I would say Ingrid has it all.
5. Ratna
The first word that popped into my mind when I saw this photo was "vixen." Ratna is looking like a million-plus bucks with this outfit, that shade of lipstick, and the pose. Did I mention that the clothing she's modeling is from her own shop? Just another reason to fall in love with this babe.
6. Luna
Fat arms and squishy chins are two of my weaknesses. I mean, how much softness can you have in one photo? The contrast of Luna's pale skin, flushed cheeks, and scarlet lips is stunning.
7. Marie
Bustle's own Marie Southard Ospina has produced fabulous content in regards to the plus community. On top of that, she's incredibly beautiful, and has the cutest little double chin to boot.
8. Ashley
"Stylish" and "pristine" are two ways I'd describe this photo. Ashley looks totally fabulous in her monochromatic attire and with that pop of color on her lips. Personally, I think the chin action just adds to the cuteness.
9. Annie
This cutie is getting ready for fall and showing off her wee chins while doing it. Doesn't she look cozy and adorable?
10. Kade
Kade the Babe. This attractive human is rocking that jacket like no one's business while wearing the hell out of those purple pants. Add in that hair and face? Perfection.
11. Amanda
From brilliant pops of color to that booties and vest combo, Amanda has put together one stunning look. Know what she's also rocking? A fabulous DCW (double chin win).
12. Jannet
Friends who double chin together stay together. These two babes are looking dolled up and ready to go. Such body pos vibes are definitely ones I'd want around.
13. Alisha And Byron
Such wedding day bliss. This picture of Alisha and Byron is so precious that you can just feel the adoration they have for each other. She wrote of "imperfections," but I'm not seeing any.
14. Elie
Know what a double chin won't prevent you from doing? Going on an adventure and looking damn lovely while doing it.
15. Lindsay
This is another chubby arms and chin combo. As her hashtag states, "Love the skin you're in." Lindsay is loving hers, and looking totally gorgeous in the process.
16. Liz
This babe doesn't need a real crystal ball to look otherworldly. Liz is absolutely darling, and I would let her read my future anytime.
17. Calypso
I'm in love with this photo of Calypso working on her art. It's so natural and elegant, and shows off her cute chin in all its glory.
18. Annika
Annika's caption states that she has found peace with not being like everyone else. I for one am incredibly glad she has.
19. Abby
When I first saw this picture, I honestly needed a minute to take it all in. Abby looks simply phenomenal.
20. Jenna
Cute as a button. It's not difficult to see why this is Jenna's favorite dress when it looks this lovely. Her adorable, double-chinned face makes everything all the more beautiful.
21. Sienna And Roman
Here's another pair of cuties in love. It may be chilly outside, but this photo could not be any more fuzzy and warm.
22. Amber
Amber wrote in her caption that she felt like a "unicorn princess" while trying on this sexy number, and hey, I can totally see it. From that gorgeous ombre hair to that picture-perfect smile, this photo is a total win.
23. Natalie
Natalie is a beacon of talent and positivity in the body acceptance community. Exhibit A: This dress she made, which she's rocking effortlessly. In addition, she's a wonderful self-love advocate and just so happens to have a total double chin win.
24. Robin
Can we talk about the adorable chubby face and freckles combo? I absolutely cannot with how precious Robin is. The frames add in just a touch of extra visual interest, to boot.
25. Shawna
Just like the embodiment of spring, Shawna looks beautiful, blooming, and free.
26. Charity
This babe obviously has an appreciation for one of the most iconic queens of double chins. Ursula wore that double chin with pride, and Charity is looking ever so radiant with hers. IMO, it's impossible to look at these smiles and not see beauty.
27. Stacy
Stacy is looking cute as a button. I absolutely adore how her frames look on her face, especially with her cherub cheeks and chin.
28. Melissa
Monochromatic looks with a pop of color are totally my thing. Melissa is looking ever so edgy in these faux leather leggings / combat boots, and the pop of purple on her lips adds so much fun.
29. Kayton
I absolutely adore the expression Kayton is making. It's so cute and full of chin wins. The confident attitude that's coming from the hands on hips pose makes everything all the better.
30. Shayaunna
Make no bones about it, this lovely is a sight to behold. From cute pouty lips to the curly purple hair, she's simply beautiful.
31. Mikki
Mikki is looking like an alternative retro queen in this photo. I adore the matching polka dots, the sweetheart neckline, the strap details, the perfect winged liner, and especially the little peekaboo chin.
32. Ashley
That jacket. The vampy lip. The perfectly placed top knot. Too good.
33. Cecelia
Cecelia is looking so pretty with her stylist frames and wonderfully vibrant locks framing her face.
34. Kayle
How is it even possible for someone to be this darling? The adorable smile, the gorgeous hair, and the country chic outfit are totally wonderful.
35. Marlena
Know what I'd love to see more of? Gorgeous fat folks at Comic Cons and in the stories. It makes me so happy to see a new plus size heroine land her own series, as well as the wonderfully badass babe supporting her.
36. Naanim
Nannim looks so dreamy in this picture. Her outfit is adorable, and her chin is just so cute. But the power gaze is what keeps drawing one in.
37. Tanya
Here's another retro vixen. I will seriously never get enough of polka dots. This dress looks absolutely perf on Tanya, and that cheeky smile is the sweetest.
38. Tiffany
I'm not one to drink, but Tiffany's warm, inviting smile totally makes me want to sip on a glass of wine in her company.
39. Briana
Watermelon crop top? Hell yeah. Hot red pants and white sandals? Of course. The most adorable face and smile? Most definitely. This picture is insta-happiness.
40. Lisa
This is why shawl cardigans are a thing. Softly flowing in the wind, they make Lisa look even more captivating than she already is.
41. Kimmie
Kimmie looks so happy in this photo. From the lovely smile to the curly tresses to the adorable dimples and a feminine lacy top, she's spectacular.
42. Katie
I am a total sucker for this degree of pouty face. Adding in those dreamy green eyes and a perfectly round DC. So good.
43. Mars And Yans
Here we have the beautiful bestie and the flawless bride. In addition to the original caption being fantastic, this picture is honestly just breathtaking. This should make all wedding havers and goers feel 500 percent better if they are sporting a double chin. I mean, look at how absolutely divine these two humans are.
44. Tairyn
"I'll just be my own #wcm and crush on my own damn self." Can I insert a clapping emoji here? Nothing makes me want to celebrate more than total babes knowing that they're total babes.
45. Lucia
Well hello there, retro goddess. Lucia is looking ethereal as all hell, from her darling hair to her perfect face and glowing skin.
46. Brianne
The sweetest grin I ever did see! I cannot get enough of those speckled arms, the totally adorable hairdo, and her oceans for eyes.
47. Christin
Being a fan of fall myself, the flannel in this photo makes me quite happy. What makes me even more giddy, however, is Christin's blissful facial expression.
48. Tiffany
You know, this beaver looks pretty stoked to be hanging with Tiffany. Granted, it might be because he's not used to having such a beaut sitting down right next to him. I'm loving the tats, the two-tone outfit, and the stunning double-chinned face.
49. Ashley
Ash is looking pretty as a peach with her lovely mane, glorious brows, plummy lips, and striking stare. Oh, and the babely chins, of course.
50. Brittany
Blue locks and brows? Yes please! A faux hawk on a fat babe in addition? Hell yeah. A wonderfully dreamy gaze to boot? Why, of course.
51. Katie
Chubby arms and chubby chins make for the cutest combo. Katie also happens to have doll face, as well as a fantastic taste in fashion. Just look at how perfectly this edgy, feminine dress suits her.
52. Vincent
Vincent may have actually descended from the heavens. What I know for sure is that the septum jewelry is fantastic, their face is marvelous, and the look they're giving is to die for.
53. Deege
A peek of belly as well as polka dots make me ever so happy. Deege is looking especially fierce and babely in this cropped attire.
54. Shawna
Shawna is the owner/designer of the fabulous indie plus size clothing company Chubby Cartwheels. She also happens to be the owner of an adorable pair of chins, a most beautiful face, and some freaking awesome glasses.
55. Devon
This is country chic at its finest. Devon looks like a total babe in the back of this old-school pickup. Her radiant smile, fabulous skinnies, and pretty patterned shawl make this picture perfect.
56. Ingrid
Is it possible to overdose on cuteness? Just look at that smile. The chubby cheeks, pretty eyes, wee chins, blunt bangs, and pigtails make this so babely.
57. Queen
Queen is definitely looking regal. If this isn't the definition of doll face, then I'm not sure what is.
58. Emma
Cute fat ladies and puppies is a combo I'm all about. Just look at how happy Emma is in the second photo. Totally precious.
59. Nicole
This lacy boho number paired with the slightly witchy boots and hat is truly a match made in heaven.
60. Ruby
Ruby is looking totally darling and festive in this incredible dress and candy corn striped tights. The lavender hair suits her and this outfit flawlessly.
61. Maui
It's impossible not to smile when looking at this picture of Maui. I'm so into her lovely hairdo, the dark lips, the expression, her hands up in the air, and the striking contrast of the dress.
62. Mandi
There's some serious fall outfit inspo going on here. Everything about this #OOTD is spectacular, but I'm especially into the knee-high socks, floor-length vest, the hat.
63. Gaby
I adore Gaby's grin, her piercings, her warm gaze, her stylish specks, her gorgeous locks, and her perfect double chin. This is a picture that oozes warmth and happiness.
64. Nancy
Talk about a dazzling sight. I am in love with the makeup, attire, facial expression, and her beautiful chin, which is up front and center.
65. Ghyslaine
The colors in this picture are absolutely striking, from the loveliness that is the background to the awesomeness that is Ghyslaine's dress and her bright lips.
66. Chloe
This dress is definitely va va voom, the hair is exquisite, and that smile is absolutely charming. How good can a double chin look? This good.
67. Amanda
Striking eyes, a luscious mane, and cherub cheeks. Amanda is the cutest of the cuties. This beauty is sporting a truly eye-catching little smirk, as well as a daring double chin win.
68. Jess
Jess should wear a tiara every single day, because she is a princess. Just look at that cheeky smile, the awesome frames, and that dreamy hair.
69. Sarah
Yes yes yes! I adore when fat babes do poses that take up space. With her arms on her hips and her feet spread apart, Sarah is demanding visibility. This outfit is adorable as all hell, and the pop of pink is fantastic.
70. Sam
Sam is looking ever so precious while showing off her awesome accomplishment. I'm entirely into this haircut, that wonderful vibrant dress, and of course, her beautiful face and smile.
71. Ashley
Talk about a pair of hypnotic eyes. Paired with the soft waves and a perfect little smirk, Ashley's a total buxom babe.
72. Thea
Seriously, take a look at Thea wearing this crop top which happens to have horizontal stripes. You know, two things fat girls supposedly can't wear. She's proving that we can and will, and that we'll look stunning while doing so.
73. Jules
Jules looks so damn good while "kittening." This is all the proof needed that we definitely need more fat burlesque performers in this world.
74. Rachael
Gorgeous blue windows to the soul, pouty pink lips, and voluminous violet waves. What a total stunner.
75. Zelmia
Check out this fox! Zelmia is looking ravishing in this teal bodycon dress, accessorized to perfection with the rings and specks.
76. Margo
TBH, I don't think anyone could be mad about photo spam when it's of a face like this. The gorgeous pink locks, Barbie pink lips to match, and dreamy cat-lined eyes are lovely. But the peek of chin is just the cherry on top.
77. Nay
Nay has heart eyes for this picture of herself, and so do I. I adore this whole outfit, from the gorgeous detailing on the top to the simplicity of the rest of it. This pose is also fantastic.
78. Briana
"Large and in charge" is the phrase that comes to mind when I look at this picture. The hand on the hip, the position of the head, and Briana's confident little smirk add a lovely touch.
79. Sam
All I can say is: What fantastic pastel blue hair that looks like clouds full of dreams and wonder. With a fantastically dreamy mug to boot? Oh yeah.
80. Rachel
Rachel is my hair muse right now. But she just so happens to have the most adorable damn face and smile in all the land as well. This amazing person has also been posting some absolutely inspiring fat posi art which everyone should be checking out.
81. Shannon And David
These two lovebirds are something else. They are both beautiful people who just so happen to be the owners of wonderful faces and chins.
82. Helena
Gosh, can she be more of an angel? Helena has an absolutely eye-catching face, set with beautiful blues and the sweetest double-chinned grin.
83. Demi
"Smirk your way through life's shit." Heck yes. And who wouldn't when they look this absolutely adorable while doing so?
84. Meagan
Meagan has so much feminine edge, and I am in love with it. The gorgeous betty bangs, perfectly arched brows, and cutest nose and smirk tie it all together.
85. Virgie
Can we just take a moment to appreciate that this image is the perfect embodiment of what this article is all about? Not only is Virgie a fantastic body posi warrior who happens to have a glorious DC, but she is also holding a pumpkin with the queen of chins on it. This is too much.
86. Charlie
What a fantastic response to body shaming. Tackling pure ignorance and bigotry by going out, living your life, and looking fine as hell while doing it? I am all about that.
87. Jewelz
This photo is totally mesmerizing. Jewelz is a treasure, from her perfect curls to her gorgeous eyes to her adorable chins.
88. Celeste
Celeste is certainly beach-ready. I really love the sun hat and the oversized shades. Most of all, though, I love that vivid blue hair and incredibly stunning face.
89. Corissa
Corissa makes fat bellies, arms, and double chins look absolutely phenomenal. Her face is one of pure bliss and beauty that can't help but shine through.
90. Brie
I'm going to need a moment to appreciate how badass and perfect Brie's makeup is. The brows and hair compliment the look so effortlessly. The fact that this photo shows off her adorable double chin in profile just makes me love it even more.
91. Hannah
Hannah here is looking totally smoking to celebrate the Fourth of July. The sailor-esque shorts paired with that fringe bikini top and shawl? So good.
92. Bettina
And what truly fantastic, comical faces they are! Whoever took these photos of Bettina, just thank you. I needed this kind of joy in my life.
93. Sarah
Trench coats are so timeless and lovely, and Sarah looks sophisticated and rad in hers. I am especially fond of her fantastic scarlet pixie cut and lovely, serene face.
94. Brianna
Brianna is such a positive force, and it radiates throughout her entire being. Her smile is one that makes you feel all giddy on the inside. And if that wasn't enough, the double buns and double chin will surely do you in.
95. Danielle
Danielle always looks like she's having a ton of fun in her photos. The perfect color coordination in this pleases me greatly. But then we also have that gorgeous, cheeky smile and modern blue bob going on. Flawless.
96. Tawnee
I'm so into this mustard and navy blue combo. The head scarf is so dainty and pretty, the posing is lovely, and her little smile and face are just so captivating.
97. Minerva
Profile shots are so good. I love the pops of orange, how ridiculously awesome those frames are, and that her hair is up and showing off that pretty face.
98. Ivy
This style is so edgy, fun, funky, and sexy. And can we talk about that beautiful VBO (visible belly outline) in those faux leather shorts? Or perhaps the cheeky fishnets? Or the enchanting frames? Let's just talk about it all.
99. Jessica
Do I even need to say anything? Clearly, Jessica is a beautiful witchy goddess.
100. Majestic
Who doesn't love a fantastically beautiful hunk? The bold brows, the stache', the swoop, the ever-so-confident pose and facial expression. It's all A+ material.
101. Majesstica
Oh, did I mention that these two are a power duo? Well, here I am to rock your world. Such a list couldn't be complete without these two double-chinned beauties.
102. Amelia
I cannot help but smile when I look at this photo. A fat babe with a smaller bust, belly, and arms out, showing off a double chin and being super giddy about it? Such a stunner.
103. Quincy
Oh Quincy, always such an absolute doll (and wonderful advocate, at that). Chins from all angles? Always.
104. Amanda
Amanda looks chic and stunning as all hell. That shade of green is so complimentary to her skin tone and hair color, and the jacket and shades give the look that sexy bit of edge. Of course, the double chin ties everything together in the most beautiful of ways.
105. Ashley
Some of you may recognize Ashley, since she happens to be the winner of this season's Project Runway . She is a beautiful example of how something as trivial as a double chin is not going to keep you from reaching your dreams. This face is one full of bliss, hope, and overall radiance.
106. Becca (Yours Truly!)
You know, I came into this world with a double chin, and it only seems fitting to let it stick around. I'm not going to ramble on about my own chins here, but I do have to say that they are pretty darn cute.
107. Bisquick
You may be asking yourself, "What is a precious kitty doing on this list?" Well, I'll tell you. This is my pride and joy, Bisquick. I think we can all agree that he is obscenely adorable. And you know what he has? A big ol' furry double chin.
I wanted to add my cat because I have never encountered a human who thinks an animal is ugly for having a double chin. Oftentimes, we might even think that they're cuter thanks to all that extra fluff. So no matter your degree of double chin-age, rest assured. Your chins — both of 'em — are absolutely perfect.
Images: lunadellove/Instagram; Courtesy Instagram Users; Rachael Fogle Photography (1)