8 Reasons Hand Jobs Are Basically Heroic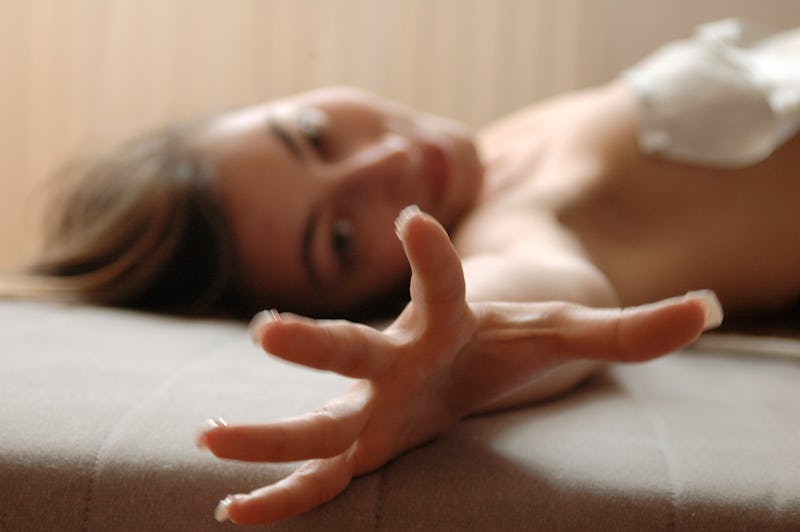 I think we can all agree that pretty much any type of sexual activity has the potential to get super gross super fast, and I can tell you from plenty of personal experience that hand jobs are no exception to this rule. This doesn't mean they aren't fun to give, (that's right, hand jobs aren't just for teenagers) and I certainly wouldn't want any of my former or future partners to feel self-conscious about how real giving hand jobs can be. But it's just a fact that jerking someone off can get a little messy. I mean, our bodies do crazy, gross things sometimes, and while the messiest of things that happen during sex are nothing to be ashamed of, there's no denying that sex (and hand jobs) are downright dirty.
For example, even if you enjoy giving head, (guilty) anyone who has ever gone down on someone with a penis can definitely agree with Bustle's list of all the gross things that happen during blow jobs — and, personally, I consider any sexual experience I have that doesn't include me farting or queefing on my partner to be a pretty successful one. Hell, even kissing can be disgusting if you or your partner's oral hygiene is lacking, or if even one of you is suffering from an intense case of cotton mouth.
Fortunately, though, I've found that the inevitable grossness is usually worth it when it comes to sex — and when it comes to giving hand jobs to males, most of the messy things you experience are at least pretty easy to remedy. Here are eight gross things that happen during hand jobs that prove they are basically heroic.
1. Lotion & Pre-Cum Get All Over Your Hands
OK, so lotion is delightful, and I personally don't think semen is anything to freak out about. (I mean, I'd feel horrible if one of my partners freaked out about getting my lady wetness on their hands, so why be disgusted by semen?)
That said, when the hand job you're giving reaches it's grand finale, and your hands are suddenly covered in a combo of lotion and cum, it's not a pleasant feeling. What's worse is, if your hands are really saturated with the mixture, dripping is a definite possibility, and turning on the faucet to wash your hands can be a slime-ridden challenge.
This is why it's really smart to keep a towel handy if your HJ is planned — but as you probably already know, if you're being spontaneous with those hands of yours, post-handy clean up can be both gross and super awkward.
2. Surprise Semen Gets In Your Hair
Sadly, this has happened to me on more than one occasion, and it's always pretty gross — mainly because, if you don't wash the semen out of your hair immediately, your hair gets all crunchy. (I personally start to look like I'm developing a dreadlock in whatever section of my hair my partner's jizz ends up landing, and while dreadlocks are generally awesome, semen-induced dreadlocks are not.) What I find even more annoying than the gross aspect of cum in my hair, is the fact that this common risk factor of giving handy j's essentially forces me to wash my hair every time it happens — and if your hair is curly like mine, then you know the less you wash it the better.
3. ... And On Your Face
Some people like it when their partner's semen lands on their face, and that's totally cool. That said, whether you're into it or not, having your partner ejaculate on your face when neither of you is expecting it can be gross for you and awkward AF for them.
Fortunately, enduring a surprise shot of cum to the face is a gross aspect of giving hand jobs that can be dealt with quickly. I'm sure your partner will understand if you need to jump up immediately after the act to go wash your face in the bathroom, and if they don't understand, they should. If you're not near a bathroom, though, you're probably going to have to get creative in order to clean up — and this may mean a minute or two of wait time. Wait time, with jizz on your face, no less. Yuck.
4. Semen & Lotion Get Under Your Nails
If you haven't noticed by now, most of the gross things that happen during hand jobs have to do with semen getting in places that you don't want it to get, and that includes under your fingernails. (I guess you could avoid this if you tell your partner not to come in your hands, but I feel like that route just isn't as fun or satisfying for anyone involved.)
I keep my nails super short almost all of the time, because although I think long nails are stunning, they drive me crazy. However, on the rare occasions that I have either allowed my nails to grow long, or I've actually gotten artificial nails, it's made giving hand jobs way more gross. Everything gets under those things, and unfortunately, that includes the slimy, lotion-semen goop we were talking about earlier. Plus, they could end up snagging on his pubes.
5. Surprise Semen Lands On Your Couch/Car Seats/Clean Sheets
Sometimes, there's just no way to prevent your partner's ejaculate from exploding all over whatever surface you happen to be pleasuring them on. Luckily, leather seats and bed sheets are easy (albeit somewhat inconvenient) to clean, but couches? Not so much. I can only hope that your couch cushions are a light enough color that cum stains don't show up too well — because, sometimes, even scrubbing that stuff with upholstery cleaner doesn't always prevent a stain from forming.
6. ... And On Your Clothes
Again, this isn't a big deal if you're at your apartment and you can just jump up post-hand job to change — but if you're away from home, this really, really sucks. Even after you spot clean whatever part of your outfit the, ahem, "surprise" landed on, you're probably still going to be walking around with a suspicious wet spot on your clothes at best, and a crunchy, semen stain at worst.
I would tell you to just be cautious when hand-jobbing, but honestly, that probably won't keep you from getting your partner's cum on your clothes from time to time. Because, sadly, sometimes there's no telling where that stuff is going to land.
7. You Get All Sweaty From The Arm Workout
Hey, the Shake Weight was a thing for a reason. When you're giving a hand job, you can work up quite a sweat from all that work your bicep is getting. Great for your arms — not so great for your armpits. Add to that the stickiness of cum, and well ... you're going to want a shower.
8. ... And You Brave All Of It For Someone Else's Pleasure
What a hero.
Want more of Bustle's Sex and Relationships coverage? Check out our new podcast, I Want It That Way, which delves into the difficult and downright dirty parts of a relationship, and find more on our Soundcloud page.
Images: nyuhuhuu/Flickr, Giphy/(6)