#MiracleMomBods Is A Body Pos Campaign We Need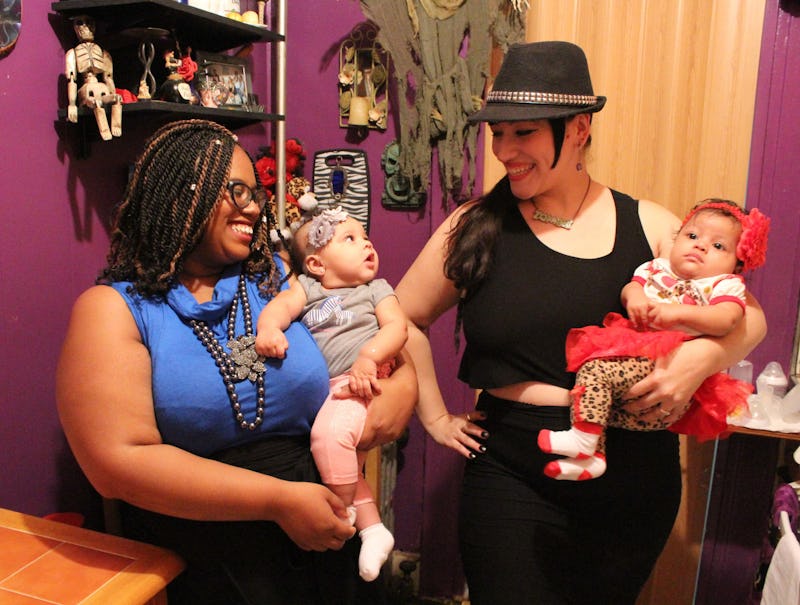 Considering this year's obsession with the #dadbod, which celebrates the chubbier male physique — described by the term's creator Mackenzie Pearson as "a nice balance between a beer gut and working out" — the championing of the #mombod seems like an obvious eventuality. That's where body positive brand Smart Glamour's #MiracleMomBods campaign comes in. As much as we can and should celebrate men's bodies sans muscles, a fatter female physique should receive the same treatment.
SmartGlamour is designer Mallorie Dunn's size inclusive retail destination. Based in New York, every garment is handmade to cater to "all shapes, sizes, ages, and heights." Instead of focusing on one type of woman, Dunn makes her focus all women and feminine-presenting individuals.
In light of its previous campaigns like #AllBodiesAreGood Bodies and #SameSizeDifferentEyes, it should come as no surprise that the clothing company launched a brand new body positive campaign on Oct. 19 based on the viral #dadbod and #mombod Twitter hashtags. As the campaign message on Smart Glamour's site states, we live in a society that can more easily celebrate men's unique shapes. Even though a #mombod campaign can do the world some good in its own right, most of us are still more bombarded with headlines and news stories about "celebrity women who have won the ultimate prize of 'getting their pre-baby body back!'" (Lest we forget the media carnage that attacked Kim Kardashian for gaining weight during her first pregnancy.)
#MiracleMomBod focuses instead on the actual bodies of mothers, pre and post birth, and celebrates the changes in those bodies during and after pregnancy. In a way, the campaign's message is exemplified with a quote from Kerry Washington's interview with SELF Magazine on Aug. 17. "I've been really focused on not being 'back' to anything, but being the best version of myself right now. My body is the site of a miracle now. I don't want to be pre-miracle," she told the publication.
When I got in touch with Dunn, she made it clear that the movement is about celebrating and representing all kinds of women and all kinds of moms. "The campaign is all about empowering women and proving the long overdue point that moms are still wonderful, stylish, and powerful women throughout motherhood," she tells me.
"It's about celebrating women's bodies at whichever state they are in right this minute. About accepting the fact that bodies are ever changing and may not look the same post baby as pre baby and that's OK. It's about health looking different for everyone and someone's worth not being tied into their health in the first place."
Personally, I'm far off from ever being a mother, but the strength of this body positive message still impacts me. Bodies are ever changing and health looks different for everybody. To the miraculous moms who inspired #miraclemombods, Dunn says, "All of the moms involved in the project have said they are honored to be a part of it. It brings forth a lot of camaraderie between women. I've even had more moms contacting me to model in the future — which is great!"
Images: Courtesy SmartGlamour