10 Books Movie-Lovers Need ASAP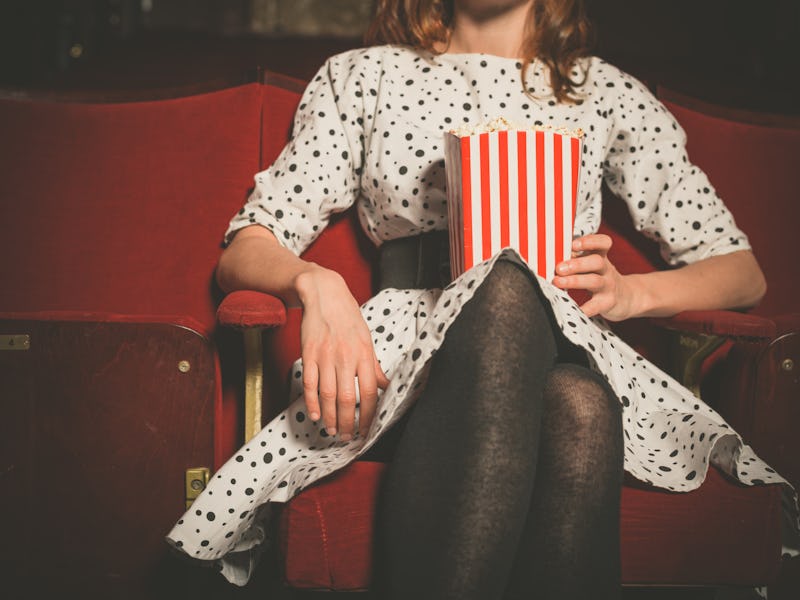 Do you love it when the lights go down in the movie theater and the music swells? Do you become apoplectic when you realize you're late and you might miss the trailers (like the one for Star Wars , OMFG)? Do you actually go to the movie theater to see a film? If so, then congratulations — you're a bona fide movie-lover.
If that's the case, you probably also love learning about the behind-the-scenes stories and juicy gossip of cinema past and present. You might not want to dedicate your life to making movies, but your passion is real, and you can quote Alfred Hitchcock and talk about the early years of the Sundance Film Festival as if you were Martin Scorsese. You're a fan — a superfan — and your thirst for movie knowledge is insatiable.
Or maybe you just think movies are cool and you like to take a break from reading 19th century novels and pick up a book about movies from time to time. If so, then clear some space on your bookshelf (or get a whole new bookshelf if you're really a diehard) for a bunch of awesome books about Hollywood, moviemaking, and the world of film. Read them all and you'll have plenty to talk about with the random stranger sitting near you at the art house theater next time you go.
If you love 1940s Hollywood, you will adore this book. If you're whatev about 1940s Hollywood, it'll probably become your new obsession by the time you finish City of Nets. It's the perfect mix of juicy gossip and smart history, and it talks about the making of classics like Citizen Kane, The Maltese Falcon, Double Indemnity, and All About Eve.
This one jumps from Friedrich's 1940s to the late '60s/early '70s revolution that many (including yours truly) consider to be the real golden age of Hollywood. Studios were taking chances and making daring, thought-provoking, original movies that had nothing to do with sequels or franchises or Transformers. Sigh. It was the era of films like Bonnie and Clyde, The Graduate, Guess Who's Coming to Dinner, and In the Heat of the Night. So read the book and then watch all the movies Harris writes about — and then you'll really love movies.
This one treads on similar territory (late 1960s/early 1970s American cinema) and it's entertaining as hell. It talks about how the low budget Easy Rider ushered in a new era in Hollywood, and made way for movies like Taxi Driver and Raging Bull and Chinatown. It's fascinating and funny, and if you like this one check out Biskind's book Down and Dirty Pictures too, about the rise of Sundance and Harvey "Scissorhands" Weinstein.
This one is a straight-up reference book — but a fun one, if you love movies and the history of film. Thomson can be funny, and he doesn't hold back his opinions about certain actors or directors, so it's like an encyclopedia with some snark. The New Republic called it "The best book on the movies ever written in English." If you think you're a film fanatic, wait until you see what Thomson's done with this book.
This one came out in May, and The Guardian called it "a highly personal, witty love letter to 80s movies, but also an intellectually vigorous, well-researched take on the changing times of the film industry." Freeman writes about cultural touchstones like Top Gun (Iceman!), comedy classics like Trading Places and Ghostbusters, and teen flicks that will go down in history, like The Breakfast Club . If you're an '80s movie aficionado, get ready to geek out.
In the mid-1930s, the Hollywood Production Code came along and banned films from showing women being sexual in any way. BORING! Actually it was pretty serious, and complex, sensual women like Marlene Dietrich, Jean Harlow, and Mae West were shuffled to the sidelines to make room for "good girls." Amy Schumer and Sarah Silverman would have been out of work for sure. LaSalle's book is a tribute to the time before the Production Code, and the women who ruled.
This one came out this summer to celebrate the 20th anniversary of Clueless , and it's a fun, quick read with some pretty cool anecdotes from the cast and crew.
A novel about Hollywood during the Great Depression, this one is a classic story about trying to make it in "Tinseltown." It still holds up even though it was published in 1939, and it looks at the seedy underbelly of Hollywood, underneath all the glitz and glamour. There's also an Oscar-nominated movie version, but read the book first. It's better.
Rich is a celebrated critic, author, and teacher, and her book of essays about the feminist movement in film is like a crash course in feminist cinema studies. It'll also introduce you to a bunch of badass female directors you may not know about: Yvonne Rainer, Maya Deren, and Chantal Akerman (RIP).
This one is for the Wes Anderson fiends out there. There's an introduction by Michael Chabon plus behind-the-scenes photos, artwork, and "ephemera" from Anderson's films: Bottle Rocket, Rushmore, The Royal Tenenbaums, The Life Aquatic with Steve Zissou, The Darjeeling Limited, Fantastic Mr. Fox, and Moonrise Kingdom. It came out in 2013, so they published a Grand Budapest Hotel companion book in February.
Hopefully you have plenty of space on the shelf because these books will fill out your collection and make you look like a real cineaste.
Image: Fotolia