Saoirse Ronan Oscar Buzz Grows With 'Brooklyn'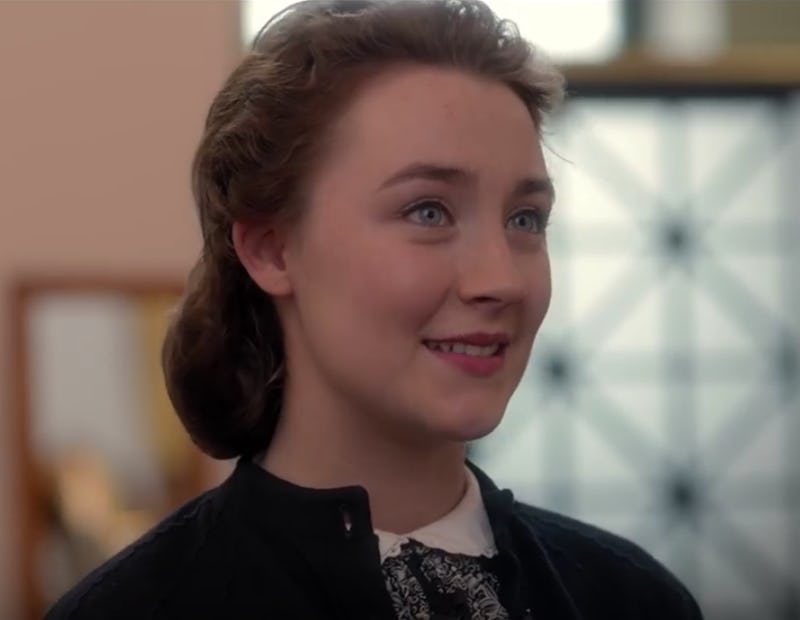 Saoirse Ronan is no stranger to Oscar. At 13, the young Irish actress was nominated for an Academy Award for her supporting role in Atonement in 2008, and she co-starred in last year's Oscar darling The Grand Budapest Hotel . Now, Ronan is earning Oscar buzz for her leading role in Brooklyn , a drama based on the novel by Colm Toibin. As Brooklyn's Nov. 6 release date approaches, everyone is wondering, could Saoirse Ronan win an Oscar for Brooklyn ?
Brooklyn marks Ronan first big leading role since 2013, when she starred in the big screen adaptation of The Host. In the 2015 film, Ronan plays Eilis, a young woman who immigrates from Ireland to New York in the 1950s. Alone and homesick, she eventually begins to make a life for herself when she meets an Italian American, Tony (Emory Cohen). When a family emergency takes her back to Ireland, she meets a nice Irish boy, Jim Farrell (Domhnall Gleeson), and is forced to decide whether to stay in Ireland or return to Brooklyn.
The immigrant tale premiered at the Sundance Film Festival in January, and has slowly made its way across the festival circuit, picking up rave review after rave review. Variety's Peter Debruge noted of Ronan, "On the surface, she may look doll-like, innocent and somewhat difficult to read, and yet we understand through the most minute touches — a subtle crinkle around her eyes or a flinch in her smile — the sheer depth of turmoil her characters must be going through underneath."
Brooklyn director, John Crowley, said that casting Ronan was "the obvious choice" in an interview with The New York Times. "She's sort of like a lightning bolt, and kind of from another time in a weird way," he wrote.
The film's Oscar buzz will likely increase after the film's release, specifically for Ronan, who could earn her second nomination before her 22nd birthday. However, Ronan is careful not to take the buzz surrounding her performance too seriously. During an appearance on Ireland's The Late Late Show, Ronan said that she has been in the industry long enough to know not to buy into the buzz:
"It is nice and it is lovely. But the good thing about having that sort of discussion around it now, touch wood, is that when you've been on both sides of it and had both perspectives, it's great and everything works out well when it comes to buzz but then nothing comes of it but the film is still great and you love it. The talk of an Oscar has helped me realize all the elements that go into that whole world."
For now Ronan seems happy to promote the film, and with Oscar season just starting, that's probably for the best. Already the Oscar buzz for Best Actress in a Leading Role has become crowded, with Brie Larson ( Room ), Emily Blunt ( Sicario ) and Cate Blanchett (Carol) all in the running. Should Ronan clinch a nomination, which is relatively likely based on early rumors, it's unlikely that the young actress would win, simply based on past Oscar winners and the power of the buzz behind Larson. Of course, nothing is written in stone, and Ronan's Oscar fate remains up for debate. What is not is that Ronan gives an Oscar-worthy performance in Brooklyn.
Images: Fox Searchlight Pictures