Everything We Know About The New A On 'PLL'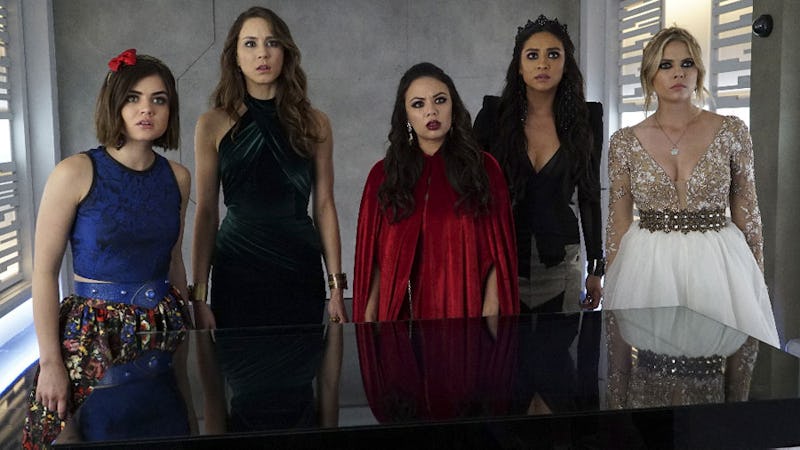 It has been a seriously crazy road for Pretty Little Liars fans. After six seasons of mystery, murder, and mayhem, we finally unmasked A, aka Charlotte DiLaurentis — and it might have been the last person most fans would have suspected. That's because Charlotte was going by the name CeCe Drake, Ali's older BFF and Jason's ex-girlfriend. (Yes, it's as icky as it sounds.) CeCe officially declared "game over" on the whole 'A' thing in the Season 6A finale, and the girls were able to live five long years without anyone chasing them — but, in the words of Taylor Swift, are we out of the woods yet? Not by a long shot: there's a new Big Bad chasing the girls in Season 6B, and this so-called "Uber A" means business. So, what do we know about this new 'A'?
When Pretty Little Liars returns from hiatus in January 2016, a lot will have changed. According to the first four minutes of Season 6B, which were teased online by ABC Family, five years will have gone by and the girls will be leading completely different lives. Things seem to be looking up for the Liars — until a new villain targets the girls.
So what do we know about this new 'A'? Here's everything we know so far:
1. The Girls Refer To The New 'A' As "He"
At the end of the Season 6A finale, the girls storm into Alison's classroom (yes, the former Queen Bee of Rosewood High School is a teacher there now) and warn Ali that "he" has found her. According to MTV News, this scene will take place months after the Season 6B premiere, which means that the girls have yet to understand this threat when they return to Rosewood. But still, I'm gonna go out on a limb here and say "he" will likely be the new Pretty Little Liars villain.
2. This Villain Is Motivated By A Death
According to showrunner I. Marlene King's interview with MTV News, the new A is motivated by a death: "This Big Bad has an agenda, and it's to find out why this person passes away — and to seek revenge on the person responsible." Could this villain blame the girls for someone's death?
3. This Big Bad Doesn't Play Games
"Charlotte was much more about playing the game," Sasha Pieterse told MTV News. "That's what kept her going. That's what fed her damaged soul. But this is a whole new animal." So: Don't expect this guy to dress the girls up like his own personal Barbies and lock them in a dollhouse — this A doesn't even play that version of "nice."
5. Things Could Get Deadly
Charlotte may have locked Emily in a box headed for a chainsaw, but, you know, did she die?! Apparently we have a lot more to worry about this season, because according to Pieterse, this villain has way more follow through: "This new villain has a whole new motive — and it's really deadly. It's like: 'Do this, or I kill you,'" says the actress of the new person the Liars are running from. (Umm, eep?!?)
6. Mrs. DiLaurentis Could Be The Key
When King was asked by PopSugar about whether this new bad guy had anything to do with the still-unsolved murder of Mrs. DiLaurentis, she coyly answered, "possibly." Considering that we know that Charlotte didn't kill Mrs. DiLaurentis, it would make sense for this new villain to be connected to the only murder we don't yet have a killer pegged to.
7. We May Not Know Who He Is At All
While most people assume that the new villain is someone from the Liars' past whose nefarious ways we haven't been made privy to yet, there's a chance that we may not know this big bad at all. According to Entertainment Weekly, Pieterse confirmed that the new A is someone fans haven't met yet. While it's unclear just how true it is (technically, we didn't "meet" Charlotte DiLaurentis, only CeCe Drake) it's pretty mind-blowing to think that the new villain could be someone we can't put a name or a face to right now.
This villain is bound to bring some serious changes to Pretty Little Liars, and hopefully we have just as much fun figuring out who this 'A' is as we did with the last 'A'.
For more on Pretty Little Liars, check out Bustle's very own PLL podcast, Taking This One To The Grave:
Images: ABC Family; Giphy (7)