9 Potential Plots For 'Breaking Bad' Season 6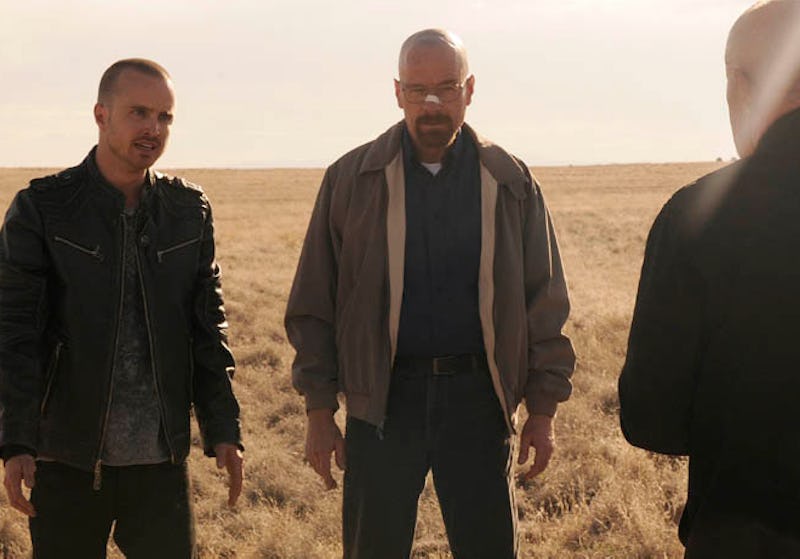 Maybe you've only just marathon watched it, or you're a diehard Breaking Bad fan who tuned in weekly (so archaic!) to find out what Walter White did next. Whichever applies to you, it's likely you were as hooked as the rest of us, desperate to find out what happened to all your faves like Jesse Pinkman (oh, Aaron Paul, are you ever not winning at life?) and, of course, Heisenberg (does anyone else think Bryan Cranston is super fine?). Whether you were on Team Walt or Team Jesse, the question the internet can't stop asking is, "When will new Breaking Bad be on?"
It seems like no one's really over Breaking Bad yet. I mean, we have Better Call Saul now, but for some reason, it's not as marathon-worthy as Breaking Bad was. Which is not to say it won't be. News that Better Call Saul Season 2 is on the way is totally exciting, and gives us even more backstory. But what everyone really wants is Breaking Bad Season 6, and a chance to revisit Jesse, Walt and co. post the finale. Which is strange given how final many of the plot points in the finale were. But if, somehow, a new season did get made, what would it even be about?
1. Season 6 Would Be About Jesse
OK, so I'll be honest. I don't really buy into all this Season 6 nonsense. But, if a new season was made, it would have to be about Jesse. In the Breaking Bad finale, Jesse escaped his captors with Walt's help, and drove off, free at last. Season 6 would pick up a few years later and show us what Jesse had been doing since.
2. Better Call Saul Will Basically Become A Trilogy of Shows
Bob Odenkirk is a legend, and any opportunity to showcase his comedic talents must be taken. Often the best bit of Breaking Bad, Odenkirk brings depth to his character in that show's prequel, Better Call Saul. Season 6 would fill in the gaps we have in Saul Goodman's timeline, between him going into hiding post-Breaking Bad, and those opening scenes of Better Call Saul which show him working in fast food and living alone. OK, so there might be a lot of hiding involved, but that's what we'd be in for.
3. New Villains
Breaking Bad wouldn't be Breaking Bad without some creepy baddies posing legitimate threats to our heroes and heroines. New season means new villains! Now that's exciting.
4. RJ Mitte Eating Cereal On A Loop
Flynn, or Walter Jr., liked breakfast. A lot. Season 6 could be about Flynn finally achieving his dreams and building a breakfast cereal empire of Heisenberg proportions. I mean maybe? Especially as his dad left him all that cash in the finale.
5. A Chance To Explore Strong Female Characters
Although it's still one of my favorite shows, Breaking Bad didn't always develop its female characters to their full potential. Season 6 could readdress this issue, and give screen time to some of the most-vilified-for-no-reason women on TV, like Skyler White and Marie Schrader.
6. Walter White In Ghost Form
As there is no Breaking Bad without anti-hero Walter White, it's imperative the writers find a plot-device that allows Bryan Cranston to be a series regular. Not only because he is the hottest man alive, but because we need Walt more than we know. If Walter White is dead, as presumed, then there's nothing else for it. Walt will have to appear in the show as a ghost, a premonition, or a memory. I know this idea sucks, but there's no other choice!
7. The Biggest Mystery Will Be Where Skyler Is
Instead of wondering who Heisenberg is, everyone will be asking where Skyler has disappeared to. She'll be elusive, impossible to locate, and in charge of her own destiny. Like a badass.
8. Heisenberg Will Be Considered A Legend
Walter White's alter-ego Heisenberg will be an ever-talked about legend, looked up to for the wrong reasons and continually referenced by others. He'll be ever present in the show, and influence its story lines from beyond the grave (and maybe as a ghost, see above).
9. It'll Be About Money
Breaking Bad was always about money — finding ways to get it, keep it, steal it, or bury it. So, a sixth season of the show would have to address this theme. How are the characters surviving following the meth scandal? Will anyone ever be as desperate as Walt in trying to earn and retain cash? Did Walt Jr. get given the money his father left for him? So many questions!
But, basically, as all rumors of a sixth season have been quashed, there is no more Breaking Bad, so you best get over it already. All we have left are sweet Heisenberg dreams in which Walt dons that Hazmat suit one final time.
Images: AMC; Giphy (11)