The Best Positions For Adventurous Women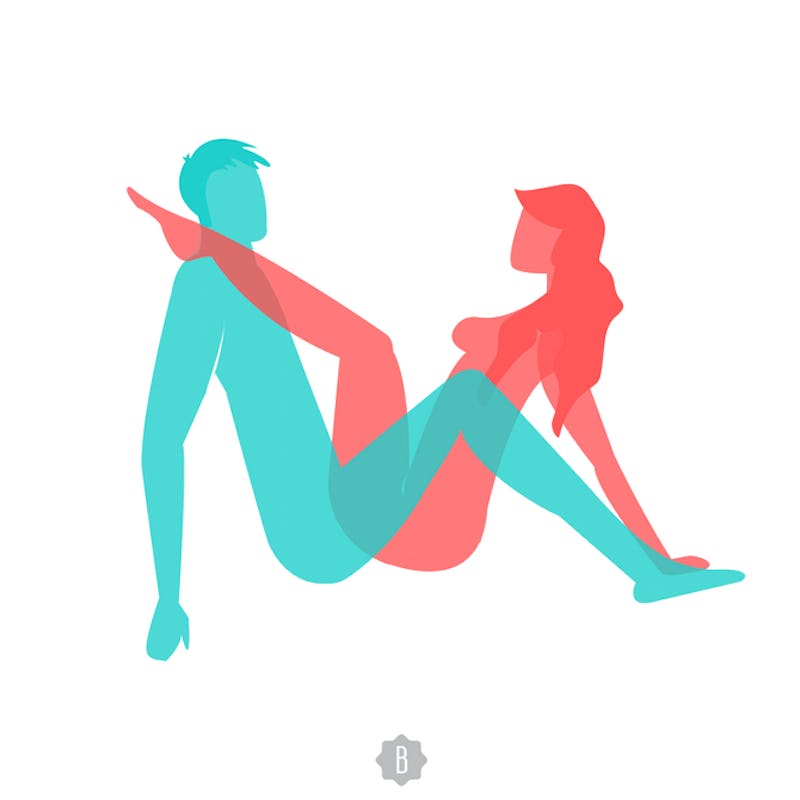 Boredom in bed happens to even the happiest couples, so deciding to change things up is nothing to ever be ashamed about. Whether you decide to introduce a new toy, or maybe it's time to finally stretch and try out that bendy position you've been reading about, experimenting in the bedroom occasionally can never hurt (unless you both want it to). And if you're the adventurous type of person who spends most of her days trying new things, unafraid of challenge, then chances are this thrill-seeking vibe you've got going on translates over to the bedroom. Sure, missionary is great...but you're often looking for something more intense.
And if your partner is just as up for the challenge as you are, you two are probably looking for some new moves that'll take your nights between the sheets to the next level. And luckily, there are a ton amazing positions to turn up the difficulty and intensity for the both of you. It might take practice, but as an adventurous woman you know that no good thing comes easily. And once you do master these moves, it'll be hard to believe you were ever content keeping things vanilla in the first place.
1. The Butterfly
How you do it: While he's standing at the edge of the bed, scoot yourself down and allow him to grab a hold of your hips. Then, place your legs on either side of his head, while he thrusts inside. It takes a bit of getting used to, especially if your partner is tall and your legs can't quite comfortably rest near his neck. But with more practice, you'll be able to keep your legs nice and straight for an added level of intensity.
Why it's great: Men love this move because it gives them a great view. It also allows for deeper penetration, which can be ah-maz-ing for the two of you.
2. Kneeling Reach-Around
How to do it: Try this variation on doggy style. Getting on your hands and knees, allow your partner to kneel behind you and press her body against yours. From this angle, she has easier access to your clitoris to either stimulate with her fingers, or a toy. She can also caress you from here in any way you two choose.
Why it's great: The varied angle and the closeness this move allows adds another level of intensity that feels so much better than when you're going solo.
3. Standing Rear Entry
How it works: It's time to get bendy again. For this, allow your partner to stand straight behind you, while you bend over and spread your legs slightly apart for easier entry. Once your partner is inside of you, bring your legs closer together for heightened sensation, and try to lay your hands down flat on the floor. If you guys have a substantial height difference, you can always stand on a stool, while he holds your hips to help you keep balance.
Why it's great: If you're a G-spot kind of girl, this is definitely the move for you. Aside from the great stretch you'll get while working this one out, it's the perfect angle for deep penetration, and G-spot stim. He'll also love it because having your legs closer together makes for a tighter fit.
4. The Advanced Crab Walk
How it works: So you guys are ready for some Kama Sutra-style classics? Have your partner sit down with his legs bent, and arms planted behind him. Then, lower yourself down on top of him, anchoring your arms behind you. Slowly, put one leg at a time on his shoulders. Since thrusting isn't really an option for this one, focus on a grinding motion, using your ankles for added leverage.
Why it's great: If you're looking for things to last a big longer, than this is a great one. By keeping your legs closer together, you make for a tighter fit, adding intensity for the two of you. Did I mention the view from there is pretty damn hot, too?
5. 'Weak In The Knees'
How to do it: For some serious clit stimulation with your partner, have her lay flat on her back. Then, stand over her with each leg on either side of her head, lowering yourself slowly down until your clitoris is hovering above her mouth. You can keep this one as classic oral, or add some touching or vibration for added sensation.
Why it's great: From this position, your partner's hands are free to caress you, or add a toy into the mix.
6. X Marks The Spot
How it works: Lay flat on the bed or a sturdy table, and move yourself over to the edge, where your partner will be standing. As he enters you, raise your legs into the air near his shoulders. From here he should grab your legs, and cross them. You can either rest your ankles near his shoulders if that's comfortable for you, or allow him to hold your legs.
Why it's great: Your friend the G-spot will get some serious love in this position, not to mention the tighter fit is sure to make him happy.
7. The Lotus
How it works: Have him sit with his legs crossed in a butterfly position, while you wrap your legs around his waist and lower yourself on top. Wrap your arms around each other, and focus on grinding motions because thrusting is a little challenging here.
Why it's great: If you can get the right angle, grinding your clit against his abdomen will be great for added stimulation. Plus the close proximity adds another level of skin-on-skin contact both romantic, and intimate.
8. The Sideways Straddle
How it works: This one is definitely not an easy one, but practice makes perfect! Have him lie down flat on his back, then lower yourself down over him, but facing away from him. For this, you're going to need to straddle one of his legs, so place one of your legs between the two of his, and the other on the outside of his body. Getting onto your knees, guide his penis inside of you and have him bend one knee up. Once you're fully in this position (which may take some necessary adjustment), focus on a grinding motion against his leg to hit your clit in all the right places.
Why it's great: The sense of satisfaction alone you'll get from mastering something like this will be awesome. But even better than that is the fact that this move is amazing for clit stim, allowing you to control the pace and pressure.
Want more of Bustle's Sex and Relationships coverage? Check out our video on sex positions for small penises:
Images: Caroline Wurtzel/Bustle;