We Need Danny Castellano Back In Our Lives STAT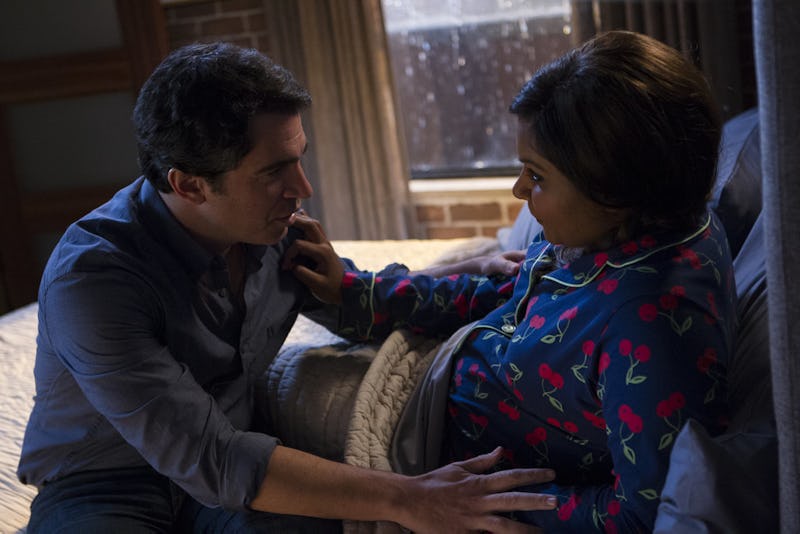 Ever since it moved from FOX to Hulu, The Mindy Project just hasn't been the same — although, mostly in good ways. Without the broadcast standards breathing down its neck, the show has been able to be racier with its punchlines; its episode count has been increased to a whopping 26 per season; and, of course, Mindy herself is now a mother to adorable baby Leo. But there's one way not-so-great way in which The Mindy Project hasn't been the same lately... and that's the inexplicable absence of Dr. Danny Castellano, aka the world's most grouchiest heartthrob.
For three episodes now, ever since his epic road trip with Morgan, Leo's baby daddy has been mysteriously missing in action. We've heard his voice occasionally over the past few weeks, but no glimpse of that grumpy Italian mug in sight — and viewers are getting understandably impatient! Without any sort of formal announcement from the show itself, we're left to assume that Chris Messina is temporarily busy filming Live By Night , a film directed, written, and produced by (and starring) Ben Affleck, also featuring Chris Cooper, Gillian Anderson, Zoe Saldana, Sienna Miller, and Elle Fanning.
But as great as it is to hear that Messina's film career is thriving, it's unacceptable that we've had to sacrifice our Danny Castellano quotient. The Mindy Project needs to bring the dashing doctor back pronto, and here are 22 very good reasons why.
1. He's Adorably Grumpy
And proud of it.
2. He Looks Good In Anything
Yes, even hot pink polos.
3. He Also Looks Good In Nothing
No complaints here.
4. He Shares Our TV Obsessions
I bet he's a Game Of Thrones fan, too.
5. He's Down To #NetflixandChill
I wanna share this show with you. It's called The Mindy Project. You'll love it, especially this guy Danny. He's amazing.
6. He's A Scaredy Cat
That's still more dignified than my most recent foray into a haunted house, tbh.
7. He Knows The Importance Of Snacking
Even if his particular choice of snack foods leaves a little to be desired.
8. He's A Patriot
Don't steal from Lady Liberty. She will snatch yo wigs.
9. He's Proud Of His Heritage
Even when it doesn't bring out the best in him.
10. He Knows What's Up
Don't try to fool Danny Castellano. He sees right through you.
11. He's Always Honest
Even when he probably shouldn't be...
12. He's Got His Priorities Straight
Food >>> anything else.
13. He Loves His Family
And his dorky glasses are super cute, too.
14. He Enjoys A Good Makeout Sesh
No floor is too grimy for Danny Castellano.
15. He's A Great Dancer
Best. Secret. Santa. Present. EVER.
16. He's An Even Better Stripteaser
*drools*
17. His Milkshake Brings Us All To The Yard
That is a fine piece of man butt.
18. He's Got Flaws
So he sweats a little, nbd. Nobody's perfect, you guys.
19. His Eyes Will Melt You Like Butter
I literally can't even.
20. He's Ridiculously Romantic
When Harry Met Sally? More like When Danny Made Us All Swoon.
21. He's A Great Kisser
So passionate. It's the Italian in him, obvi.
22. He's Literally Magical
And I need him back in my life, STAT.
Image: Courtesy of Hulu