I Tested The Warmest Socks For Winter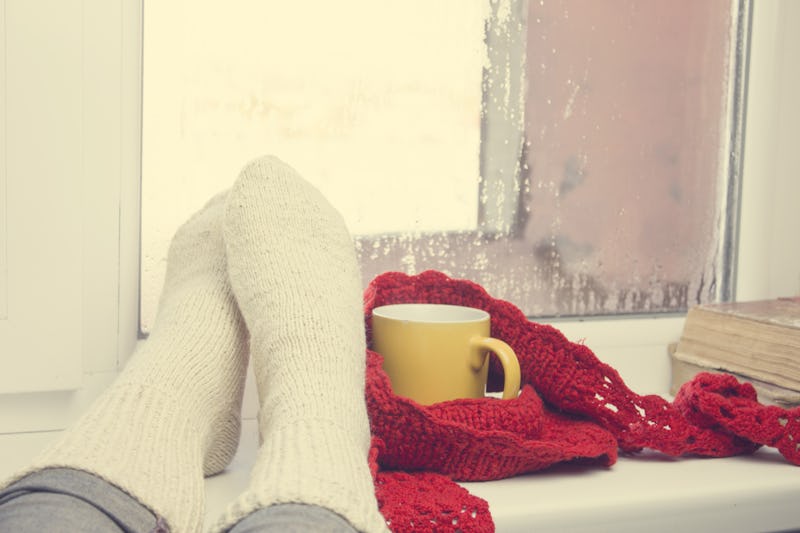 You definitely trust cuddly sweaters, snow boots, and cozy jackets to keep you shielded from the cold winter chill, but finding warm winter socks to keep your toes equally snug should be another priority this winter season. The protective lining inside your winter gear can only do so much, making it crucial to find the perfect pair of socks that will keep toes safe from frosty temperatures.
Unlike the lightweight cotton socks of spring and summer months, winter-ready pairs tend to be made with thicker fabrics and materials. And while heavy socks like these easily keep feet soft and snug under boots and shoes, you should always look out for styles with extra padding in the toe area, to keep your tootsies extra protected from numbing frostbite.
Even if you aren't spending lots of time outdoors, it's great to find a cozy pair you can easily wear around the house or during your commute to the office.
Not sure what kind of socks you'll need once the cold air hits? I tested out seven different pairs, perfect for both indoor and outdoor situations.
1. Patterned Knee Highs
Dakota Vintage Floral Sand, $25, Bootights
I've definitely had my eye on boot socks for a while, being that they give pretty much any ensemble an extra boost of sexiness. But, I'll admit that knee-highs aren't exactly my idea of a sturdy winter sock, so I was especially curious to see how a pair like this would fair in colder temperatures.
Upon trying them on, it's safe to say that these socks aren't exactly suited for subarctic temperatures. But unlike other boot socks I've tried, these tights come with a special ankle performance sock on the bottom, which works to keep feet comfortable and warm. It's true that my knees and calves would need some extra coverage (don't wear these with just a skirt, for example) but my feet and toes did remain toasty under some heeled boots.
In the long run, you probably wouldn't want to wear these if you're going to be outdoors for a long period of time. But, if office parties and cocktails with friends are coming up, pairs like these definitely will spice up your style quickly.
2. Pretty Stripes
Harvest Stripe Sock, $15, ibex
If you're one for thick socks, this supportive and stretchy pair will easily work for you. The unique blend of Merino wool keeps you cozy during all sorts of activities. Take it from me, my toes were just as warm chilling with Netflix as during brisk hikes outside.
But, if you have extremely sensitive skin, it's good to know that this pair may itch a little bit. However, the itch only proves to be temporary, so I'd still recommend checking them out. You'll surely amazed how warm these keep your tootsies.
3. Snowflake Socks
The Kelly Socks, similar styles at mitscoots
Trying out these slightly festive socks was pretty awesome experience for me. While this pair ran a bit big for my small feet, the thick material and stylish print worked well for a variety of occasions. They kept my toes super warm, and I was very pleased with how trendy they looked popping out of boots.
4. Neon Checkerboard
LOL To The Bank, $10, Pair Of Thieves
Though labeled as a men's brand, Pair of Thieves offers everyone an edgy and stylish alternative to the usual cotton sock shindig. And being a sucker for printed pairs myself, I couldn't resist wearing these socks whenever I could find a reason to.
I've been desperately trying to move around more, and these socks definitely made morning jogs and treadmill sessions a lot easier. But even if you aren't exactly brushing up on your fitness goals, this breathable sock works equally well with slippers and rain-boots too.
While my toes weren't noticeably any warmer when outside, these are excellent for layering with tights or over other pairs of less-awesomely printed socks.
5. Black & White Socks
Vanish Socks, $22, Stance
You'd might think that thick knee-socks are something only your grandparents would own, but this pair proves they're excellent for everyone.
Not only do the cascading ombre colors give jeans and leggings an instant pop of color, but I also didn't have to worry about constantly readjusting these socks throughout the day. Believe me, some knee highs I've tried in the past always had the annoying quality of slipping and sliding down.
With thick fabric that easily stands strong against the winter chill, it's safe to say I'll be wearing these whenever Mother Nature doesn't want to play nice.
6. Cute Printed Socks
Foot Cardigan Sock Subscription, $9 per month, Foot Cardigan
I've tried and tested a ton of box subscription services offering everything from makeup to wine. So, when I heard that this sock subscription service was offering "Instagram-worthy" pairs, I knew this was definitely worth checking out.
Coming in a variety of quirky prints and colors (seriously, isn't this coffee print adorable?!) you can expect to receive cute and offbeat pairs every month. However, as far as warmth goes, these aren't exactly the kind of socks you want to wear outside in cold for long. Better suited for indoor environments, pairs like these work great for coffee catch-ups and Sunday Fundays at home.
7. Striped Socks
Women's Nautical Stripes: Grey & White + Yellow Heel, $33, VimVigr
Compression socks are a great choice for winter, since they work to energize and alleviate aching legs. These socks proved to be a definite godsend. While this yellow pattern isn't something I'd normally gravitate too, I really like how they made my legs feel after a busy morning of errands. Plus, they stretch enough to accommodate wider calves!
To keep your feet super warm though, you'll likely want to wear these under leggings or jeans. Luckily, the thin fabric makes them perfect for layering. Doing so can keep toes warmer outdoors longer.
All I know is I'm super stoked to have toasty tootsies all winter long.
Images: Tiko Aramyan/Fotolia (1); Courtney Leiva (7)