7 Weed Mistakes You Might Be Making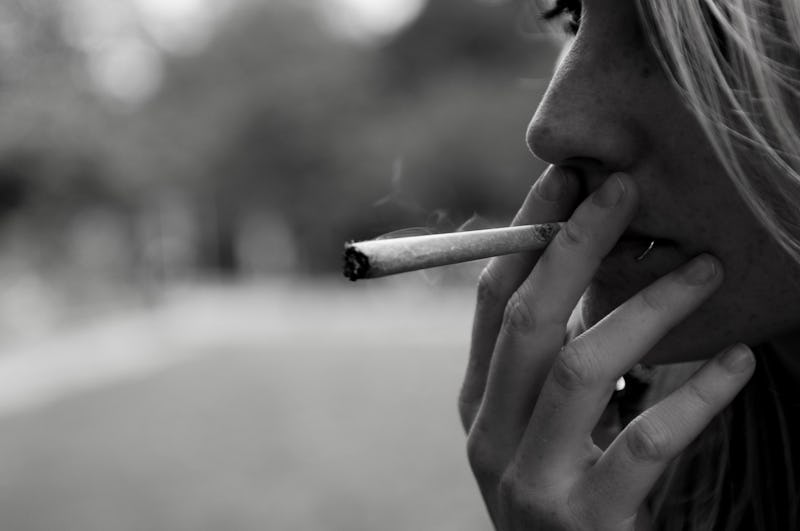 According to a recent study, marijuana use has doubled in the past decade. Personally, I think that's awesome. The evidence that smoking marijuana is much safer than drinking alcohol is overwhelming. Plus, I happen to think that weed is just delightful. However, since marijuana use has been (and continues to be) stigmatized, there's not a ton of information on what not to do when you're smoking weed, unless you're a frequenter of cannabis culture message boards.
So although I'm not the most experienced stoner out there, I feel like it's important for me to share the weed wisdom I've acquired over the past few years. Whether you're a pot novice or you've been smoking since high school, it's important to know what weed mistakes you might be making.
Weed is fun. It can help ease pain and stress, it can make sex a whole lot better (the best, most connected sex I've ever had was high sex), and it's just delicious. That said, pot is generally pretty expensive, so it's important to learn how to avoid any mistakes that could be keeping you from saving green. Additionally, it's important to know how weed affects you personally, and plan your highs accordingly. On top of all of that, if you're going to smoke frequently, you've got to make sure you're staying properly hydrated, getting enough sleep, not neglecting exercise, and not overdoing it so much that it messes with your personal and professional life.
1. Not Storing Your Stash In An Airtight Container
If you're a daily (or near-daily) smoker, then storing your weed in a Ziploc bag is probably fine, because you don't need it to stay fresh for a super long time. However, you should know that this is not the ideal approach to weed storage. If you want to keep your pot fresh for as long as possible, you need to be storing it in an airtight glass container. (Mason jars work best.) You should also try to keep your jar somewhere cool, dark, and arid, like your closet or a kitchen cupboard. (So definitely don't leave it in your car or on your balcony.)
Weed humidors are another great way to store marijuana, but unless you're a hardcore enthusiast, you'll probably want to stick to the more affordable option of tightly sealed mason jars.
2. Not Drinking Enough Water When You Smoke
I'm sure you don't need me to tell you that the "cotton mouth" struggle is real. When you get high, the receptors on the floor of your mouth temporarily stop producing saliva. So it's extra important to chug water if you don't want your whole mouth to dry up and stay dried up the day after you smoke.
Of course, drinking enough water is important for your overall health, whether you're smoking weed or not. But you definitely don't want to make the mistake of getting high and failing to stay properly hydrated. If you're smoking at home, just remember to chug a glass or two before, during, and after your high. If you're going to smoke at a friends' place or a concert, bring a water bottle.
3. Forgetting To Pack Lip Balm
If you've ever smoked pot, then you already know how fast it dries out your lips. If you're not carrying lip balm with you everywhere, then you're not the prepared stoner you think you are. Keep lip balm or coconut oil with you at all times to avoid weed-induced chapped lips. Trust me, you will not regret it.
4. Forgetting To Corner Your Bowls In Groups
Weed is a social drug, and as such, stoner etiquette is important. If you're smoking in a group and you're using a bowl, then try your best to corner it. (If you don't know what I mean by that, watch this video.) By cornering your bowl, you save green for the next person in rotation, instead of passing them a bowl of blackened bud before they've even gotten to take their first puff.
5. Forgetting To Use Screens In Your Pipes
With tiny glass bowls, you don't have to worry about using a screen, because there's really no place for one. But if you use a metal pipe or even a large glass bowl, then you should try to keep screens in stock. Using a screen (aka a filter) can help you protect yourself from inhaling ash into your beautiful lungs. They're also super cheap and easy to use, so don't make the mistake of thinking they're not worth buying.
6. Not Owning A Grinder
Grinders allow you to get your weed to the perfect rolling, packing, and burning consistency that just can't be duplicated manually. On top of that, if you use a grinder long enough, you'll end up with a bonus bowl of kief. Since kief is basically a super-high (pun intended) concentration of THC-packed weed dust that collects in the bottom chamber of your grinder over time, simply using a grinder regularly can help you get the most out of your weed.
The nicer ones cost around 20 bucks, but if you're going to smoke a lot, then it's worth the cost. Plus, there are actually some really pretty grinders out there.
7. Inhaling Too Deeply
If you're anything like me, then when you get high, you probably like to get high AF. But don't think that means you have to inhale your weed smoke super deeply to get the job done. I know it seems like the best way to absorb the maximum amount of THC possible, but it's not even necessary.
Evidently, 95 percent of the THC in cannabis smoke is absorbed within the first few seconds after you take a puff, so taking and holding in super deep breaths of weed smoke is pointless. It can also hurt your lungs and make you feel short of breath, so just don't do it. In fact, you might want to consider a vape and mostly avoid this issue altogether.