Daniel Radcliffe's Hair As Igor Is Crazy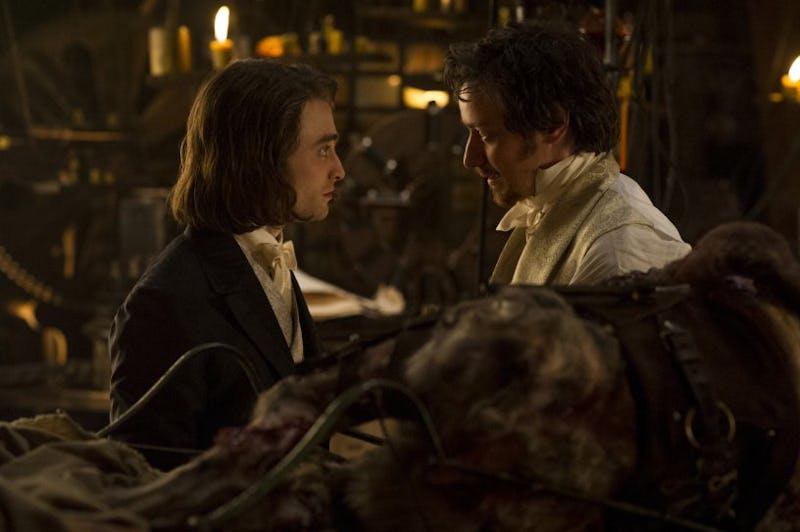 The new science fiction/drama/not quite horror film Victor Frankenstein looks like it's going to be absolutely insane with its explosions and witty banter and comparative lack of monsters. But the craziest thing about just might be Daniel Radcliffe's Victor Frankenstein hair. Is it real? In case you haven't seen the film's trailer, he's sporting extremely long locks throughout for his role as Igor. Like, I'm talking shoulder length, blowing in the wind, romance novel cover hair. So what gives? Is it a wig? Did he grow it out for real? And if so, what did he feed it?
Sorry to disappoint, but Daniel Radcliffe did not really grow out his hair for Victor Frankenstein. His look in the film is actually due to his getting hair extensions. In an appearance on The Graham Norton Show during filming for the movie, Radcliffe spoke briefly about his new 'do, saying that it wasn't his real hair, and that he got it from "a real dead person or a person who donated their hair." How appropriate. He also spoke about the process in depth to InStyle, where he revealed that he had to leave the extensions in for four months. That's why he still had the hair at public appearances, sparking the rumors that he grew it out for real. And although the look is strikingly different from how fans are used to seeing Radcliffe, it's hardly the first time he's changed up his look for a role. So as a tribute to his epic mane, here are the many hairstyles of Daniel Radcliffe throughout his career.
Those Bangs Tho
In the first few Harry Potter movies, Radcliffe sports some serious bangs and a helmet of hair, especially in Harry Potter and the Sorcerer's Stone.
A Little Bit Shorter Now
Beginning with The Order of the Phoenix, Radcliffe trimmed Potter's signature mop for a close-cropped look more appropriate for battling Dark Lords.
Period Pompadour
In his first post-Harry Potter role, Radcliffe looked to shed his child actor image by appearing in an Edwardian Era horror film. And that required a very adult, parted on the side, poofy in the front haircut for The Woman in Black.
Curly AF
Radcliffe's next film, Kill Your Darlings, saw him portray curly-haired poet Alan Ginsberg, and he looked like he went full-perm for the role.
A Little Horny
In Horns, Radcliffe plays a guy who might be turning into a demon, so in order to do that he grew some horns in real life. OK, the horns are fake, but he did grow some actual stubble!
Incognito
For the TV movie The Gamechangers, Radcliffe grew a bushy beard and looked nearly unrecognizable for his role as Rockstar Games co-founder Sam Houser.
Hairless
Radcliffe shaved his head for next year's Imperium, in which he'll play an FBI agent infiltrating a group of neo-Nazis. They say bald is beautiful, right?
As you can see, Radcliffe isn't afraid to change up his look. In fact, he's changed it so much that it couldn't argued that he doesn't even have a look. He's more like a chameleon, with hair that changes at will to suit whatever character he's playing.
Images: Warner Bros. Pictures; 20th Century Fox; CBS Films; Sony Pictures Classics; Dimension Films; BBC