James McAvoy's 8 Leading Ladies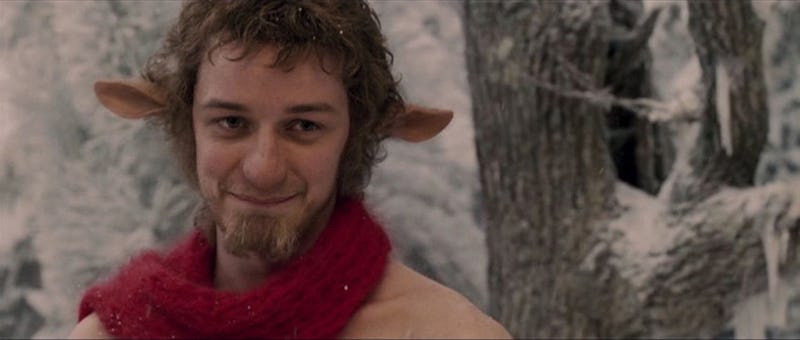 When I saw The Chronicles of Narnia: The Lion, the Witch, and the Wardrobe in movie theaters ten years ago, I fell in love with one actor and one actor only. I had been a fan of the book series by C.S. Lewis, but I had never expected to become infatuated with the actor who portrayed Mr. Tumnus in The Lion, the Witch, and the Wardrobe. Yes, it would have been much more appropriate for my 19-year-old self to have a crush on the character Peter (portrayed by the 18-year-old William Moseley at the time), but I feel head over heels for the faun Mr. Tumnus, portrayed by Scottish actor James McAvoy. And for the 10-year anniversary of The Lion, the Witch, and the Wardrobe, it is time for me to admit to the world that I was weirdly into a half-man, half-goat — and I was totally right to find him attractive.
While there is fan fiction out there about Mr. Tumnus, including some troubling ones that support a Lucy-Tumnus pairing (what would Lewis say?!), I wasn't exactly sexually attracted to the character of Mr. Tumnus. (Beastiality isn't really my thing.) I was specifically charmed by McAvoy's imploring eyes and adorable face. The betrayal I felt when he almost kidnapped Lucy for the White Witch and compassion I felt when he let her go, showed that McAvoy could truly act. I decided I needed to find out everything about this actor the minute I left the theater. (I'm not always a complete creep, I swear.)
By reading the IMDb trivia of The Chronicles of Narnia: The Lion, the Witch, and the Wardrobe, I discovered (to my delight) that McAvoy cursed onset a lot and had to donate to the actress who portrayed Lucy's swear bucket. Cursing is my favorite hobby! McAvoy and I could be soulmates! From the great IMDb, I also found out he was Paul Bettany's obnoxious brother in Wimbledon and searched out the 2004 Irish film Rory O'Shea Was Here, where he played a man with Duchenne muscular dystrophy. I was in deep. And how could I not be? Just look at that face!
Yet none of this celeb stalking was really necessary since after his portrayal in The Lion, the Witch, and the Wardrobe, McAvoy ascended to pretty significant stardom. (He also married his costar from the UK TV show Shameless , Anne-Marie Duff.) But obviously, I saw in McAvoy what Hollywood saw, that the guy who can pull off a half-goat, half-man deserves to be a famous actor.
In case you think my devotion to Mr. Tumnus is disturbing, I'm here to prove to you that it's not. Just take a look at all the stunning leading ladies that McAvoy played opposite shortly after the Disney film The Lion, the Witch, and the Wardrobe. Whether he was portraying a faun or just a man, McAvoy had attractiveness oozing out of him that demanded the world's attention.
1. Kerry Washington in The Last King of Scotland
McAvoy seduced Olivia Pope herself in the critically-acclaimed The Last King of Scotland. Forest Whitaker took home the Best Actor Oscar for his portrayal of the brutal Ugandan leader Idi Amin, but McAvoy's performance as the naive doctor had its own understated power.
2. Christina Ricci in Penelope
Reese Witherspoon was the producer and costar in the modern fairy tale Penelope , but she took the backseat since the lead role in the rom com belonged to Christina Ricci. Penelope, who has a pig nose, has many suitors pursue her for her money, but the best by far was McAvoy's morally-conflicted, sexy musician. It's a fabulous small film and Peter Dinklage is even in it!
3. Rebecca Hall in Starter for 10
Speaking of amazing, small films, go seek out Starter for 10 right now. McAvoy stars as a university student in the 1980s smitten with his fellow student (portrayed by Alice Eve), while he overlooks his friend — played by the gorgeous Rebecca Hall (from The Prestige, Vicky Cristina Barcelona, and The Town). This sounds like a standard romcom, but the Playtone-produced film is much smarter than that and the cast will blow your mind, with appearances by James Corden, Dominic Cooper, Charles Dance (McAvoy loves working with Game of Thrones actors apparently), and the one and only Benedict Cumberbatch. Like I said — go watch Starter for 10 now.
4. Anne Hathaway in Becoming Jane
In 2007, McAvoy made Jane Austen fans swoon (not as if that's a difficult thing to do) as Austen's (portrayed by Anne Hathaway) love interest in Becoming Jane. Actual historical facts aside, as a Jane-devotee, it was wonderful to see Miss Austen finally getting some of the romance she so eloquently wrote about, especially when that romance was with McAvoy.
5. Keira Knightley in Atonement
The same year as Becoming Jane (and only two years after Mr. Tumnus), McAvoy was in another critically-acclaimed film, Atonement, as Keira Knightly's ill-fated lover (damn you, Cumberbatch!). The raw, sexual chemistry between these two beautiful people was off the charts as evidenced in the library scene. (Ah! That green dress!) His tormented role as Robbie Turner officially qualified McAvoy as a bonafide leading man.
6. Angelina Jolie in Wanted
When you think you can't get any higher than costarring opposite Hathaway and Knightley, think again. McAvoy took on an action role in the film Wanted, where he got to kiss Angelina Jolie's infamous lips. I had been disappointed in the film when I saw it in theaters, which also starred Morgan Freeman, but it still didn't take away from the fact that I was proud of my boy McAvoy for making it so big in just three short years.
7. Emily Blunt in Gnomeo & Juliet
Yes, I understand this is an animated film, but McAvoy voiced the titular Gnomeo, opposite Emily Blunt's Juliet in the children's film based off of Shakespeare's ultimate romance story. The pair will be reprising their 2011 roles in Gnomeo & Juliet: Sherlock Gnomes in 2018.
8. Jennifer Lawrence in X-Men: First Class
Although McAvoy's Charles Xaviar rebuffed Raven/Mystique's advances in X-Men: First Class, to have Jennifer Lawrence have a crush on you is pretty much every current human's dream right now. The mutants were childhood friends in the film and their relationship never went anywhere since Xaviar had trouble seeing Raven's beauty behind her blue skin. Oh, McAvoy, you fool!
From his turn 10 years ago in The Chronicles of Narnia: The Lion, the Witch, and the Wardrobe, McAvoy went on to become the object of affection for some of the biggest female stars in Hollywood — including J.Law! — on film. Keeping that in mind, I now dare you to tell me that having a crush on McAvoy's goatman was ever creepy.
Images: Walt Disney Pictures; Giphy (6); Caitlin Gallagher/Bustle (3)