Jimmy Fallon Sings Holiday Parody Songs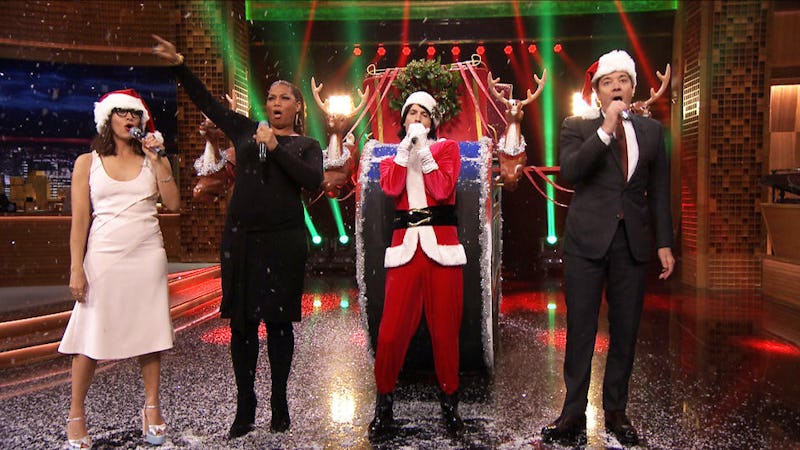 Now that Thanksgiving is officially no longer among us, we can reminisce about the amazing feast and fully dive into the holiday spirit. Thankfully, Jimmy Fallon is here to help us with that: On his Friday night show, Jimmy Fallon sang a holiday medley with Rashida Jones, Queen Latifah and Eric Nally. The medley featured some of this year's biggest chart-topping hits like "Hotline Bling," but with a twist of holiday cheer.
This year has been a big one for music, with musicians like The Weeknd and Taylor Swift topping the charts with catchy tunes like "Can't Feel My Face" and "Bad Blood" that play every time you turn on the radio, and won tons of prizes at this year's award shows. No wonder Jimmy Fallon thought it would be a good idea to turn these Hot 100 hits to holiday masterpieces.
In fact, Fallon took it upon himself to sing remixes of songs like Rihanna's "B*tch Better Have My Money", Silento's "Watch Me (Whip/Nae Nae), Bruno Mars and Mark Ronson's "Uptown Funk," LunchMoney Lewis' "Bills," OMI's "Cheerleader," and, the icing on the cake, Macklemore and Ryan Lewis' "Downtown," which was the most extravagant numbers. Only instead of singing the regular words, he rewrote them to have to do with Christmas, Hanukkah, Thanksgiving, and Black Friday.
While all of these covers might have ben delightfully entertaining, just like any set of Christmas songs, some stand out more than others. Some of these lines were so beautifully crafted that I wouldn't be opposed to having them on an actual Hot 100 themed Christmas album! Here are some of the best lines from Jimmy Fallon, Rashida Jones, Queen Latifah, and Eric Nally's epic holiday medley.
1. The Food Coma Lyrics
To the tune of "Bad Blood," Fallon and co. sang: "And now it's time to take naps cause // everybody is mad stuffed // Hey!" I'm sure we can relate to this one. We've all reached that point where we recognize a few minutes too late that we probably went a piece of pie over our limit.
2. The Stuffing Lyrics
"B*tch better have my stuffing." What else needs to be said?
3. The Turkey Lyrics
In Fallon's hands, "Watch Me (Whip/Nae Nae)" became this masterpiece: "Do the turkey leg (turk) // Do the turkey leg (turk turk)." I dance with my turkey too, so I can relate.
4. The Drake Inspired Lyrics
"Butterball hotline bling // teach me how to cook this thing." Is this a "Hotline Bling"-themed recipe? Yes please!
5. The Black Friday Lyrics
"I've got deals on Black Friday // So, I'm gon' trample you, get out of the way." You heard him, folks. Fallon warned you once, he probably won't do it again.
6. The Hanukkah Lyrics
"I can't celebrate cause I'm a Jew // I've got candles, and menorahs." Hey, every holiday deserves a shoutout, and now Hanukkah has a new song!
7. The North Pole Shoutout Lyrics
"He puts his toys onto his sleigh // He comes around on Christmas day // Santa Claus is on his way // As he flies across the USA". If this doesn't get you excited for Christmas, then I don't know what will!
Much thanks to Jimmy Fallon for blessing us with all of this holiday cheer as we transition into our Christmas-celebration phase. Petition to get full versions of these songs soon?
Images: Screengrab/NBC; Giphy (7)