Lucca & Cary Got Flirty On 'The Good Wife'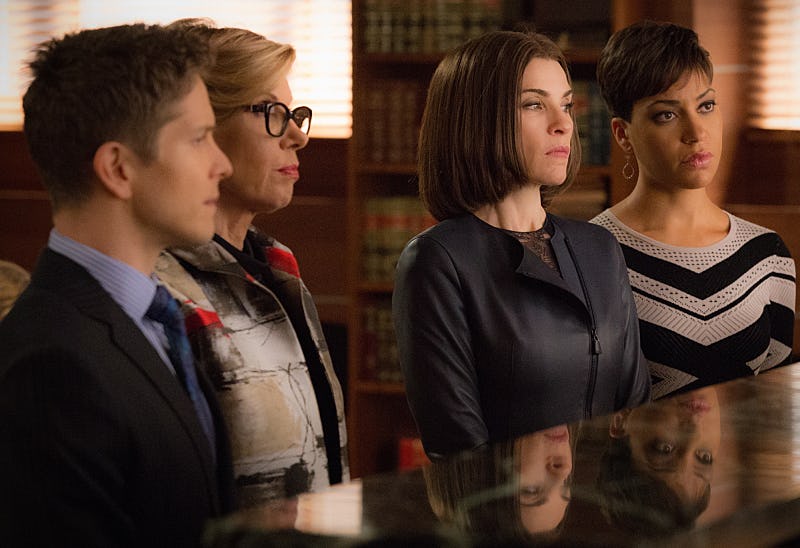 Lucca and Cary got close on The Good Wife this week, proving that Cary really is drawn to powerful women. Despite working on opposite sides of the court room on a heated case about systemic racism in ChumHum — The Good Wife's fictional search engine — in "Delivery," Lucca and Cary ended the episode "celebrating" together. And, while it seemed pretty likely that the two lawyers would later go home together, I'm still pinching myself wondering, did Lucca and Cary just hook up on The Good Wife ?
Ok, let me break this down from the beginning. Lucca and Cary went head to head this week, with Cary and Diane representing a black business owner who felt that ChumHum's maps app was racially biased. Her restaurant was driven out of business, she claims in part because the location of the restaurant was listed as being in an "unsafe" neighborhood by the website, meaning her business was not even listed on the map until the neighborhood safety rating was turned off the app. In short, unless a user knew to turn off the safety feature, they would be completely unaware of the business' existence. While Cary and Diane fought to find evidence that ChumHum programmers had created a racist algorithm, Lucca and Alicia defended ChumHum, under the watchful eye of Louis Canning.
In the end, Alicia and Lucca settled the case, offering to change some of the program's settings to try to eliminate any biases. Unfortunately for Cary and Diane, their client didn't receive any damages, because her restaurant was already failing before the map app was released. Still, Lucca and Cary considered the case a draw, prompting Cary to invite Lucca out to celebrate "in any way you desire." (Yep, he said that.)
Lucca's preferred celebration, it turns out, was to go dancing at a busy club. The last we saw them, Cary was following Lucca into the crowd, but it's safe to assume that their night didn't end there. I'm all for Cary and Lucca having some romantic fun together. After all, Cary has had a rough few years (remember when he was in jail?), and with Kalinda gone, he deserves to move on. Plus, now that Cary and Alicia are friends, I'm hoping for a double date with Alicia in the future!
Images: Paul Sarkis/ CBS; kalingly/tumblr