The 7 Easiest NYE Decor Ideas Ever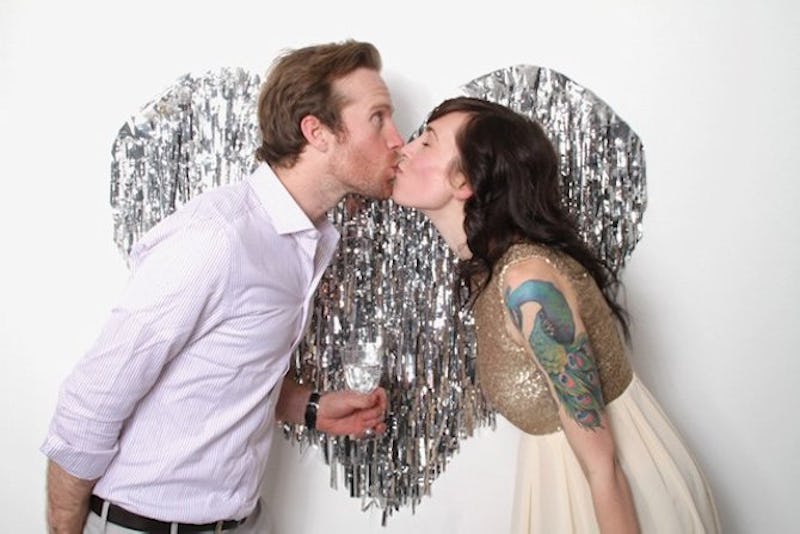 Guys, the year is almost over — can you believe it? It's about that time to start thinking about New Year's Eve DIY projects and how we're going to ring in 2016. For some of us, that might mean embellishing ourselves in sequin dresses and dancing the night away. Others may hop in a car and escape to a New Year's Eve destination in another state, while some may hash out their big 2016 plans.
Basically, a lot can happen on New Year's Eve. And since I'm all about creating a party vibe through garlands and ornaments, I truly believe that ditching the decorations should not be one of them. Think of it this way: If you're going to celebrate with friends and family, you might as well spice up your space. It's the best way to rev everyone up for that ball drop! That's where DIY decorations come in.
If you've already made everything from Thanksgiving place cards to holiday gifts, you're probably cringing at the thought of taking on more projects. Luckily, these tutorials are incredibly easy and inexpensive. Besides, nothing sounds better than watching your favorite holiday movie, cuddling with blankets, and prepping for 2016. Count me in.
1. Paper Cube String Lights
Around this time of the year, the holidays line up faster than shoppers at a sample sale. With that said, it's not uncommon for our wallets to get a little more action around this time of the year — something we could totally do without.
Fortunately, there are ways to reuse decor from one holiday to the next. Take these string lights, for example. With some paper and a specific folding technique, you can transform Christmas tree lights into a glowing geometric garland. Bring in some glitter or metallic paper for full-fledged NYE status.
Learn how to make it at Wit and Whistle.
2. Heart Photo Booth Backdrop
What's a party without a photo booth? Keep in mind that you don't need a fancy camera to make this happen. Simply set up some props and let your guests do the rest. Those smartphone things are useful little guys.
To get you started, create this charming heart backdrop made with nothing more than mylar fringe, tape, and kraft paper. That metallic fringe gives that quintessential New Year's Eve vibe. If you're not feeling the heart, opt for a star, triangle, or even a simple rectangle.
Make your own with the help of Alanna Jones-Mann.
3. Metallic Fringe Pyramid Ornaments
While we're on the topic of metallic fringe goodness, let's talk about ornaments. These babies by A Lovely Lark were inspired by a version that ran at $12 a pop. Thankfully, she's a smarty and figured out how to make them on a budget.
I personally adore these pyramid shapes. Not only do they bring in a modern vibe to your party decor, but they can instantly add depth and dimension to any room. Plus, you can use any color combination that your heart desires. So into this.
Visit A Lovely Lark to learn how to make them.
4. Mason Jar Tinsel Wreath
Here's another project to put those Christmas decorations to good use. This mini wreath DIY uses mason jar lids and tinsel garland, which is typically used to wrap trees. While it's inexpensive to begin with, waiting until Christmas will allow you to snag it for next to nothing.
To use this project on NYE, go for a silver or gold tinsel garland. Make a mini wreath or eight, then hang them wherever your place needs a little sparkle. They would look especially adorable strung together as a garland.
Check out It All Start With Paint for the full tutorial.
5. Curly Q Drink Stirrers
If sparkle and shine isn't your thing, opt for solid colors at your next NYE party. You'd be surprised at just how easy it is to create a party vibe without a heavy dose of glitter. This super fun curly Q stirrer DIY is an excellent example.
Made with the tried and true pencil-curling trick, these curly Q's can be made in your favorite color combo. Whip up drink stirrers by gluing them to dowels or thread them together to make a garland. You can also adhere them to toothpicks to top off your cupcakes. Or, you can just throw them around like confetti. No judgement here.
Click on over to Michelle Edgemont's blog for the how-to.
6. Sequin Monogram
Say it loud and proud with sparkly sequin letters. Simply hot glue sequin trim to a cardboard or wood letter, and you're good to go. By showcasing a favorite acronym or saying, you'll bring an awesome touch of personality to your party.
Don't forget — craft stores typically sell numbers, too. Make a set that says "2016" and bring in the new year with style.
Catch My Party demonstrates how to make it on her blog.
7. New Year's Eve Hats
When it comes to NYE celebrations, the decor doesn't have to stop at the walls. Adorn your guests' heads with a batch of these handmade NYE party hats. It goes without saying that these guys will definitely get everyone in the partying mood.
Remember that leftover tinsel? You can use it for this project, too. Win.
Check out the full tutorial at The Girl Inspired.
For more awesome holiday ideas, check out Bustle on YouTube.
Images: Wit and Whistle; Alanna Jones-Mann; A Lovely Lark; It All Start With Paint; Michelle Edgemont; Catch My Party; The Girl Inspired