Hinge's Latest Feature Is A Dating App Gamechanger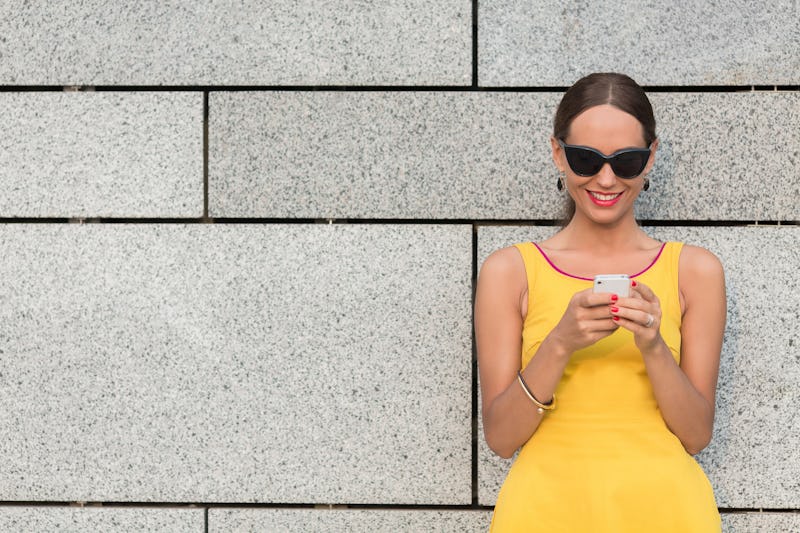 People say that common interests are key when dating someone. And now, dating app Hinge's new feature, Story Cards, intends to match and connect people better based on interests and life experiences. With the Cards, users can see each other's unique experiences or backgrounds, like skydiving, salsa dancing, or whether or not you've gone to Burning Man. When they were tested with beta users, Story Cards initiated 20 percent more two-way messages and phone numbers exchanged.
"Everyone has started to look the same on dating apps," said Justin McLeod, Hinge Founder and CEO. "It's hard to create a real connection based on generic profiles. We believe great relationships start with finding common ground; whether it's a mutual friend, an amazing trip or even an embarrassing memory. With Story Cards, Hinge surfaces life events that allow users to connect more deeply."
The Story Cards remind me of OkCupid's algorithm questions, like "Do spelling mistakes annoy you?" and "Do you Google someone before a first date?" I think the Cards are a great idea, as I do think there's a lot to having a shared past and common interests. After all, it may provide you with more conversation ammo and message openers.
The Story Cards are among several new features with Hinge in the past few months:
Timed Matches: Back in November, Hinge created timed matches, so you have 24 hours to initiate a conversation (or else you lose the match, though they may pop up in your matches again down the line) and 14 days to exchange phone numbers. (I have to say, once this took effect, I got more matches from Hinge guys than ever before and even started dating one, so kudos to Hinge for this addition to the app! Nothing like pressure to get people messaging!)
Personality Tags: On Hinge, you can add various personality tags to add to your profile, like Yogi, Beach Bum, Dance Machine, etc. In October, the app found that yoga lovers were more desirable online than non-yogis. Innnteresting.
Best Opening Messages: When Hinge analyzed what the best opening messages were to a match (hint: "Hey" was not it), they found out all sorts of info, like how women respond to messages about food and men are very into assertive messages.
Dating Intentions: Back in August, Hinge created dating intentions, so users could flag "dating," "relationship," or "casual" as their primary reason for being on the app. Big ups for being straightforward with potential matches and dates, I think.
Now, with Hinge's Story Cards, here are six key things to know about them.
1. Hinge Will Ask You Swipeable "Yes" Or "No" Questions About Past Experiences
Just like swiping "yes" or "no" on a match, when you swipe on an experience you've had, like "Been to Burning Man?" — or not — the results are stored behind-the-scenes of your profile and only emerge when a match shares that experience.
2. But, You Cannot See Story Cards Until You Go Through Your Daily Handful Of Matches
Yes, you must go through your daily bunch of matches before Story Cards appear, which isn't a huge (or even small) price to pay for getting to the Cards and finding someone who shares your enthusiasm for skydiving or Burning Man.
3. You Only Have To Answer As Many Questions As You Want
Unlike dating sites like eHarmony, in which you must answer a certain number of questions in order to set up your profile, with Hinge's Story Cards, you only have to answer as few (or as many) questions as you'd like. Of course, I'd guess that the more you answer, the better your chances at meeting more people... and that's the whole point of online or mobile dating, yes?
4. True Or False: "Being Suspended From School" Is The Most Bonding Life Event
True! (Right?!) Who knew? Yep, checkered pasts (i.e., being suspended, partying, and streaking) and gender-defying hobbies (i.e., women who golf or fish, or men who like ballet) were at the top of the list. And here were the top 10:
Being suspended from school
Southeast Asia
Partying to Mardi Gras
Being a cyclist
Being a leftie
Middle East
Golf
Fishing
Helicopter
Farmers
5. Interest In Board Games Is The Least Bonding Life Event
Yes, the least bonding experiences were hobbies that weren't too social (i.e., comics, baking or art and theater). I hear that, as dating is active and all about going out and doing something like one of your common interests, right? At least at the beginning, it should be. Here was the lowdown.
Interest in board games
Sea Creature attack
Love of cooking
Interest in comics
Having tattoos
Art Basel
Africa
College Athletes
Water Sports
Artists
6. Story Cards Will Lead To More Matches
I think it's inevitable that Story Cards will lead to more matches. After all, the more potential subjects we have to bring up in an opening message to someone, the better. And, after you message and meet IRL, you can discuss those commonalities even more. So, get matching. Plus, with Christmas around the corner, why not give yourself the gift of Hinge? It's free, so there's no harm in trying — and you may just meet your future New Year's Eve date. What better a way to start 2016?
Want more of Bustle's Sex and Relationships coverage? Check out our new podcast, I Want It That Way, which delves into the difficult and downright dirty parts of a relationship, and find more on our Soundcloud page.
Images: Fotolia; Hinge (2-3); Giphy (4-9)