These '90s Teen Dramas Deserve More Love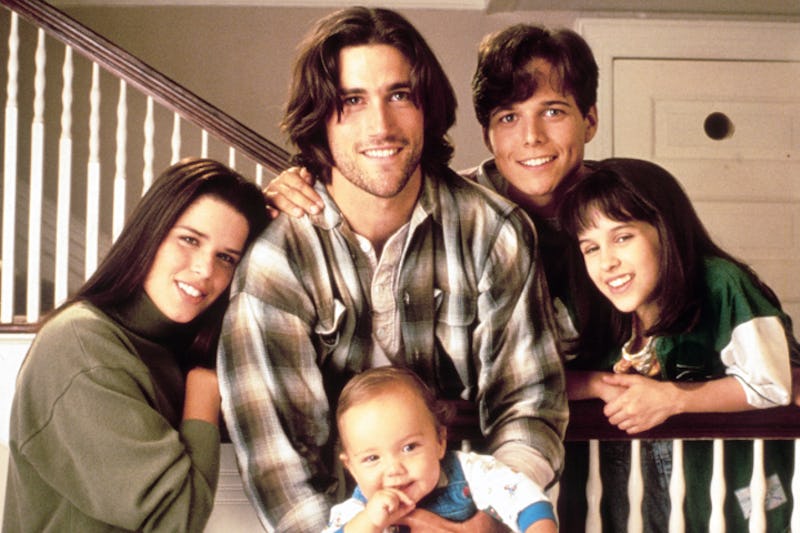 Oh, the teen angst you (probably) missed out on in the '90s. The era that brought the world My So-Called Life and Freaks and Geeks was all about celebrating the lives of teens in all their inherent messiness. There are so many '90s teen dramas that deserve way more love than they get. Everyone appreciates Beverly Hills, 90210 and Buffy the Vampire Slayer, but where have all the Party of Five fans gone? Heartbreak, emo music, and baggy sweaters were hallmarks of the genre, and if you were too young to really "get" the superb roller coaster of emotions the teen shows of the '90s brought to the table, then you are seriously missing out, my friends.
It is never too late to delve into classic shows, though, and I have put together a cheat sheet of teen dramas that need to be moved directly to the top of your must-watch list. Family woes, rich kids with all the problems, post-apocalyptic survival — '90s teens on TV had it rough. Some of these shows were blockbusters in their time, while others were cult favorites. The one thing they all have in common is quality storytelling aimed squarely at real life teens who were growing up in the prime nostalgia decade that was the '90s.
1. Party Of Five (1994-2000)
A show starring Neve Campbell, Matthew Fox, Scott Wolf, and Jennifer Love Hewitt shouldn't be forgotten and yet, this superb drama about a family struggling to hold everything together after the death of their parents is rarely ever mentioned anymore. The Salingers dealt with cancer, substance abuse, relationship woes, and everything in between over six seasons, and their story never once stopped being compelling.
2. Fifteen (1991-1993)
Nickelodeon teamed up with Canada's YTV to bring the world an ultra serious teen soap that may sound stilted and outdated today, but was considered edgy for its time. The number one thing Fifteen has going for it has to be baby Ryan Reynolds, though. The boy who would one day be Deadpool was nominated for a Young Artists Award for his performance in the show.
3. The Tribe (1999-2003)
New Zealand's post-apocalyptic series about a world where everyone over the age of 18 has died defined my teen years. Balancing survival, mysteries, and love triangles the show is like The Walking Dead minus the zombies and with much cooler hairstyles. It's so addictive, I still rewatch it to this day.
4. Get Real (1999-2000)
A victim of Fox's cancel-all-the-things mindset at the turn of the century, Get Real was a deliciously meta but short-lived series starring Anne Hathaway and Jesse Eisenberg. It was smart in the way it added a healthy dose of comedy to its witty teens' lives, but the show was also achingly real at times. One season was nowhere near enough.
5. Once And Again (1999-2002)
Technically, Once and Again was a family drama, but it devoted most of its time to the lives of the teenage family members (which included Shane West as a high school basketball star). The show's best teen story came in its final season when Jessie fell in love with Katie, and came to terms with her sexuality.
6. Popular (1999-2001)
Long before Glee, Ryan Murphy had already crafted a perfect, satirical look at the high school caste system. Popular was a biting, well-written, and unnervingly on point series that was way ahead of its time. It found a cult following during its short time on air, but the public just wasn't ready for such a candid look at the horrors of the high school popularity machine.
7. The Secret World Of Alex Mack (1994-1998)
Even superpowers couldn't stop Alex from dealing with the growing pains of young adulthood. While the show wasn't heavy-hitting in its depictions of teen life, Alex's struggle to understand who she was and come to grips with her powers resonated with viewers.
8. Roswell (1999-2002)
Doesn't everyone feel like an alien when they're a teen? Science fiction has never been as relatable as it was in Roswell. The teen characters, both human and alien, dealt with their share of crazy sci-fi plots, but at its heart, Roswell was more interested in the trials associated with love and growing up.
9. Undressed (1999-2002)
Subtle, Undressed was not, but it deserves to be remembered for the way it embraced the subject of sexuality. All of the characters' love lives, both gay and straight, were treated with the same amount of openness and respect. While it was thin on plot, Undressed was all about shredding taboos.
Teen TV hit a boom in the early '00s that continues to this day, but those shows wouldn't exist without these trailblazing teen dramas of the '90s.
Image: Sony Pictures Television