These Sex Toys Are So Hot Right Now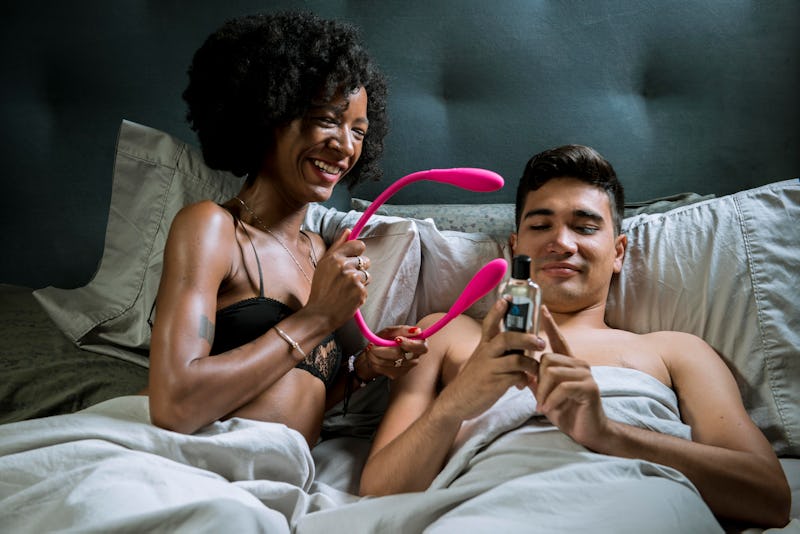 According to the sex toy retailer, LELO, 2016 is set to be the year of anal sex play. Once regarded as something taboo, anal sex is finally getting its due. Not only have we seen anal sex being discussed on TV shows (remember last year's episode of The Mindy Project where her partner "slipped"), but pegging is also being addressed on television, too. If you're a fan of Broad City, then you probably recall the episode earlier this year in which Abbi is asked by her partner to peg him. Basically, anal play, on men and women, is finally something many of us can get behind (pun!). And why not? With the right lube, it can be a pretty hot experience.
LELO found that toys that are inquired about the most are ones that provide anal pleasure. Not far behind these inquiries are questions about pegging, how to do it, and what toys are good for that, too. In 2015, sales for male anal pleasure toys increased by 200 percent and LELO expects that percentage to double in 2016. Prostate massagers were a big hit all over the country, especially in New York, where they accounted for 27 percent of LELO's sales. In Miami, the biggest sales went to men over 50, and in Las Vegas, 70 percent of all prostate massagers were bought by both men and women under 35. In other words, everyone is getting into this anal play thing and it's awesome.
For those who have yet to explore the wonders of anal play, the uncharted territory can feel a bit nerve-racking. But no worries! If you're ready to give it a try, then here are 10 toys to give a whirl.
Just remember: Lube is your friend when it comes to anal play, so never be without it.
1. Pop Plugs
For those who are new to anal play, Pop Plugs are a great start. They come in three sizes, each one with a narrow tip that gradually gets bigger and they all have a wide enough base to stop it from getting sucked up inside in your butt, because yikes! They also have a loop handle so it can easily be removed when your anal play is done.
Pop Plugs, $15 - $20
2. Transformer Vibe
The Transformer Vibe toy is great in more than one way. It's a double-ended vibrator that can be used to penetrate both the vagina and anus at the same time, but because of its flexibility and vibration, it can also work as a cock ring and stimulate the clitoris, too. It's basically everything you want in a toy, and you get to choose between having a black or pink one. Personally, I think color options are always a great idea when it comes to toys.
Transformer Vibe, $129
3. LELO's HUGO
Although it will set you back a pretty penny, LELO's HUGO isn't just a powerful prostate massager made with two motors, but its remote control makes it hands-free, so it can either be used solo or with a partner. And, although it may be a prostate massager, that doesn't mean that women who like anal play can't enjoy it, too.
HUGO, $219
4. Bend Over Beginner
If you and your partner are really excited to try pegging in 2016, then it might be best to start small, then work your way up. Bend Over Beginner comes with everything you need to get your pegging on in the most introductory way possible: two silicone dildos, a harness, and O-rings to keep the dildo in place. If your partner likes what the Bend Over Beginner set has to offer in the ways of pegging, then you can take it up a bit and try even bigger dildos. Yeah!
Bend Over Beginner, $95
5. Flexi Flexi
Personally, I've never tried anal beads, but I've heard great things. With the Flexi Flexi anal beads, we're also looking at something not quite beginner, but not exactly experienced anal play either. Each bead increases in size and has a cute butterfly handle at the base so you can give it a good pull just seconds before climaxing. This particular toy, since it's flexible, can be shaped in such a way to stimulate the prostate in men, too.
Flexi Fexi, $34
6. LELO BRUNO
While it doesn't have a remote control like the LELO HUGO, the BRUNO prostate massager still packs a mean punch ― in a good way! Its shape is perfect for prostate stimulation and with a vibrating base it provides stimulation all around with its six vibration patterns. Put that baby in your male partner and his head will likely spin right off his body because of the intense pleasure BRUNO serves up.
BRUNO, $169
7. Cheeky Boy
Don't let the look of prostate massager Cheeky Boy intimidate you! Yes it's part anal beads, part vibrator, and part prostate massager, but its shape and beads are the stuff of dreams when it comes to prostate stimulation. While it's marketed toward people with prostates, remember that women can have a go at it too, either anally or vaginal. Sex toys are meant to be shared, because sharing is caring ― although I would highly recommend thoroughly cleaning your Cheeky Boy before it goes from your partner's ass to your vagina.
Cheeky Boy, $79
8. B Balls
For those who don't need vibration with their anal play, then the B Balls anal plug will do the trick. With the B Balls, you're in charge of where you want to be stimulated and as its description explains, the B Balls Can be "worn invisibly under clothes for all day subtle stimulation." Suddenly your work day isn't looking so boring, is it?
B Balls, $40
9. Leo Vibe Kit
It may look like it's rocking some tinfoil, but the Leo Vibe Kit doesn't mess around with any other frills. It's a straight-up penis-shaped dildo that you can use strictly for anal penetration or, if the mood strikes, you can add some vibration to the mix and really bring your anal play to the next level.
Leo Vibe Kit, $60
10. LELO EARL
For the man or woman who already has a huge collection of anal toys, it can be difficult to figure out what type of anal treat to buy next. So, it's in these cases that you go above and beyond and buy the EARL butt plug. Costing a month's rent, the EARL is available in either 24-karat gold or stainless steal. So if you or your partner believe that you only deserve the very best for your ass, then this one is the way to go.
EARL, $2590
Want more of Bustle's Sex and Relationships coverage? Watch people try to guess what these sex toys are used for: