This Is When Brendan Dassey Can Get Parole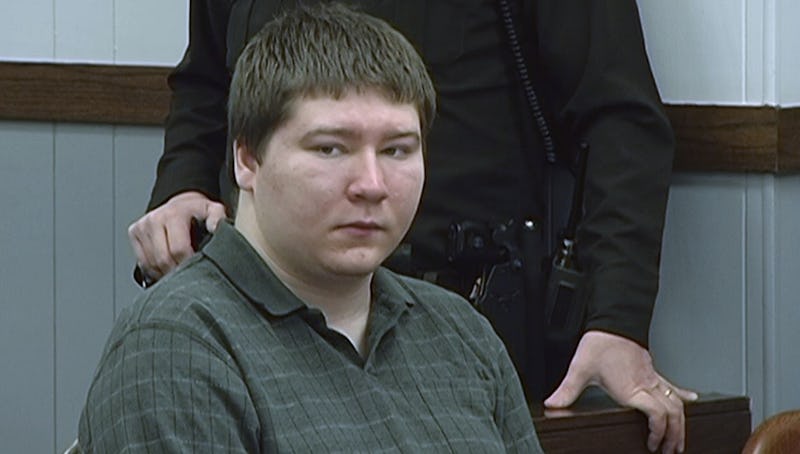 Have you ever thought about what would happen if you were convicted of a crime that you didn't commit? Netflix's newest docuseries, Making a Murderer , follows the trial and conviction of Steven Avery for Teresa Halbach's murder in 2005. Though the series focuses heavily on Avery, his at-the-time 16-year-old nephew Brendan Dassey who was also convicted of Halbach's murder gets some screen time as well. While viewers of the documentary learned Avery has been sentenced to life in prison without parole, the story is a bit different for Avery's nephew, so viewers are left wondering when Brendan Dassey will be eligible for parole.
While Avery was found guilty of murder, he was found not guilty of mutilation of a corpse in March 2007. However, Dassey was convicted on three charges: Rape, murder and mutilation of Halbach in April 2007 and sentenced to life in prison. According to a title card shown during the Netflix series' final episode, Dassey is now 26 years old and serving his time at the Green Bay Correctional Facility in Green Bay, Wisconsin, placing him 40 miles away from his hometown of Manitowoc, where many of his family members still reside. The same title card tells viewers that Dassey was sentenced to life in prison, with a chance for parole in 2048, making him 59 years old when he is finally eligible.
The series depicts Dassey as being "learning disabled," and the interrogative techniques featured in the show have several viewers now wondering if Dassey could have been coerced into confessing in March 2006. (He recanted his confession during his April 2007 trial.) Investigator Mark Wiegert denies coercing Dassey; he said during the trial (as seen in the documentary) that the tactics used were "part of breaking down those barriers" to get to what the investigators believed was the truth. Viewers are also introduced to Dassey's appointed defense attorney, Len Kachinsky, during the docuseries. Kachinsky was eventually removed from Dassey's case after he allowed Dassey to be interrogated without a lawyer present. Kachinsky has responded to claims in the documentary in statement to Bustle:
The decision of the Court of Appeals on January 30, 2013 in Case No. 10 AP 1305 included the following remarks:¶11 Dassey draws no viable link between Kachinsky's actions and any demonstrable detriment to him. While Dassey contends that at least as of April 23, 2006, Kachinsky and O'Kelly began planning to gather evidence favorable to the State and to extract a confession from him against his will, he identifies no "adverse effect" at the May 4 suppression hearing. Kachinsky testified at the Machner hearing that he hoped to get the best deal he could for Dassey and that, knowing Dassey's family was pressuring him, he mentioned the possibility of a plea to the media to "send a message" to them that Dassey might have to "take a legal option that they don't like." He also concluded that Dassey was properly Mirandized before the March 1 questioning; the trial court agreed and successor counsel likewise saw no meritorious Miranda issue. ....¶13 Kachinsky was long gone before Dassey's trial or sentencing.Dassey has not convinced us that Kachinsky's actions amounted to an actual conflict and that Kachinsky's advocacy was adversely affected, such that it was detrimental to Dassey's interests. He is not entitled to a new trial or hearing.
However, because of what Dassey's family and his new lawyers view as improper interrogation and representation, they seem to believe that there is a chance for him to experience freedom sooner than 2048. In December 2015, the Appleton Post-Crescent reported that Dassey has filed a petition for the writ of habeas corpus in the U.S. District Court for the Eastern District of Wisconsin. The legal maneuver requires a federal judge to determine whether the arrest and conviction of Dassey were fully valid. In the memorandum accompanying the petition, Dassey's attorneys assert that Dassey's constitutional rights were violated due to the alleged (and aforementioned) "ineffective assistance of counsel" and a confession that they allege to be "involuntary." Though the legal team is hoping for the best, the Post-Crescent article quoted Michael O'Hear, a law professor at Marquette University in Milwaukee, as saying that granting habeas corpus is "a long shot." The federal judge will rule on Dassey's petition, though no timeline has been specified at this time.
Though it's unclear what fate belies Dassey, if he's actually innocent, let's all hope that the justice system serves him the due diligence he deserves sooner rather than later.
Images: Netflix (3)