'Shades Of Blue' Isn't J. Lo's First TV Role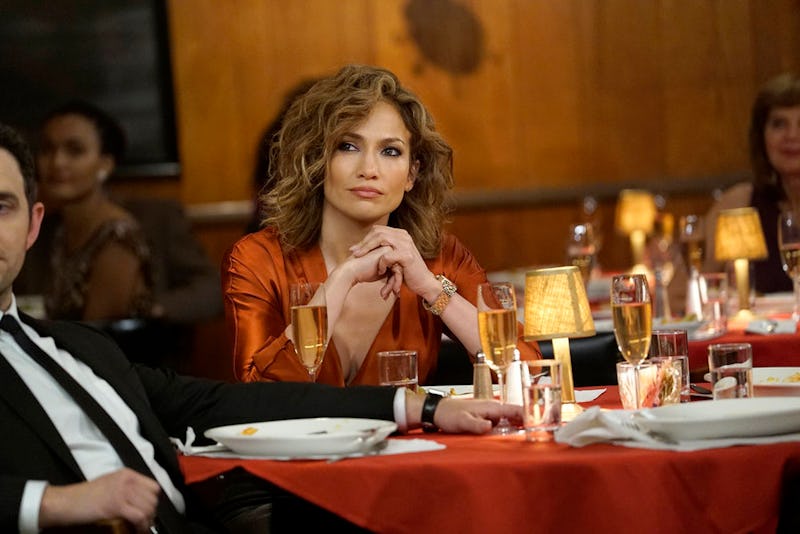 Between judging the final season of American Idol and premiering her new series Shades of Blue, Jennifer Lopez is about to come at you from all angles this winter. The judging gig is nothing new, but neither is starring in a television series since J. Lo has been on TV shows before. While Lopez is more known for her music and movies, before she made it big, she was a regular on a number of television shows — some you have heard of and some you most likely haven't. Let's just say she wasn't headlining a major network series like Shades of Blue back in the day.
Lopez really became known in 1997 when she starred in the biopic film Selena , which she followed up with Anaconda (opposite Owen Wilson) and Out of Sight (opposite George Clooney). Movies weren't enough for Jenny from the Block, though, since she released her debut single "If You Had My Love" in 1999 from her album On the 6. And there was no turning back after that — Lopez was a bonafide film and music star.
The final season of American Idol premiered on Fox on Wednesday, Jan. 6, and with no judge's chair to fill after this season, Lopez has already come up with a post-Idol plan. Her police drama Shades of Blue premieres Thursday, Jan. 7 — the day after Idol — on NBC. Lopez plays dirty cop Harlee Santos, who, after getting caught for corruption by the FBI, must decide whether to protect or rat out her fellow police officers, including one played by Ray Liotta. (Don't worry, these aren't spoilers — this is all in the first episode.)
If you think a dramatic TV series is new territory for Lopez, you'd be surprisingly wrong. While not all of her roles have been serious, she was a regular on TV in the early '90s and beyond. Get geared up for her turn as a cop in Shades of Blue by checking out her previous TV roles.
Fly Girl, In Living Color
J. Lo's first TV role may be her most memorable. As a Fly Girl on In Living Color, she didn't get to show off her acting skills, but definitely showed that she can dance, which would come in handy for her music and movie careers later.
Rosie, Nurses on the Line: The Crash of Flight 7
While not a TV series, Lopez took on the elusive made-for-TV movie in Nurses on the Line: The Crash of Flight 7 as student nurse Rosie Romero who is on a plane that crashes in Mexico. At the time, Lindsay Wagner was the headlining actress for the 1993 TV movie, not J. Lo. Oh, how times have changed.
Melinda, Second Chances
Lopez played Melinda Lopez, a waitress in California who runs out on her wedding, in Second Chances. The soapy show premiered in 1993, but came to an abrupt end only two months after it premiered when an earthquake destroyed the set and it was decided to end production.
Lucille, South Central
Another very short-lived series that Lopez was featured in was South Central. The realistic comedy about a black single mother struggling to care for her three children in the South Central Los Angeles neighborhood was canceled after only 10 episodes. In the show, Lopez had a minor role as a woman who works at the grocery store.
Melinda, Hotel Malibu
This quote from a 1994 Los Angeles Times article will give you an idea of Lopez's role in the Second Chances' spinoff series, Hotel Malibu: "Harry's assistant, Melinda Lopez (Jennifer Lopez), was hired for her looks, and has never mixed a drink. But her character's got a dilemma: She's a virgin." Let's just say I'm glad her turn as a hotel employee in Maid in Manhattan was a bit more dignified than her bartender assistant role in Hotel Malibu. Needless to say, Hotel Malibu only lasted for six episodes.
Anita, How I Met Your Mother
While Lopez was on TV promoting other projects, she didn't play a character on another scripted TV series until over 15 years later on How I Met Your Mother . (Yes, I know she was on Will & Grace, but she was playing "herself.") On the CBS sitcom, Lopez played the self-help book author Anita Appleby who tries to seduce Barney in the 2010 episode "Of Course."
Herself
As previously mentioned, J. Lo played a version of herself in three different episodes of Will & Grace (which, of course, was actually scripted). Beyond that, Lopez has hosted two shows she created — DanceLife, a competition dance show on MTV, and ¡Q'Viva! The Chosen with Marc Anthony (they were married, but separated at the time). With that track record, it's really no wonder she ended up on American Idol as a judge.
Now it's time for J. Lo to go back to her roots of acting on TV in Shades of Blue — and hope it finds more success than the other TV shows she has previously starred in.
Images: Peter Kramer/NBC (2)