Stream 'Show Me A Hero' For Your Oscar Isaac Fix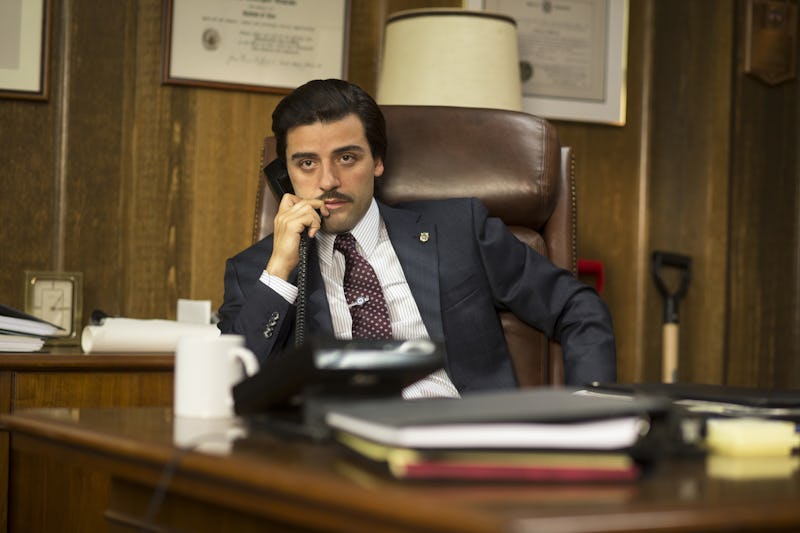 If you are a fan of Oscar Isaac, then you should have already seen him star in the six-part HBO miniseries Show Me a Hero, which premiered in August 2015. If you haven't, it's time to stream Show Me a Hero, so you can marvel at Isaac's masterful performance. The rising star, who has been in the movies Inside Llewyn Davis, A Most Violent Year, Ex Machina, and Star Wars: The Force Awakens, was nominated for a Golden Globe for his role as Nick Wasicsko and with the awards show airing on Sunday, Jan. 10, his turn as the mayor of Yonkers, New York in the late 1980s is essential to check out.
Isaac has some stiff competition in the category of Best Performance by an Actor in a Limited Series or Motion Picture Made for Television at the Globes with Idris Elba, David Oyelowo, Mark Rylance, and Patrick Wilson all being nominated. But as people with crushes on Isaac will tell you (guilty as charged), his role in Show Me a Hero is a nuanced portrayal of an ambitious young leader who is thrown into the vitriolic debate of whether the city should comply with a federal ruling that demands Yonkers build non-segregated, government-assisted housing. The miniseries is based off of real-life events and it gives a frighteningly truthful look at the struggle of the politicians like Wasicsko, but also of the members of the Yonkers community — those who oppose the housing and those who would benefit from it. It's no wonder the miniseries about this complicated true story came from The Wire's David Simon.
If you want to watch Show Me a Hero for the compelling true story or just to see Isaac's beautiful face, there are a number of ways to stream the miniseries. (And since it's a true story, if you want to avoid spoilers, don't Google too much.) As with all things HBO, the easiest way is to watch through HBO GO, which requires a cable subscription to the channel. It's also available through HBO NOW, which is HBO's standalone streaming service that doesn't require cable. If you are a person who still hasn't been convinced of the merits of paying for HBO (oh, how I pity you), you can catch it on Amazon by paying $3.99 for each HD episode or by buying the entire six-part series on iTunes for $24.99.
Whether Isaac wins the Golden Globe for his performance or not, here are seven reasons you should check him out as Mayor Wasicsko in Show Me a Hero.
His 'stache
Let's really start with the most important feature of Isaac's role — his stellar Tom Selleckian mustache. The series does start in the late '80s, after all.
His Charisma
You don't get to be the youngest politician in America without some pizazz. Isaac easily portrays Wasicsko's likability with confidence and charm that only becomes arrogant when it's intentional to show the character's flaws (of which there are quite a few).
His Love For Bruce Springsteen
As a Jersey girl, I have an undying appreciation for the Boss and so does Wasicsko, according to Show Me a Hero. Bruce Springsteen reigns supreme on the soundtrack and it is made even more enjoyable by the fact that Isaac does a little dance when he first puts Bruce on the jukebox at a diner in part one.
His Love For Nay
I have a feeling flirting comes just as naturally to Isaac as it does for Wasicsko and throughout the series, his romantic relationship with Nay Noe is followed. While Nick struggles with political failures and feelings of inadequacy, his relationship with Nay becomes more dependent. But through it all, Isaac manages to balance Nick's playful love of Nay with his needy devotion in an endearing way.
His Jeans
A runner-up for the most important feature of Isaac's performance would be the way he rocks those late '80s-early '90s jeans with a young Al Pacino swagger and normcore pride.
His Emotional Range
In the six-part series, Wasicsko goes from major ups to major downs. Whether he is celebrating his political victories, trying to keep himself composed as a horde of angry white people verbally abuse him, or yelling at his political allies-turned-adversaries, Isaac shows off his range.
His Vulnerability
Speaking of his range, the reason Isaac would win the Globe would be for when he taps into Wasicsko's vulnerability. Maybe it's my crush talking, but he portrays a public figure that winds up crestfallen after a short-lived rise to the top with the right mix of boisterousness and patheticness with such engaging subtlety. The scene in part six where he is supposed to be helping his brother with home renovations proves my point.
Even if Isaac doesn't win a Golden Globe this time around, I'm confident in saying that he will be nominated for more acting awards for another series or a film in no time. Plus, he's always got the 2016 Emmys.
Images: Paul Schiraldi/HBO (2); Giphy (5); Caitlin Gallagher/Bustle (2)