Quirky Name Necklaces For A Modern Carrie Bradshaw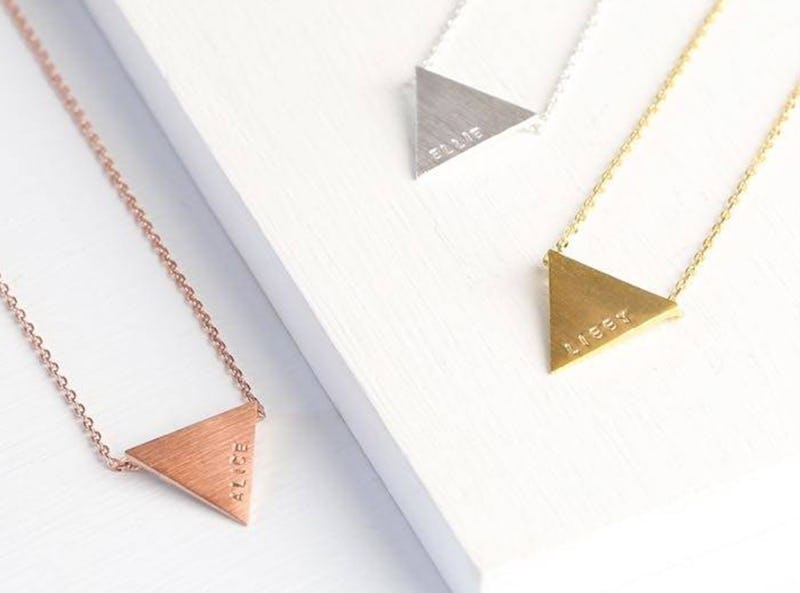 Sex and the City's iconic leading lady, Carrie Bradshaw, was responsible for the name necklace trend of the noughties. Now, roughly 10 years on from Carrie's name necklace debut, it's high time we sought out stylish modern name necklace alternatives to wear our nostalgic SATC loving hearts on our sleeves.
Carrie's name necklace was incredibly important to her and the creators of SATC put a great deal of emphasis onto the symbolism behind it. Ms. Bradshaw had bought the necklace when she was with her best friends at a street fair and it was a nostalgic item close to her heart. After moving to Paris, Carrie believed she lost her necklace, which reminded her of her friends and her home in NYC. Luckily she was reunited with her necklace (which had slipped through a hole in the lining of her purse) and it gave her the courage to reclaim her life and move back to New York.
More recently, celebrity moms have worn name necklaces featuring the names of their children. Kourtney Kardashian wore a name necklace embossed with an "M" for her son Mason and Halle Berry wore a name necklace with the initial "N" in honor of her daughter Nahla.
Name necklaces can carry personal meaning and look lovely, so here are a selection of modern name necklaces for all the Carrie Bradshaw fans out there.
1. The Simple Letter
Initial Block Necklace, $16, Urban Outfitters
Although Carrie often wore the most on trend fashions, sometimes she would be seen in something truly classic. This initial necklace is timeless and will go with any outfit, no matter your personal style.
2. The Decorative Type
Handmade Silver Decorative Name Necklace, $158, Not on the High Street
This is a really sweet style for fans of florals or all things girly. Inspired by Victorian jewelry and "patterns in vintage lace," you can choose to personalize yours with a design including flowers, berries, or leaves.
3. The Designer Pendant
Kate Spade New York 12k Gold-Plated Initials Pendant Necklace, $58, M acy's
If like Carrie you're a lover of all things designer, you're sure to adore this cute, circular pendant featuring your name's initial.
4. The Triangle Style
Personalised Triangle Name Necklace, $21, N ot on the High Street
Perhaps edgy jewelry is more your scene and if that rings true for you, it's possible that a cool triangle necklace in gold, rose gold, or silver could be your favored design.
5. The Silver Scroll
Personalised Silver Banner Necklace, $95, Not on the High Street
A stunning, silver scroll featuring your name is sure to complement any ensemble.
6. The Family Of Cats Necklace
Custom Cat Necklace, $74, etsy
Cat ladies in training will find this necklace utterly purrfect. Choose to add three to five kitties on your chain to commemorate your pets or your fellow feline loving friends and family members.
7. The Ink Lover's Design
Handmade Tattoo Style Name Necklace, $87, Not on the High Street
This inkspired name necklace is a great way for tattoo virgins to wear their hearts on their sleeves (or rather décolletages,) without having to go under the needle. Alternatively you can show yourself some love instead, with this cutesy tattoo inspired necklace.
8. The Hashtag Necklace
Personalised Hashtag Name Necklace, $73, Not on the High Street
This hashtag necklace is the perfect piece for social media addicts, bloggers, or vloggers. There must be thousands of pointless hashtags floating about in cyber space, but if anything in this world deserves a hashtag, it's you!
9. The Little Love Bar Necklace
Personalised Love Bar Necklace, $152, Not on the High Street
Become an ambassador of self love and treat yourself to a darling love bar necklace. You can choose from a selection of finishes, along with your choice of a heart or star charm.
10. The Embroidered Pendant
Hand Embroidered Pendant, $34, etsy
This creative and pretty pendant would make a wonderful accessory for all the craft junkies out there. Pick your favorite colored fabric to make this necklace even more personal to you.
11. The Retro Name Necklace
Custom Diner Style Name Necklace Large, $20, Not on the High Street
More and more people seem to be looking to the past for style inspiration, so although this necklace might take inspo from another era, it could be argued that vintage fashion is trendy. So let your inner vintage vixen free with a gorgeous name necklace which the Pink Ladies would be proud of.
12. The DIY Name Necklace
Name Necklace, starts at $40, Tatty Devine
Create your own name necklace with Tatty Devine and choose from a range of fonts, colors, finishes, and charms. I designed a cutesy style which I felt was reminiscent of the '90s, unicorns, and Sailor Moon's transformation.
Become a contemporary Carrie Bradshaw in a modern take on the noughties classic name necklace.
Images: Courtesy Brands