Zac Efron Is Topless In Poster For 'Dirty Grandpa'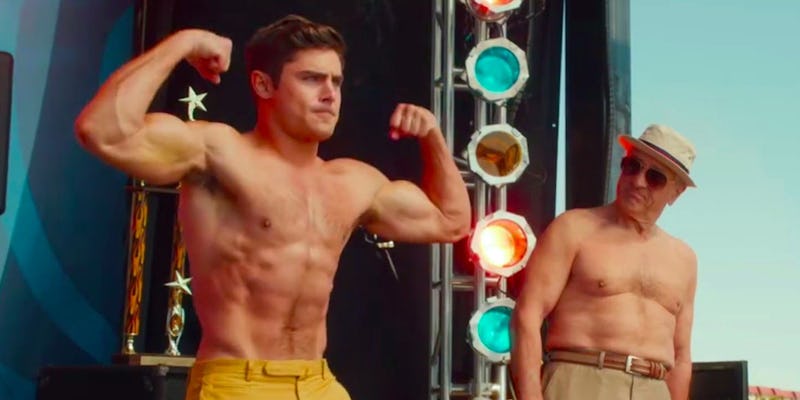 As the release date for Dirty Grandpa, the new film starring Zac Efron and Robert De Niro, approaches, the more excited I get. Not only did the trailer provide viewers with lots of *ahem* topless shots of Zac Efron (and who doesn't want that?), it showed De Niro being totally creepy and a real party animal. Dirty Grandpa is a movie that clearly has a lot to offer. And, on Thursday, there was further proof that it's a film that deserves to be seen, when the newest poster for Dirty Grandpa hit the Internet and made Efron fans very excited indeed (no judgement).
In a shot taken from the movie, a topless Robert De Niro lifts a topless Zac Efron above his head. The poster keeps it simple, with the pair against a plain background, because what more information do you need? The former High School Musical heartthrob obviously spends a significant amount of time in Dirty Grandpa with his shirt off, and that fact alone just convinced me to pre-book approximately a hundred tickets to see the movie. Call me shallow (I definitely am), but, in a sea of super serious Oscar-worthy movies, it's great that a fun film is getting released on January 22, 2016, to take all of our blues away!
Even though this latest poster for Dirty Grandpa is super pared down, and is basically just a still from the movie, it's a great piece of marketing. Sure, Zac Efron is a fantastic actor, but his abs are undoubtedly his secret weapon, and it's always a pleasure to see them on display. The fact that Robert De Niro joins him in the pose means we're given double eye candy, as well as an insight into the comedy dynamic of Dirty Grandpa .
Some alternative posters have also made their way on to Twitter, and one in particular references The Graduate, and the fact that Zac Efron's character, Jason, is about to be led astray by this older bad influence.
Thank goodness that Dirty Grandpa is released soon, and I won't have to make do with gifs from the trailer for much longer. Zac Efron is going to be hilarious in the movie, and hopefully it marks the start of him taking the lead in more comedies in the future.
Image: Lionsgate