Easy Crafts To Do While Watching TV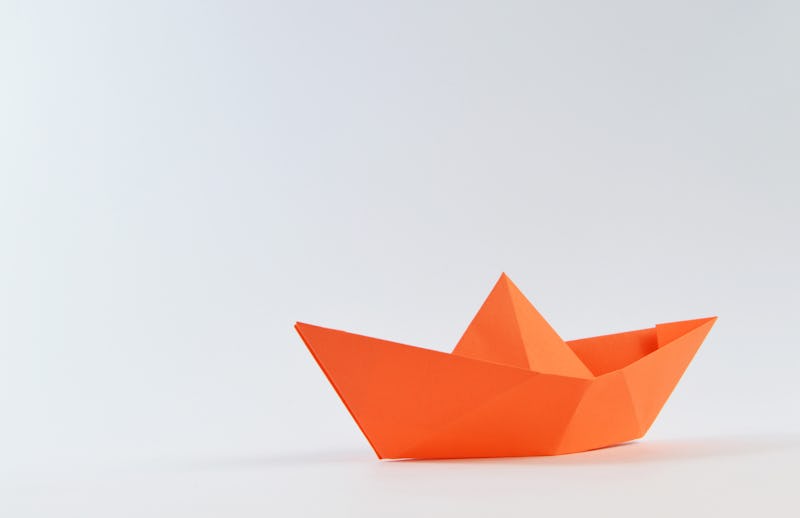 Dedicating an entire evening or longer to watching TV can sometimes feel like a waste of time. But there's something you can do to make better use of your time: fun and simple arts and crafts you can complete while watching television. I love watching my favorite shows and movies as much as the next person, but I sometimes feel a little cheated after spending an entire night glued to the screen when I could have been doing something more productive.
Arts and crafts needn't be extravagant works of art — they can be really, really easy to learn, believe it or not. With technology at our fingertips, we can now learn new skills via YouTube or crafting blogs, or even via arts and crafts apps. Once you've chosen your niche, you'll discover a whole new crafting world that you never knew existed.
If you're worried about dedicating time to a new project, you needn't be. The beauty of going down this route is that you work on your project while you're watching TV; you don't have to dedicate any more time to your project if you don't want to. Although, chances are, you might get a little addicted if you enjoy your chosen craft. I mean if Taylor Swift has time to craft, so do you! So check out these simple arts and crafts to try when you're watching TV – but be warned, once you get going, you might not be able to put them down.
1. Crochet
IMO, crochet is the baby sister of knitting. Personally, I find knitting trickier than crochet because you have two knitting needles, instead of one crochet hook. To learn the basics, you may need to watch this video a couple of times before embarking on your own designs, but once you're into the swing of things, crochet can become second nature. Eventually, you may be able to put your brain on auto-pilot, which is great for when you're watching your fave TV show.
2. A Mood Board Or Collage
Like Penny in Happy Endings, you could create a vision board or mood board to focus on your dreams and ambitions. All you need is a large piece of paper or card, a stack of magazines, some scissors, and some glue — you're sure to have yourself a wonderful mood board in no time. If you fancy getting really creative, you could even create a collage to hang in your home as a handmade piece of art.
3. A Baby Blanket
Quilting is a really fun pastime, but if you're new to crafts, it might be a good idea to start small with a baby blanket. This will make such a sweet and thoughtful gift for any of your friends who have recently become moms. Before your show starts, it could be wise to cut out all of your squares and pin them as shown in the video. While your show is on, you can make fast work of hand-stitching all of your squares together and you can finish off the fiddly bits at the end of your show or movie.
4. Sticker Making
If you're more of a digital person, you could start creating your own stickers. Making your own stickers looks like a lot of fun and stickers can be used for a variety of purposes. You can create your own stickers for gift-wrapping, to customize your stationery, or to label special events in your calendar or planner. A popular method of making stickers is using a Silhouette Cameo machine and software. This way you can create really cute, unique stickers on your computer. When you're finished you plug in the Silhouette Cameo machine and then print your stickers. It's a little costly to get started but once you've bought the machine, you'll probably save money on stickers (and a range of personalized creative craft goodies) in the long run.
5. Origami
Origami looks insanely therapeutic and I'm guessing that once you've got the basics down, you'll find it super simple to create origami while watching your favorite shows. This easy butterfly tutorial is a great place to start, or you can loan an origami book from your local library, or even download an origami app for beginners if that's the most convenient method for you.
6. Embroidery
Embroidery (in particular needlepoint) appears to be quite the popular craft right now and even aforementioned queen of crafting, Taylor Swift, is a needlepoint pro. Map out your design before your TV show begins and then you'll know which path to take when you begin stitching. You can also decorate your clothes with embroidered monograms or little designs which will add a personal touch to your garments.
7. Greetings Cards
Making your own greetings cards is a great way to show someone you care, while letting your creative juices flow. It's also an awesome way to save money. All you need to do is purchase a bunch of colored cards and some colorful markers, then grab some glue and scissors, and the world is your oyster! You can be as minimal or as fancy as you wish; adding sequins, glitter, cut-outs from magazines, and more. The recipient is also sure to really appreciate a homemade card which you poured your heart into, rather than a cheap card which isn't personal to them.
Put your free time to good use and enjoy getting your craft on, while keeping up with your favorite TV shows!
Images: Happy Endings/ABC; Pexels (2)