These Modern Films Will Take You Back To The '90s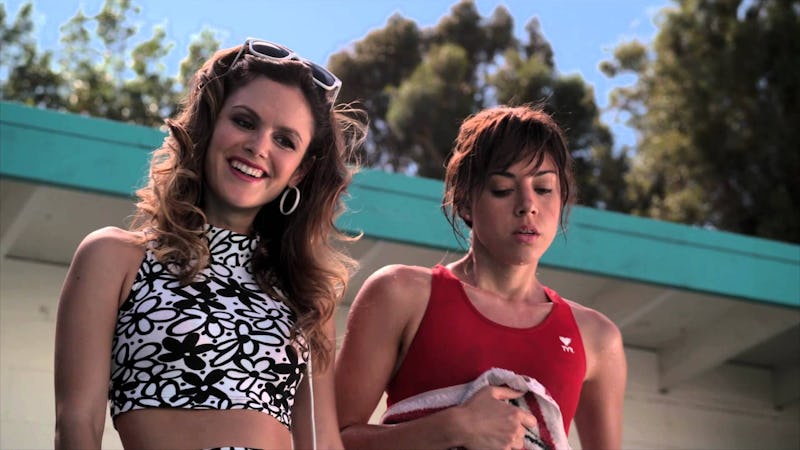 There's no question about it: The '90s were the best decade of all time. (Come at me '80s babies, I'm ready for you.) The '90s were the decade to end all decades. A decade when the DJ spun outfit coordinating boy bands like there was no Y2K. A decade when America was Online (finally, am I right?). And most certainly, a decade for classic, cherished movies... on VHS. (RIP, Blockbuster.) But what about modern movies that take place in the '90s? Those can be all that and a bag of chips too, you know. And you don't even have to rewind them.Surprisingly, Hollywood hasn't totally tapped into the market of modern films that are set in the '90s. Sure, we have a fair amount of current films set in the '60s, '70s, and even '80s. Maybe that's because the films set in the '90s that were actually made in the '90s seem to hold their spot just fine in the zeitgeist. But the modern films we do have that are set in the '90s — the ones that were created outside of the decade — take us back to the greatest moments of our childhood, and beyond. Truly. Madly. Deeply. (Shout out to Savage Garden for that one.)
Reawaken the nostalgia of your youth by watching these 11 modern films that are set in the '90s. Booyah.
1. Love & Other Drugs
Jamie Randall (Jake Gyllenhaal) is a Zoloft-selling pharmaceutical sales rep who falls for one of his office's patients, Maggie Murdock (Anne Hathaway). (But really, all you need to know is that the movie opens with "Two Princes" by Spin Doctors.)
2. The Wackness
The Wackness is a coming of age film set in the summer of 1994. The styles, the '90s sensibilities, and the music (Wutang Clan, Biggie Smalls, Nas, and A Tribe Called Quest to name a few) make this one an undeniably — at times undoubtedly wack — nostalgic ride.
3. The Place Beyond The Pines
Setting aside the fact that The Place Beyond The Pines is a visually stunning film, the '90s vibes — Ryan Gosling's bright, blonde hair, everyone! — are more than enough to suck you in.
4. The To-Do List
High school valedictorian Brandy Klark (Aubrey Plaza) spends the summer after graduation trying to accomplish everything on her sexual "to-do list." The film (read: mostly Aubrey Plaza) is endearing and honest, but the '90s backdrop (the cars, the Trapper Keeper, the skorts) make it mad fly.
5. The Curious Case of Benjamin Button
To be fair, The Curious Case of Benjamin Button takes place from the '40s to the early '00s, but an important and large chunk of the film is set between 1990 and 1997.
6. The Diving Bell And The Butterfly
The 2007 biographical drama film is based on Jean-Dominique Bauby's memoir, and follows his life after a massive stroke he had in '95.
7. The Fighter
David O' Russell's The Fighter dramatizes the true story of Micky and Dicky Ward, professional boxers who come together for Micky's one last shot at the world title in the mid '90s.
8. Dallas Buyers Club
Ron Woodroof (Matthew McConaughey) is diagnosed with AIDS in 1986. Thereafter — and well into the '90s — Woodroof seeks alternative drugs, and with the help of a transgendered woman (Jared Leto) sells the treatments to other patients.
9. The Wolf Of Wall Street
The massive '90s security scam lead by bad-boy Jordan Belfort. You either know about this movie and haven't made the time to see it, or you've watched it incessantly since it came out in 2013. Come for what's definitely Leonardo DiCaprio's best comedic performance. Stay for the lavish depiction of '90s opulence.
10. Jobs
Jobs isn't the first biopic about the legendary man behind Apple, but it's the one you should probably pay attention to (specifically for the turtlenecks).
11. Joy
Joy Mangano invited the Miracle Mop (amongst other things) and became an entrepreneurial success story in the '90s.
See? You don't have to scour through your old (alphabetized) set of VHS tapes to get hit with a wave of '90s nostalgia.
Images: CBS Films; Giphy (6); siralexavier/Tumblr