'90s Nick Fans: Prepare To FREAK. OUT.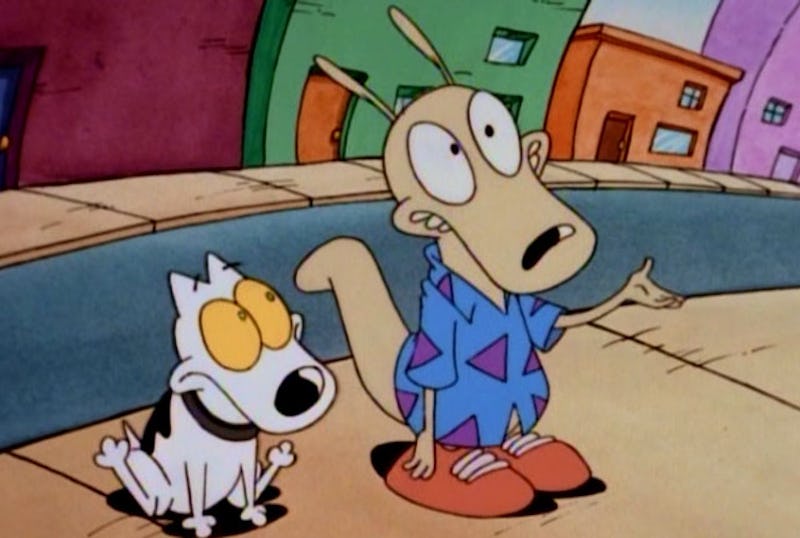 Prepare to brace yourselves, '90s kids: A Nicktoons movie is reportedly in the works at Paramount. I know you've had your revival hopes dashed way too often lately (I'm still not over the As Told By Ginger revival situation), but Deadline reports Paramount has allegedly tapped Napoleon Dynamite writers Jared and Jarusha Hess to write and direct a movie set to bring together characters from Rugrats, Ren & Stimpy, Rocko's Modern Life, Aaahh! Real Monsters, and The Angry Beavers. Nickelodeon hasn't made an official comment on the status of the project as of yet, but if the movie is a thing that actually happens, even more of your favorite Nickelodeon characters could be invited to the party.
Details on how these Nickelodeon worlds would collide are scarce, but the potential movie probably wouldn't take a straightforward approach. Think Who Framed Roger Rabbit? and The Lego Movie — or, you know, think awesomeness in movie form.
The coolest part of a massive Nickelodeon cartoon team up, though, is that Hess' won't have to do much legwork to make Tommy Pickle and Ickis exist in the same universe. All things are connected in the Nickelodeon universe and you have to look no further than the '90s than to see the proof.
Rugrats & Aaahh! Real Monsters Exist In The Same Universe
In the Halloween episode of Rugrats, "Ghost Story," Angelica scares the babies with a story about Ickis, Oblina, and Krumm. While the characters were meant to be imagined up by Angelica (or perhaps she was addicted to Aaahh! Real Monsters too), in the end, she seemingly encounters the trio in real life.
The Wild Thornberrys Meet The Rugrats
The 2003 movie Rugrats Go Wild brought the seemingly very different worlds of the babies and the Thornberrys together for a big screen adventure. That means there is precedent for Nickelodeon universes colliding to make Hollywood magic happen.
Both Rocko's Modern Life And The Ren & Stimpy Show Exist In A More "Adult" World
While Rocko never encountered Ren and Stimpy, these two shows were a big influence on later Nick shows — namely Spongebob Squarepants (almost the entire Rocko team got back together for Spongebob). Rocko and Ren & Stimpy were all about pushing boundaries. The existed in a world where the jokes were off-color, innuendo was strong, and a sense of overall disenchantment with adulthood lingered over every story. It is not so hard to imagine them existing in the same universe.
Nickelodeon Was Never Shy About Letting Their Characters Share Screen Space
Even without explicit crossovers, Nickelodeon created what felt like an extended universe through promos. Remember how delightful it was to see all of your favorite characters hanging out on that familiar orange couch? Now, imagine that in movie form.
Music Composer Charlie Brissette's Work Spans Nick Universes
Brissette is the man behind the Angry Beavers ' theme song, and his music has popped up in lots of Nick shows including The Ren & Stimpy Show, Spongebob Squarepants, and The Fairly OddParents. It's no coincidence that many of Nickelodeon's best cartoons sound the same.
Nicktoons All Have The Same Fanbase
If you are here, chances are you love old school Nicktoons. You surely have a favorite, but you know your butt would be in a movie theater seat to see Chuckie, Rocko, Ren, and the rest of the '90s gang again. Paramount and Nickelodeon have an audience who crave all things '90s Nickelodeon, which means whatever they may produce has a 99.9 percent chance of being your new favorite movie.
Keep your fingers crossed that this movie actually happens, guys. Who doesn't need more '90s Nicktoons in their life?
Images: Nickelodeon; Giphy (6)