Travolta Embodies Robert Shapiro For 'ACS'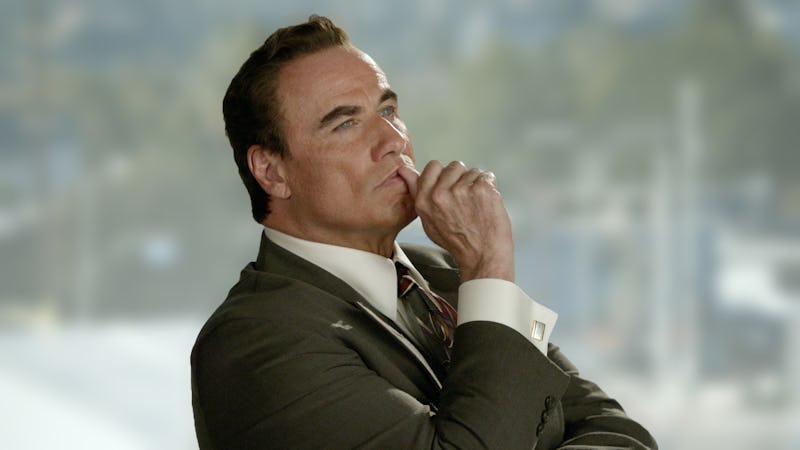 Defense lawyer Robert Shapiro's most defining feature has to be his thick, dark eyebrows and in previews for The People v. O.J. Simpson: American Crime Story John Travolta — who is portraying Shapiro — appears to have nailed said brows. However, physical appearance is not the only way that the actor channels him in American Crime Story since Travolta also takes on Shapiro's accent and speech patterns in the 10-part miniseries.
In the 1998 film Primary Colors, Travolta played an interpretation of Bill Clinton and took on the president's mannerisms. Travolta told Parade that in American Crime Story , like Primary Colors before it, "We're building the character from physical attributes and vocal attributes and really enjoying that process, which is my favorite thing to do." He continued with discussing how he took on the role of the real-life Shapiro.
All you have to do is watch the videos of him. I was doing only what I observed him to do. I didn't do any more than what he was, and he was delicious to watch because he was doing exactly what I would have. I'm good at taking on characteristics of people physically, whether it's from dance, or just many years of being an actor, but that's where I excel, so watching him is like, 'Oh, wow! This is interesting. This will be something to do to make this authentic.' But I wasn't really doing anything different than you can find on the videos.
As shown in the above video of Shapiro being interviewed by Larry King shortly after Simpson's trial for the murders of his ex-wife Nicole Brown and Ronald Goldman, of which he was found not guilty, the defense lawyer certainly has a memorable presence. While it's difficult to pinpoint exactly what Shapiro's accent is, Travolta definitely seems to be attempting to match the lawyer's voice in American Crime Story.
Although Shapiro is known for his California connections, representing many Hollywood clients, he was born in Plainfield, New Jersey. Interestingly enough, Travolta is also from New Jersey (represent!) — the town of Englewood. Yet, as a person from South Jersey, I know firsthand how the accents of the state truly depend on what area a person is from.
While Shapiro and Travolta are both from the northern part of the Garden State, their hometown accents inevitably vary since Plainfield and Englewood are approximately 37 miles away from each other (which isn't far, but can be a significant distance in Jersey, especially with Englewood being just over the water from New York City).
Regardless of where both these men are from, Travolta isn't a famous actor for nothing and any accent that he has as Shapiro in American Crime Story was a calculated choice by the star. For those who remember the Simpson trial, you can see just how successful Travolta is in embodying the celebrity lawyer when The People v. O.J. Simpson premieres on FX on Tuesday, Feb. 2 at 10 p.m. And for those who don't remember everything about the trial, just go along for the ride.
Image: FX