9 Books If You Hope 'Room' Wins Best Picture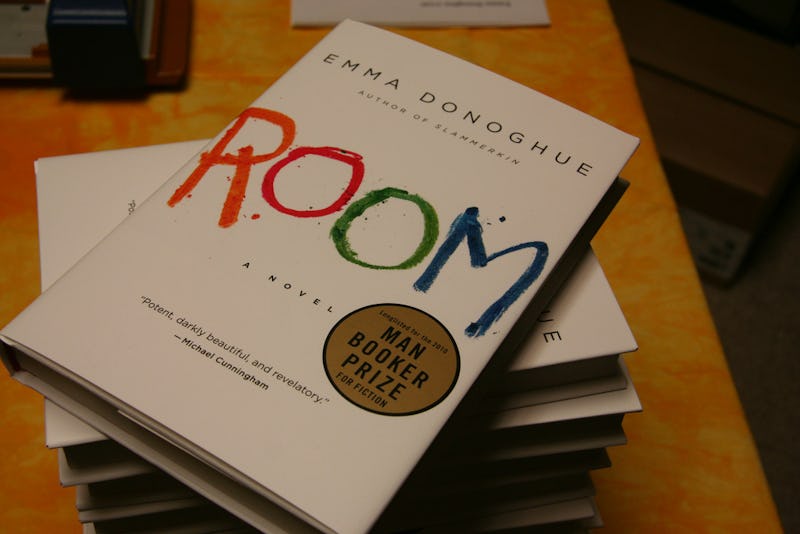 After reading Room and meeting Emma Donoghue a few years back, finding out that it was going to become a movie definitely put me in a state of excitement and fear. How could they adapt a book that was so driven by a first-person narrative without attaching a GoPro to Jack's head? Would the actors do this amazing story justice? Of course, this is how any book-lover feels when they find out a book that means the world to them is becoming a movie. And I was pleasantly, if now overwhelmingly, surprised with how wonderful the movie Room turned out to be.
If you're hoping for Room to win every award possible, then you've probably also read the book. If you haven't though, I beg of you to read it NOW. Yes, the movie was incredible because Emma Donoghue is a genius writer and screenwriter, but her novel is truly something unique in its own way.
Due to Donoghue's amazing screenwriting skills, the movie became an extension of the beloved story. Brie Larson and the adorable Jacob Tremblay did a fantastic job at capturing the characters we loved and rooted for throughout the entire book. Getting to focus more on Ma, which any devote Room fan would agree was desired, and adding even more urgency to an urgent story makes this nominee worthing of winning Best Picture.
With the Oscar's just weeks away, get more hyped about Room hopefully winning by reading some more similar, and equally gripping books. Here are 10 must-read books if you loved Emma Donoghue's Room and hope the movie wins Best Picture.
1. Winter's Bone by Daniel Woodreall
You probably recall a few Oscar seasons back, this incredible and heartbreaking tale was an Academy Award nominee. If you haven't read it yet (or seen Jennifer Lawrence's amazing performance in the movie), you should definitely pick it up. Ree Dolly, the oldest daughter of the Dolly clan, is given news that if her father refuses to show up to his court hearing again, their house will be taken away. With an unreliable mother and extended — even dangerous — family members, Dee has to take matters into her own hands, find her dad, and care for her siblings. This story has the high stakes and strong female characters you'll love.
2. The Curious Incident of the Dog in the Night-Time by Mark Haddon
If you were in love with the narrator Jack in Room, then you'll also love 15-year-old Christopher John Francis Boone. When Christopher discovers his neighbor's dog dead in the front yard, he obsesses over solving the mystery, inspired by his favorite detective, Sherlock Holmes. His inability to understand human emotions but relate heavily to animals propels this story in a unique direction and gives you an unforgettable and heartwarming narrator and story.
3. The Flying Troutmans by Miriam Toews
Recently dumped in Paris by her boyfriend, Hattie finds out her sister, Min, was just checked into a psychiatric hospital and quickly flies home to take care of Min's two sons. Without knowing what else to do, Hattie takes the boys and goes on a road trip in search of the boy's father, Cherkis. Not having a clue as to where he could be, the adventure begins and reveals a complicated but completely addicting family to read about.
4. Sharp Objects by Gillian Flynn
You might be wondering why a psychological thriller mystery is on this list, but immediately after reading Room, I read Sharp Objects and fell in love. This haunting story has the same isolated feel, but instead of taking place in a confined space, this story opens up Camille Preaker's past in her childhood hometown where two missing girls end up murdered. Investigating the crime for her big city newspaper, everything she's ever repressed about her past emerges and brings Camille and you into a wild ride of emotions.
5. Await Your Reply by Dan Chaon
This interconnecting story of three different characters and places creates a masterpiece of what identity means. Similar to Room, Await Your Reply is about people running from their past toward a hopeful future, but finding it isn't exactly what they'd pictured. The story lines of a recent high school grad and history teacher drive away in hopes to define their relationship, a twin brother searches relentlessly for his missing sibling, and a man searching to rediscover himself braid themselves together in this mind-blowing novel.
6. Once Upon a River by Bonnie Jo Campbell
Unlike Room, the narrator in Once Upon a River, Margo Crane, is completely silent and almost detached from the world around her. However, it's just as captivating as Room. Searching for her missing mother after her father passes away, Margo makes her way up the Stark River, camping out in the wilderness, hunting for her own food, and staying as far away as she can from the life she once knew. Her unbreakable spirit but heartbreaking story will inspire you, and leave you wanting more.
7. Annabel by Kathleen Winter
In a remote coastal town, a baby is born that is neither fully male or female, and only three people know about it. Choosing to raise the baby a boy named Wayne, that doesn't stop them from nurturing Wayne's female side. Growing up in a masculine hunting society, Wayne keeps to himself, but also recognizes his shadow-self, a girl he calls Annabel. Similar to Room, this incredibly mesmerizing story on identity and finding yourself within a new world, Annabel will amaze you with every singe page.
8. Incendiary by Chris Cleave
After losing her husband and son to a massive suicide bomb in the middle of a London soccer match, this narrator decides to write a letter, long enough to make a book, starting with "Dear Osama." This story of incredible loss is paired with humor, wit, and an interesting twist on how one average woman's life can change in the blink of an eye due to overwhelming terror.
9. The Story of a Beautiful Girl by Rachel Simon
It's 1968, and Lynnie, a young white woman with a developmental disability and Homan, an African American deaf man are locked away in an institution for incurable people. Deeply in love with each other, the two find a way to escape to an old farmhouse where a widowed woman lives and takes them in, just as Lynnie is about to give birth. When the authorities catch up, Homan runs off and Lynnie is forced back to the institute, but not before she asks the widowed woman to care for her newborn daughter. That's just the beginning, and I promise this story is as page-gripping as Room.
Images: London Public Library/Flickr