What Your '90s Lunch Box Says About You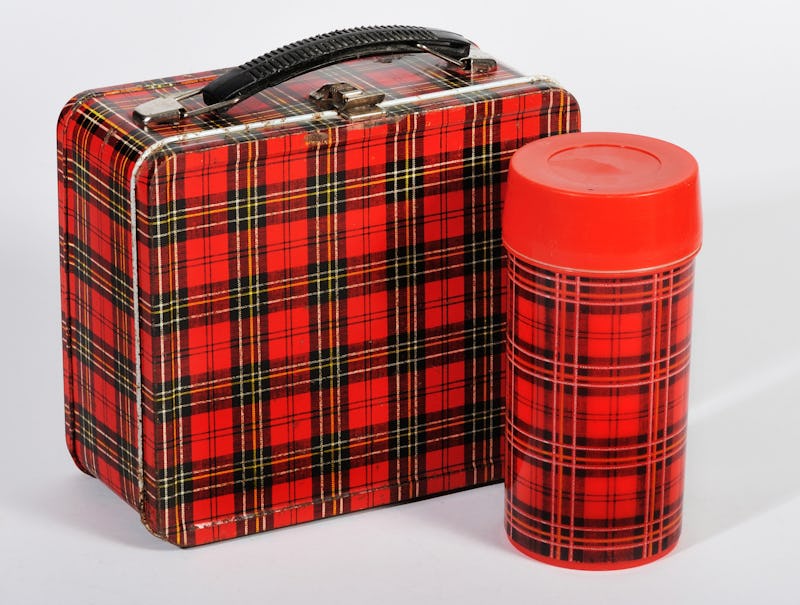 Shopping for school supplies when you were a kid was always a blast, because everything was fun to look at and so, so personalized. Even your '90s lunch box said something about who you were as a kid. I'll never forget going to the store before school started in the fall, and carefully — very carefully — examining the entire collection of lunch boxes on the shelves. My dedication to *NSync was overwhelming, but a Disney princess lunch box was hard to pass up. Furthermore, what would the popular kids think of a Malibu Barbie box with matching spork?
Lunchtime was an event all on its own. It was an opportunity to show off what you had going on, what you were capable of, especially on the first day of school. The initial lunch period would set the tone for every lunch you'd ever have for the next school year. Did you go with a plastic Nickelodeon lunch box? Wise choice. Were you snacking on a bologna sandwich? Ick... not good. Did you open it up to reveal Dunkaroos and a Squeezit? You were definitely getting kissed on the playground. What did your lunch box say about you back in the '90s? They were more telling than you'd ever imagine.
1. The Plastic Box With Matching Thermos
This was the childhood equivalent of having a sweater set. Why would you have the Spice Girls lunchbox without the coordinating Spice Girls thermos to go with it? Like, who does that?
2. A Brown Paper Bag
You were a no-nonsense kid — you didn't need any fancy lunch box with My Little Pony on it. You also recycled the bag every single day. How eco-friendly of you!
3. Your Favorite TV Show Or Character
Such an enthusiastic child you were. You probably grew up to be one of those people who paints their entire body for sporting events.
4. The Soft, Smushy One
This was about convenience. You knew darn well that you could cram and smash that thing into your backpack and it would somehow fit.
5. A Grocery Bag
Come on, man. This is pure laziness. And for Pete's sake, tie your shoes.
6. The Heavy Duty Temperature-Controlled Box
Things were serious when you walked into the cafeteria carrying this bad boy. You were about to get down to some legitimate lunching. It kept hot things hot, cold things cold. The only way to eat your Lunchables.
Image: Fotolia