I Tried To Recreate Models' Fashion Week Selfies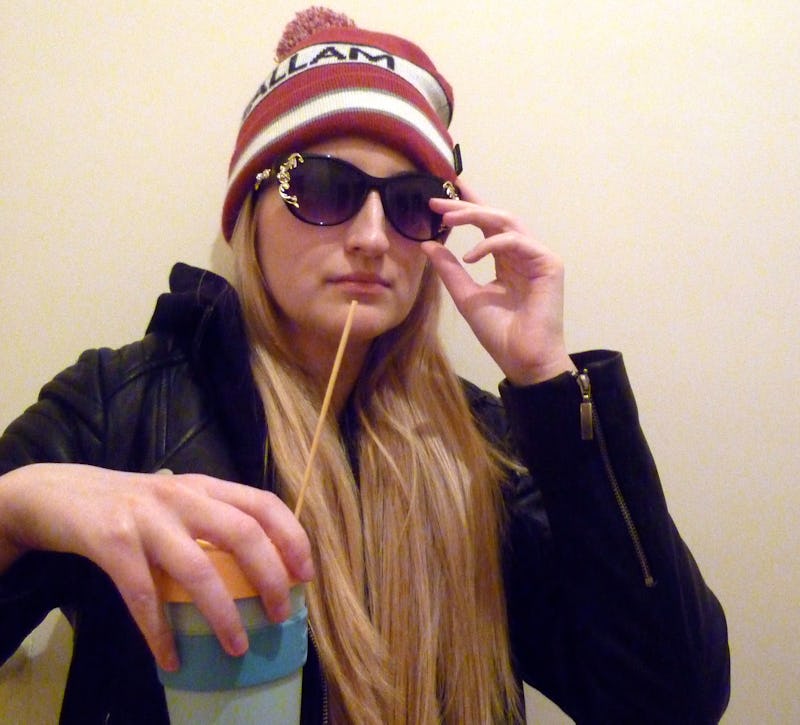 The whirlwind of New York Fashion Week has finally ended. But as a fashion freak of sorts, I wanted to get close to the culminating action. Considering I live in England, I knew this would prove difficult. So to pretend like I had front a row seat at my favorite designers' shows, I recreated some model selfies at New York Fashion Week. That's what any practical gal does with her free time, right?
No matter the city it takes place in, Fashion Week is a crazy time that is equal parts inspiring and insane. Remember when models wore other models on their bodies at Rick Owens' Spring 2016 show? But despite all of the madness, models' Instagram selfies are somehow perfectly on point. I cannot help but wonder how they fit in getting their hair and makeup done, walking in shows, running around from one show to another, and finding the perfect lighting to take a selfie. I can't even nail a good self portrait in everyday life, let alone when I'm walking in six-inch heels in a crowded backstage area, possibly with a fellow model strapped to my chest.
I wanted to take inspiration from the very best, though: The humans at the helm of cutting-edge fashion right this moment. So here are my versions of an array of models' Fashion Week selfies.
1. Charlee Fraser
Charlee Fraser is a brunette bombshell. She has cheekbones to die for and I love this super glam shot of her in a luxe dress with some decadent jewels. Unfortunately, I do not possess such an incredibly elegant choker and my ears are not pierced, so I had to roll with a broken, elasticated headband tied around my neck instead. Ms. Fraser is represented by IMG Models and she walked for some amazing designers at NYFW A/W 2016 such as Rodarte and Derek Lam. She's definitely one to watch.
2. Abby Williamson
Abby Williamson seems like such a sweetheart — especially with her photo caption explaining that she misses her pooch pal. I had to improvise with this one due to the fact that I'm not allowed to have a dog in my apartment. Thus why Tigger got a starring role. Williamson is also represented by IMG Models and Wallflower Management. Her highlights from NYFW 2016 include walking in Rodarte and Anna Sui.
3. Mily Reuter
Mily Reuter is the coolest of all the cats. Here I am trying to emulate her, but you just can't fake cool. My fiancé's college hat and piece of wood posing as a straw have nothing on Reuter's edgy ensemble, complete with a Starbucks cup. She is represented by a selection of modeling agencies including Ford, and she was seen on the Jenny Packham catwalk.
4. Yasmin Wijnaldum
Yasmin Wijnaldum is a total goddess, as exemplified by her dreamy picture. Is she on a bed or a couch? Who knows? She just looks like she's deep in thought. I tried to copy her thoughtful expression while leaning against my own couch. Oh, to be a model. Wijnaldum is represented by Elite Worldwide and The Society Model Management. Her NYFW resume includes walking for Michael Kors, Vera Wang, and Tommy Hilfiger. Keep your peepers peeled for this rising star.
5. Dilone
Dilone seems like someone I'd love to be friends with. Look at that cheeky grin juxtaposed against that angry statue. I had to improvise with my My Neighbor Totoro-inspired soft toy, but I think Totoro and I are killing it, so it's OK. Dilone is represented by DNA Model Management and she walked for DKNY, Anna Sui, and more this NYFW.
6. Yuka Mannami
Yuka Mannami is a doll. Her Instagram really shows off her creative flair, and even this picture eludes to her quirky nature. Mannami manages to make resting lipstick or mascara on her nose look stylish. She's represented by a selection of agencies including The Society Model Management. She also posted a sweet caption attached to a photo of her walking in the DKNY 2016 show at NYFW that read, "I did DKNY! I'm so happy."
7. Iesha Hodges
Personally, I think Iesha Hodges and Mily Reuter should make a badass girl gang pronto. Hodges looks like a total rock star in a hoodie and cap, flaunting a '90s tattoo style choker. She's represented by a few agencies including Special Management and she was spotted looking lovely in florals at Kate Spade NY.
If I were you, I would keep a lookout for these new faces, but maybe not mine. If there's anything I learned from recreating the selfies of these babes, it's that modeling, well, it's not as easy as the stereotypes might have you believe. Even adorable selfies are hard to master. So massive props to the queens of self-portraiture and the fearless walkers of the runways.
Want more style tips? Check out the video below, and be sure to subscribe to Bustle's YouTube page for more hacks and tricks!
Images: Phoebe Waller